Specifications
Flip Positions
0° and 90°
Flip Timea
500 ms to 2800 ms
Optic Diameterb
MFF101: 1"
MFF102: 2"
Flip to Flip Repeatability
50 μrad
Maximum Driftc
1.0 µm2
Maximum Loadd
120 g (4.23 oz)
Maximum Torque
0.1 N•m
DIG I/O Connector Typee
SMA (2 Places)
Power Input
15 VDC
Weight
(Excluding Power Supply)
100 g (3.53 oz)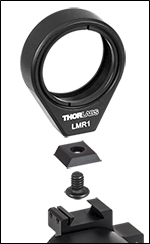 Click to Enlarge
Exploded View of Bracket, 8-32 (M4) Screw, and Setscrews for Optic Mount
Caution
Please do not try to move the flipper arm by hand when the motor is enabled; doing so will permanently damage the internal gearbox.
Features
Lens Holder Included
Compatible with All LMR Series and FMP Series Mounts up to 2.0" Optic Diameter
Velocity Feedback for Smooth Transitional Motion
Mechanical Hard Stops for Repeatable Positioning
8-32 (M4) Tap for Post Mounting
Flipper Unit Has Small 30 mm x 30 mm Cross Section
Remote Handset with 39" (1 m) Cable, APT Software Suite, and Power Supply Included
These Two-Position, High-Speed Flip Mounts flip lenses, filters, and other optical components into and out of a free-space beam. As shown by the image below, up to two optic mounts can be attached to the same flipper unit, allowing the user to alternate between optics. The flip action can be controlled in four ways: by the button on the top of the unit, via the included remote handset, via the external SMA connectors, or via a PC running the included APT software (see the Motion Control Software and APT Tutorials tabs for more information). The flipper position rotates 90° clockwise or counterclockwise when it is toggled and may be toggled either by an absolute signal level (i.e., low and high control voltages correspond to specific flipper positions) or by an edge (i.e., a change in the control voltage level causes the flipper to rotate). The unit has magnetic limit switches at both positions to identify which position the flipper is in.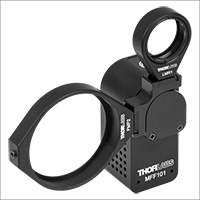 Click to Enlarge
MFF101 Flipper Mount Shown with LMR1 Lens Mount and FMP2 Fixed Optic Mount (FMP2 Sold Separately)
The flipper units offer a compact 30 mm x 30 mm cross section and have two SMA connectors on the side face, marked DIG I/O 1 and DIG I/O 2, which accept input signals from the remote handset or from an external trigger. They can also be configured by a PC running the included APT software to output signals when "In Motion" or "At Position." Software settings can be saved (persisted) within the unit to enable use without a PC.
The MFF101(/M) comes with an LMR1(/M) Ø1" optic mount, which holds an optic with the included SM1RR retaining ring, while the MFF102(/M) comes with an LMR2(/M) Ø2" optic mount, which holds an optic with the included SM2RR retaining ring. Any of our other mounts from the LMR Series or FMP Series can be attached to the flipper mount, so long as their optic diameter does not exceed 2.0" (50.8 mm). As shown in the image above, a bracket connects the optic mount to the flipper unit. The optic mount is held to the bracket by an 8-32 (M4) screw, and the bracket is held to the flipper unit by a flexure clamp. The flexure clamp tightens using two setscrews that accept the provided 0.035" (0.9 mm) hex key. Two brackets and two 8-32 (M4) screws are provided with each flipper unit.
A bottom-located 8-32 (M4) tapped hole allows the flipper to be mounted on a Ø1/2" post. The flipper is powered by the included 15 V power supply, which ships with a location-specific plug. A 1.5 m (59") long micro-USB to USB cable is also included to connect the flipper to a PC for control and configuration.
The flipper is ideal for use with many types of optics, including mirrors. When used with a mirror, please note that the unit is not recommended for applications requiring better than 100 µrad beam stability. The torque applied to the unit should not exceed 0.1 N•m, and the maximum load capacity, including optic mounts and optics, is 120 g (4.23 oz). The side face of the unit contains an array of vent holes to aid cooling; please ensure that the air flow around these vent holes is not restricted.
DIG I/O
SMA Female

Expects and Outputs TTL Signal Levels
TTL Low: 0 V
TTL High: 5 V
Thorlabs offers two platforms to drive our wide range of motion controllers: our Kinesis® software package or the legacy APT™ (Advanced Positioning Technology) software package. Either package can be used to control devices in the Kinesis family, which covers a wide range of motion controllers ranging from small, low-powered, single-channel drivers (such as the K-Cubes™ and T-Cubes™) to high-power, multi-channel, modular 19" rack nanopositioning systems (the APT Rack System).
The Kinesis Software features .NET controls which can be used by 3rd party developers working in the latest C#, Visual Basic, LabVIEW™, or any .NET compatible languages to create custom applications. Low-level DLL libraries are included for applications not expected to use the .NET framework. A Central Sequence Manager supports integration and synchronization of all Thorlabs motion control hardware.

Kinesis GUI Screen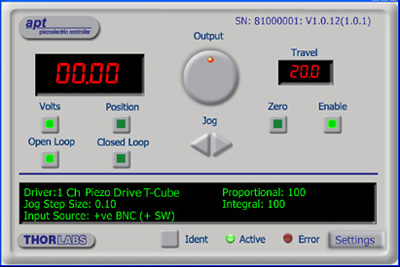 APT GUI Screen
Our legacy APT System Software platform offers ActiveX-based controls which can be used by 3rd party developers working on C#, Visual Basic, LabVIEW™, or any Active-X compatible languages to create custom applications and includes a simulator mode to assist in developing custom applications without requiring hardware.
By providing these common software platforms, Thorlabs has ensured that users can easily mix and match any of the Kinesis and APT controllers in a single application, while only having to learn a single set of software tools. In this way, it is perfectly feasible to combine any of the controllers from single-axis to multi-axis systems and control all from a single, PC-based unified software interface.
The software packages allow two methods of usage: graphical user interface (GUI) utilities for direct interaction with and control of the controllers 'out of the box', and a set of programming interfaces that allow custom-integrated positioning and alignment solutions to be easily programmed in the development language of choice.
A range of video tutorials is available to help explain our APT system software. These tutorials provide an overview of the software and the APT Config utility. Additionally, a tutorial video is available to explain how to select simulator mode within the software, which allows the user to experiment with the software without a controller connected. Please select the APT Tutorials tab above to view these videos.
Software
Kinesis Version 1.14.25
The Kinesis Software Package, which includes a GUI for control of Thorlabs' Kinesis and APT™ system controllers.
Also Available:

These videos illustrate some of the basics of using the APT System Software from both a non-programming and a programming point of view. There are videos that illustrate usage of the supplied APT utilities that allow immediate control of the APT controllers out of the box. There are also a number of videos that explain the basics of programming custom software applications using Visual Basic, LabView and Visual C++. Watch the videos now to see what we mean.
To further assist programmers, a guide to programming the APT software in LabView is also available.