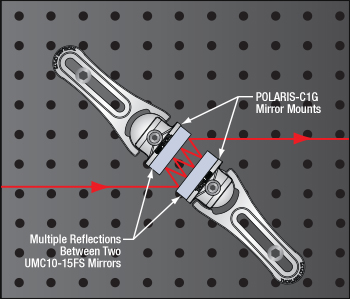 Click to Enlarge

An example setup consisting of two UMC10-15FS chirped mirrors in
POLARIS-C1G
mirror mounts. These mirrors are designed with >99.5% reflectance and a low 10° AOI to support multiple reflections.
Features
Chirped Mirrors Designed for Dispersion Compensation:


UMCx-15FS: Each Reflection Compensates for Group Delay (GD) of 1.5 mm of Fused Silica
DCMP175: Large GD Compensates for Long Path Lengths in Multiphoton Microscopy

High Reflectance and Low AOI Allow Multiple Reflections (See Drawing to the Right)
Fused Silica Substrates
Thorlabs' Dispersion-Compensating Mirrors correct for the pulse broadening that occurs when ultrashort pulses propagate through an optical system. Ideal for use as dispersion management tools (e.g., precompensation), we offer them in two types: round mirrors that compensate for transmission through fused silica, the most common substrate for ultrafast optics; and rectangular mirrors designed for the long path lengths and optical substrates used in multiphoton microscopes.
Since a femtosecond laser pulse consists of many different wavelengths, pulse broadening (a lengthening of the temporal intensity profile) will occur when the pulse passes through a dielectric medium, like glass. This broadening is caused by the wavelength dependence of the refractive index of the optical components through which the light travels. In typical glass, shorter wavelengths have higher indices of refraction than longer wavelengths, causing shorter wavelengths to travel slower. These mirrors are specifically designed so that longer wavelengths experience larger group delay dispersion than shorter wavelengths, allowing the shorter wavelengths to "catch up" to the longer wavelengths.
The coatings on these mirrors are deposited onto the surface using ion beam sputtering (IBS). This highly repeatable and controllable technique results in durable thin film coatings with high damage thresholds.
For Thorlabs' full selection of optics for ultrafast applications, please see the Ultrafast Optics tab.
Specifications
Item #
UMC05-15FS
UMC10-15FS
DCMP175
Wavelength Range
650 - 1050 nm
700 - 1000 nm
Reflectance over Wavelength Rangea
Rabs > 99.5% over Wavelength Range
Ravg > 99% over Wavelength Range
Group Delay Dispersion (GDD) per Reflection
-54 fs2 at 800 nm
-175 fs2 at 800 nm
Size
Ø1/2"
Ø1"
53.0 mm x 12.0 mm
(2.09" x 0.47")
Diameter Tolerance
+0.00 / -0.10 mm
N/A
Thickness
6.35 mm (0.25")
9.5 mm (0.37")
12.0 mm (2.09")
Thickness Tolerance
±0.10 mm
±0.20 mm
-
Clear Aperture
>80% of Diameter
At Least 8 mm x 50 mm
Angle of Incidence (AOI)
10°
8°
Surface Flatnessb
λ/4 at 632.8 nm Over Clear Aperture
λ/10 Over Any Ø8 mm in the Clear Aperture
Surface Quality
15-5 Scratch-Dig
10-5 Scratch-Dig
Back Surface
Polished
-
Laser-Induced Damage Threshold

0.07 J/cm

2 (800 nm, 43.2 fs FWHM, S-Pol, 10 000 Pulses)c
0.10 J/cm2 (800 nm, 100 fs)
Substrate
Fused Silica
Parallelism
≤3 arcmin
-
The plots below give the theoretically calculated reflectance and group delay (GD) of these mirrors and represent the designed performance. The actual performance will vary from lot to lot within the specifications given in the Specs tab. The highlighted regions represent the specified wavelength range of the mirrors.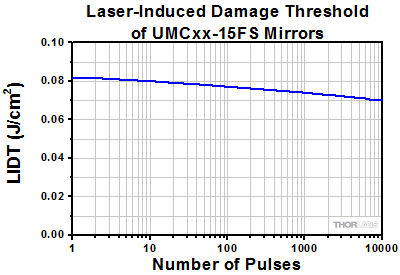 Click to Enlarge
The laser induced damage threshold (LIDT) value of an ultrafast optic is defined as the fluence (per pulse) that produces visible damage after a given number of pulses. These LIDT values were measured with 43.2 fs FWHM pulses at 800 nm that were s-polarized. LIDT values are not guaranteed in the ultrashort pulse regime. As such, they are provided as a service to customers.
Thorlabs offers a wide selection of optics optimized for use with femtosecond and picosecond laser pulses. Please see below for more information.