Unmounted Bandpass Colored Glass Filters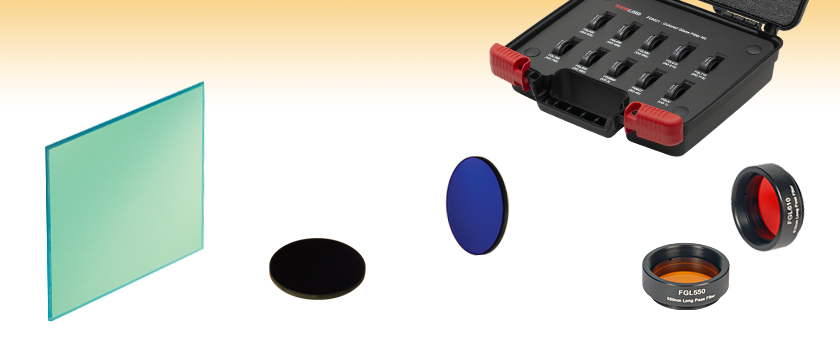 Ø25 mm Rounds, 2" x 2" Squares, or 6" x 6" Squares
Economic Alternative to Thin-Film Interference Filters
Selection Available in Kits
FGB37S
(2" x 2")
FGUV5
FGB25
FGK01

Please Wait
General Specifications
Size
Ø25 mm
2" x 2"
6" x 6"
Thickness
2 mm
3 mm
Surface Quality
40-20 Scratch-Dig
Surface Flatness
<λ @ 632.8 nm
<λ @ 632.8 nm over 1"
Tolerance
+0.0/-0.4 mm
(Diameter)
+0.0/-0.4 mm
(Length and Width of Square Filter)
Wedge
<3 arcmin
<5 arcmin
Clear Aperture
80% of Diameter
80% of Length and Width
Material
Schott® Colored Glass
Features
Bandpass Regions Between 240 and 1375 nm
Ø25 mm Round, 2" x 2" Square, or 6" x 6" Square Sizes
Kits Include Selection of Bandpass and Longpass Filters
These bandpass colored glass filters are manufactured from different colors of Schott® glass and are intended for use in a wide variety of applications. The filters are available in both round and square varieties. The Ø25 mm round filters will fit into our manual or motorized filter wheels; alternatively, they can be mounted in a lens tube. A selection of Ø25 mm filters is available premounted. To mount the 2" x 2" square filters, choose from our selection of fixed filter holders. For the 6" x 6" filters, we recommend the FP02 Plate Holder. In addition to the bandpass filters offered here, Thorlabs offers a series of longpass colored glass filters. If transmission ratios greater than those provided by the filters listed here are required, we provide a selection of bandpass colored glass filters with antireflective coatings.
Several of the colored glasses used for our filters are fluorescent at certain wavelengths; for more details on how this may affect certain applications, contact Technical Support. For narrowband sources, we recommend our dielectric bandpass filters.
Colored Glass Filter Kits
Thorlabs also offers two filter kits containing our most popular bandpass and longpass filters. For specific product details, please see the bottom of the page.
Storage Boxes
If you purchase individual filters and would like to have a safe, convenient way to store them when not in use, consider our storage boxes. There is one box (KT01) designed for mounted Ø25 mm filters and a second (KT03) for the unmounted 2" x 2" filters.