Clamps and Angle Brackets for 66 mm Rails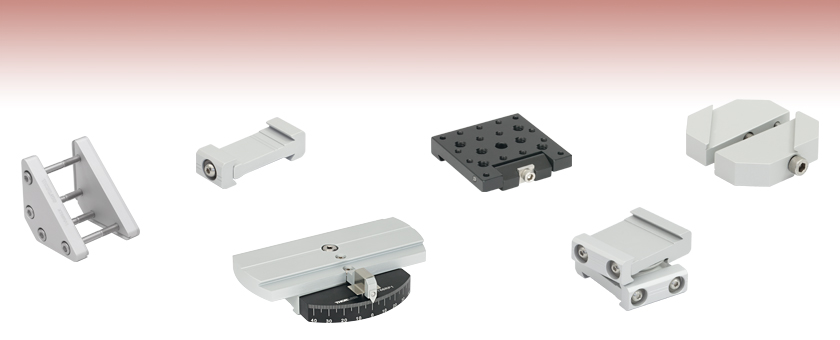 Clamps, Brackets, and Platforms Securely Connect 66 mm Rails
Join Rails at Right Angles in Three Dimensions
Rotation Clamps and Platforms Allow Arbitrary Orientations
XT66RA1
XT66C1
XT66RP1
XT66P2
XT66RD
XT66CC

Please Wait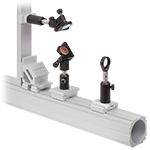 Click to Enlarge
Rail-Mounted Periscope
(See
Application Idea
Tab for Details)
Features
Provides Stable and Rigid Mounting of 66 mm Rails and Components
Easy to Adjust and Position by Sliding
Clamp Design Permits Rails to be Dropped In and Tightened Into Place
Brackets, Clamps, and Carriages Orient Rails at Right Angles in Two or Three Dimensions
Rotating Options for Securing Rails at Arbitrary Angles
Thorlabs' clamps and brackets for 66 mm rails are fundamental building blocks of two- and three-dimensional rail constructions.
Clamps
Our clamps, which can be slid along the rail and locked in place, are designed to securely fasten two rails together. We offer options that attach rails in parallel, at right angles in horizontal and vertical planes, or at arbitrary angles in a horizontal plane. They feature a wide opening that tightens shut around the dovetailed rail side, allowing rails to be added and removed to a structure without having to disturb existing components.
Brackets
Brackets have short dovetail sections with the same cross-sectional profile as our 66 mm rails, oriented such that rails can be attached at fixed angles in up to three dimensions. They are designed to be used in combination with our clamps. Machined from a single piece of aluminum, they provide excellent rigidity and sturdiness.
Platforms
Platforms consist of a bottom-located clamp that is connected to another surface that enables free rotation. The XT66CC Counterbored Pivot Platform provides rotation through a full 360°, while the XT66RP1 Rotation Slide Platform provides ±45° of rotation with laser-engraved graduations.
Thorlabs offers an extensive selection of accessories for 66 mm rails, including clamps and angle brackets, breadboard mounts, mounting platforms, rail carriages, rail platform positioners, rotation slide platforms, rail joiners, and lens tube adapters. Together with size adapters that incorporate 34 mm and 95 mm rails into an XT66 setup, these tools provide a complete family of rigid, versatile building blocks suited for virtually any optomechanical setup.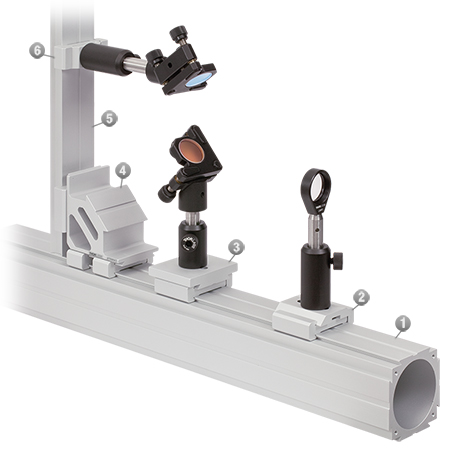 Click to Enlarge
Simple Periscope, View 1 of 2
---

Click to Enlarge
Simple Periscope, View 2 of 2
Application Idea: A Simple Periscope
The photographs to the left depict a simple periscope constructed using our 66 mm rail system. The two photos display the same setup from two different angles in order to clearly show how each part has been integrated. The labeled parts correspond to a row in the upper table, while the lower table shows the clamps and optical mounts used throughout the periscope.
Please note that lenses and mirrors, which are not shown in the tables below, would also be required.
Label
Item #
Description
Product Image
1
XT66-500
66 mm Construction Rail, L = 500 mm
2
XT66D2
50 mm Long Slotted Dovetail with One Z-Axis Counterbored Slot
3
XT66D2-50
50 mm Long XT66 Platform with Three 1/4"-20 (M6) Counterbores
4
XT66RA2
Right-Angle Clamp for 66 mm Rails
5
XT66DP-500
66 mm Double Dovetail Rail, L = 500 mm
6
XT66DE1
20 mm Long, 1/4"-20 Tapped Dovetail for 66 mm Rails
Additional Items
XT66C1
20 mm Long Double Dovetail Clamp for 66 mm Rails
XT66C2
40 mm Long Double Dovetail Clamp for 66 mm Rails
MA45-2
45° Mounting Adapter, Compatible with KM100 and KM200
KM100
Ø1" Kinematic Mirror Mount
LMR1
Ø1" Lens Mount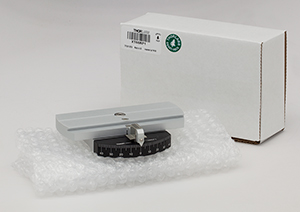 Click to Enlarge
XT66RP1 Packaging

Item #
% Weight
Reduction
CO2-Equivalent
Reductiona
XT66RP1
23.17%
0.99 kg
Smart Pack
Reduce Weight of Packaging Materials
Increase Usage of Recyclable Packing Materials
Improve Packing Integrity
Decrease Shipping Costs
Thorlabs' Smart Pack Initiative is aimed at waste minimization while still maintaining adequate protection for our products. By eliminating any unnecessary packaging, implementing packaging design changes, and utilizing eco-friendly packaging materials for our customers when possible, this initiative seeks to improve the environmental impact of our product packaging. Products listed above are now shipped in re-engineered packaging that minimizes the weight and the use of non-recyclable materials.b As we move through our product line, we will indicate re-engineered packages with our Smart Pack logo.
Travel-based emissions reduction calculations are estimated based on the total weight reduction of packaging materials used for all of 2013's product sales, traveling 1,000 miles on an airplane, to provide general understanding of the impact of packaging material reduction. Calculations were made using the EPA's shipping emissions values for different modes of transport.
Some Smart Pack products may show a negative weight reduction percentage as the substitution of greener packaging materials, such as the Greenwrap, at times slightly increases the weight of the product packaging.