Fiber Optic Mating Sleeves and Bulkhead Adapters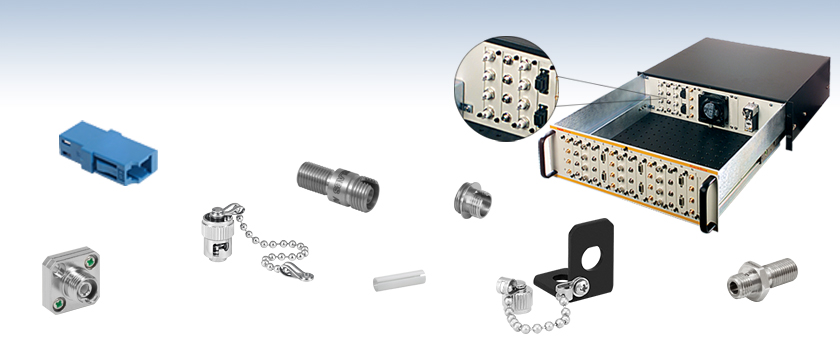 FC/PC, FC/APC, SMA, ST®/PC®, LC/PC®, SC/PC, and Ferrule Mating Sleeves
Precision Mating Sleeves for PM Fiber
FC/PC and SMA Bulkhead Adapters
Protective Metal Caps
ADALC1
LC/PC Mating
Sleeve
ADAFC3
FC/APC Mating
Sleeve
CAPT1
ST®/PC Cap
ADAF1
Ø2.5 mm Ferrule Mating Sleeve
ADAFCSMA1
FC/PC to SMA Mating Sleeve
HAFC
FC/PC Bulkhead Adapter
ADABD1
L-Bracket for D-Hole
FC Mating Sleeve
Panel-Mounted
Mating Sleeves
Application Idea
ADASMAV
Vacuum-Compatible SMA Mating Sleeve

Please Wait
Mating Sleeves Selection Guidea

Bulkhead Adapters that have one connector for projecting light into free space are also available below.
These mating sleeves are available in a mounted version.
These mating sleeves are available in 5 packs.
This mating sleeve is vacuum-compatible.
These interconnects are designed to adapt optogenetic patch cables and fiber optic cannulae and are not intended for use with patch cables terminated with standard connectors.
Features
Mating Sleeves to Align Terminated Fiber Cables
Mating Sleeves for Ø2.5 mm or Ø1.25 mm Ferrules
Bulkhead Adapters for OEM or Custom Applications
Vacuum-Compatible SMA-SMA Mating Sleeve Available
Protective Metal Caps Available for Select Adapters
Empty L-Brackets Available for FC Mating Sleeves
Mating Sleeves
Our mating sleeves connect any fiber cable terminated with industry-standard FC/PC, FC/APC, SMA, LC/PC®, SC/PC, and ST®*/PC® connectors. All our mating sleeves properly align the cores of each terminated fiber end and minimize back reflections by bringing them into physical contact, with the exception of our SMA mating sleeves, which are air-spaced. Thorlabs also provides a selection of the mating sleeves sold on this page premounted in an L-bracket that provides mechanical compatibility with standard 1/4"-20 (M6) optomechanics.
Bulkhead Adapters
Thorlabs' FC/PC and SMA Bulkhead Adapters contain one connector for applications that require the projection of light into free space. Their compact size, one-piece construction, and mounting thread make them ideal for OEM or custom aplications. The design aligns the front face of the connector ferrule with the rear surface of the adapter. This allows the fiber to be placed in near-physical contact with any optics or instruments that are placed after the adapter.
Care and Proper Use
It is important that the fiber tips be clean to minimize connection losses and avoid damage to the connector. Except for our SMA mating sleeves, the fiber tips will be in physical contact within all of our mating sleeves. The use of our G608N3 Index Matching Gel (sold below) can also help to reduce losses at the fiber connection. Thorlabs offers a complete selection of inspection tools and cleaning supplies for optical fiber. For terminated fiber, our reusable fiber-to-fiber splicing products are useful for creating temporary connections. Fiber caps are also available for protecting the end face of the fiber.
*ST® is a registered trademark of Lucent Technologies, Inc.