TEC Elements, Resistive Heaters, Thermistors, and Thermocouples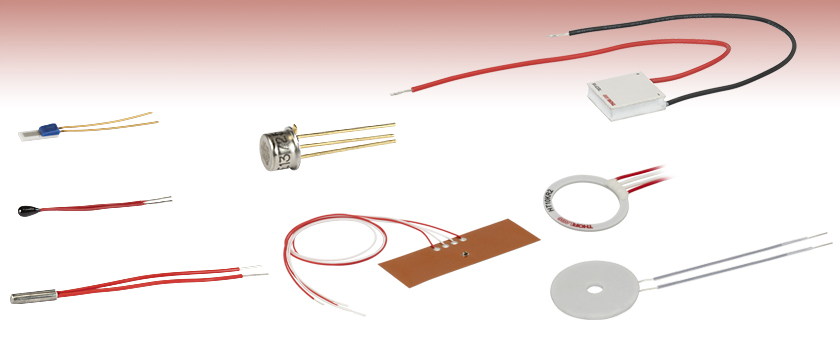 Thermoelectric Coolers up to 145.8 W
100 Ω, 10 kΩ, and Integrated Circuit Temperature Sensors
Resistive Foil, Cartridge, and Metal Ceramic Heaters
Thermistor Heaters Available
TH100PT
100 Ω Resistance Temperature Detector
(Not to Scale)
TH10K
10 kΩ Thermistor
(Not to Scale)
HT15W
Resistive Cartridge Heater
(Not to Scale)
AD590
Temperature Transducer
(Not to Scale)
HT10K
Flexible Resistive Foil Heater
HT19R
Metal Ceramic Heater
TECF1S
Single-Stage TEC Element
HT10KR2
Metal Ceramic Heater with Thermistor

Please Wait
Thorlabs offers a wide range of thermal management accessories, including thermoelectric coolers, resistive heaters, thermistors, and temperature transducers. Thermoelectric coolers can both cool and heat, allowing for quick response to thermal drift or shock. These devices are ideal for total and precise temperature regulation. For applications that require only heating or steady-state regulation slightly above room temperature, resistive heaters are a reliable and easily regulated heat source. Regardless of application, temperature monitoring is essential for any temperature regulation system. Thorlabs' thermistors and thermocouples provide precise and accurate temperature measurements.
Thermoelectric Coolers
We offer a line of single-stage thermoelectric coolers, which can maintain temperature differentials of at least 73 °C for a 50 °C hot surface. Our dual-stage TEC (Item # TECD2) provides a larger temperature differential between the hot and cold surfaces of the device; when the hot surface is 50 °C, it is capable of maintaining a differential of 108 °C in vacuum. The hot and cold surfaces of the dual-stage TEC are metalized copper for soldering in order to ease integration into the system.
All of our TECs work well with our TED4015 225 W Benchtop Laser Diode Temperature Controller and our rack-mountable temperature controllers, which are designed for the PRO800 Chassis. These TECs can also be driven by our OEM Temperature Controllers in SMT or THT Packages. When using a TEC for thermal regulation, care should be taken to electrically isolate the sides and leads of the TEC.

Resistive Heaters
Thorlabs offers four types of resistive heaters: foil, cartridge, metal ceramic, and metal ceramic with thermistor. The HT10K and TLK-H resistive foil heaters have a pressure-sensitive adhesive backing and a 10 kΩ NTC thermistor integrated directly onto the heater. The HT15W heater is a miniature 15 W cartridge heater, which can be used for many applications requiring small areas to be heated. Our metal ceramic heaters come in either round (Item # HT19R) or square (Item #s HT24S and HT24S2) geometries and provide fast thermal response. The HT10KR1, HT10KR2, and HT19R2 metal ceramic heaters have a 10 kΩ thermistor and can reach a maximum temperature of 90 °C. These small but high powered heaters are ideal for thermal regulation of optical components. All of the heaters sold here are compatible with Thorlabs' TC300 heater temperature controller.

Thermistors and Temperature Transducers
We also offer three models of thermistors and temperature transducers. The TH10K is a 10 kΩ thermistor with 1 °C accuracy that is meant to be used in common TEC applications. The TH100PT is a 100 Ω platinum Resistance Temperature Detector (RTD) with a positive linear temperature response. These thermistors are compatible with the TC300 heater temperature controller; the TH10K is compatible with the MTD415T TEC controller in an SMT package. The AD590 is an integrated circuit (IC) temperature transducer with an output current that is proportional to absolute temperature. All our thermistors and AD590 temperature transducers are compatible with the TED200C 12 W Benchtop Laser Diode Temperature Controller and our rack-mountable temperature controllers. For high temperature applications, constantan or manganese wires may be used.