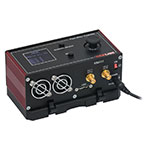 Click to Enlarge
KIM001: Single-Channel Output
KIM101: Four Output Channels, Capable of Multi-Channel Operation
Standalone Control via Top Panel or PC-Control via USB
Voltage Output from 85 V to 125 V
Item #
PIA50
Travel
50 mm (1.97")
Typical Step Sizea
20 nm
Maximum Step Sizeb
<30 nm
Step Size Adjustabilityc
≤30%
Maximum Step Frequencyd
2000 Hz
Backlash
None
Maximum Active Preloade
25 N
Recommended Maximum
Axial Load Capacityf
2.5 kg (5.51 lbs)
Speed (Continuous Stepping)

2 mm/minute (Typical)
<3.5 mm/minute (Maximum)
Drive Screw
1/4"-80 Thread, Hard PVD Coated
Motor Type
Piezoelectric Inertia
Mounting Feature
(Auxiliary)
Ø3/8" (Ø9.525 mm) Barrel
(3/8"-40 Thread with Lock Nut)
Operating Temperature
10 to 40 °C (50 to 104 °F)
Dimensions
3.80" x 1.24" x 0.67"
(96.6 mm x 31.5 mm x 17.0 mm)
Cable Length
1.0 m (3.28')
Connector
SMC, Female
Required Controllerg
KIM001 or KIM101h
Features
Compact Design: 31.5 mm x 17.0 mm (W x H)
20 nm Typical Step Size

Manual Adjustment via Knob on Adjuster Screw

125 V Maximum Operating Voltage

Ø3/8" Mounting Barrel for Compatibility with Translation Stages
Ideal for Set-and-Hold Applications that Require High-Resolution Relative Positioning
Control Cable can be Adjusted up to 110° for Space-Constrained Applications
Thorlabs' PIA50 Piezoelectric Inertia Actuator provides high-resolution linear motion control with a long piezo-controlled translation range in a compact package. It can support loads up to 2.5 kg (5.51 lbs) and preloads up to 25 N with typical movements of 20 nm and no backlash. The step size can be adjusted up to 30% to a maximum of approximately 30 nm using the KIM101 Controller and Kinesis® software. However, due to the open-loop design, hysteresis, and application conditions, the achieved step size of the system can vary by up to 20%. An external feedback system will need to be used to overcome this variance.
This actuator has a Ø3/8" (Ø9.525 mm) barrel that can be mounted in a manual stage that has a Ø3/8" mounting clamp. For compatibility with 1/4"-80 threaded mirror mounts see our 10 mm travel piezo inertia actuator. The actuator is self-locking when at rest and when there is no power supplied to the piezo, making the actuator ideal for set-and-hold applications that require nanometer resolution and long-term alignment stability. Manual adjustments can be made using the knob on the adjuster screw, as long as the piezo is not actively translating the screw; the knob is also compatible with 5/64" (2.0 mm) hex keys.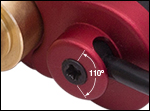 Click for Details
The control cable can be adjusted up to 110° for space-constrained applications.
Powered by a 10 mm long discrete piezo stack, the actuator can operate at speeds of up to 3.5 mm/min. The design of the piezo motor will rotate the tip of the lead screw during translation. For information on the design of our piezo inertia "slip-stick" motor actuators, please see the complete presentation here.
Required Controller
A K-Cube Piezo Inertia Controller is required to operate our PIA50 Piezo Inertia Actuator; the actuator cannot be operated using a standard piezo controller. The K-Cube controllers have an internal sawtooth voltage signal generator capable of sending sub-millisecond pulses (steps) with controllable amplitudes from 85 V to 125 V. In addition to a single-channel driver, we offer a four-channel driver capable of single- or dual-channel operation, which is ideal for applications involving multiple motorized actuators, such as beam steering.
For more information, please see the full web presentation.