DT12 Stage Specifications
Travel Range
0.5" (12.7 mm)
Maximum Load
Horizontal: 2.5 lbs (1.2 kg)
Vertical: 0.55 lbs (0.25 kg)
Travel per Revolution
0.014" (0.35 mm)
Construction
Aluminum with Precision Steel Leadscrew
Dimensionsa (Including Actuator)
1.00" x 1.81" x 0.58" (25.4 mm x 45.9 mm x 14.8 mm)
Mounting Hole Threadingb
8-32 (M4)
Features
Single-Axis, XY, XZ, and XYZ Configurations Available
Compact Footprint: 1.00" x 1.81" (25.4 mm x 45.9 mm)
Dovetail Mechanism Provides Smooth Travel and Long Lifetimes
Lockable Moving Platform
Ø1/2" Post Mountable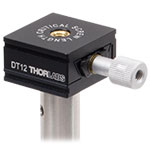 Click to Enlarge
DT12 Stages are Post Mountable via a Bottom-Located 8-32 (M4) Mounting Tap

Click to Enlarge
RC1
Rail Carrier that is Mounted on a
Dovetail Rail
These Dovetail Translation Stages are compact, entry-level positioners, ideal for use in applications where space is limited. Each stage has a 1.00" x 1.00" (25.4 mm x 25.4 mm) platform that can be translated up to 1/2" (12.7 mm) using a precision M3 x 0.35 adjuster. The moving platform can be locked using a side-located setscrew and 0.05" hex key.
An 8-32 (M4) tap on the bottom of the stage allows it to be mounted on Ø1/2" posts, while a top-located
8-32 (M4) tap is for mounting optical components, top mounting plates, or accessories. Each stage includes mounting grooves on the top and bottom of the stage to attach to an optical table using two CL6 Clamps (sold separately).
Four stage configurations are available: single-axis, XY, XZ, and XYZ. In order to guarantee orthogonality of the axes, XY configurations must be ordered preconfigured from Thorlabs. Pre-configured multi-axis stages also include a base plate for mounting the stages to an optical table.
Accessories
A top mounting plate adapter is available that includes an array of 4-40 (M3) and 8-32 (M4) mounting taps and keyways that facilitate the mounting of our CT1 stage accessories. Slotted base plates for mounting the stages to an optical table are supplied with all 2- and 3-axis configurations, but are also available separately for single-axis stages. A right-angle bracket allows the stages to be easily assembled into XZ, YZ, or XYZ configurations, while a rotation adapter can be added to rotate a single stage up to 360°. In addition, a cage system adapter is provided for mounting a stage using 60 mm cage rods.