Uncoated Plano-Concave Cylindrical Lensesa
Material
N-BK7b
Uncoated Wavelength Rangec
350 nm - 2.0 µm
Design Wavelength
587.6 nm
Length Tolerance
+0.00 / -0.10 mm
Height Tolerance
+0.00 / -0.10 mm
Center Thickness Tolerance
±0.1 mm
Focal Length Tolerance
±1%
Surface Quality
60-40 Scratch/Dig
Centration
For f ≤50 mm: ≤5 arcmin
For f >50 mm: ≤3 arcmin
Surface Flatness
(Plano Side)
Height
λ/2
Length
λ/2
Cylindrical Surface
Powerd
(Concave Side)
Height
3λ/2
Length
3λ/2
Surface Irregularity
(Peak to Valley)
Height (Plano, Curved)
λ/4, λ
Length (Plano, Curved)
λ/4, λ/cm
Clear Aperture
>90% of Surface Dimensions
Features
Made of N-BK7 Glass
Uncoated Wavelength Range: 350 nm - 2.0 µm
Focal Lengths from -3.91 mm to -1000.00 mm
Focal Length Tolerance: ±1%
Negative cylindrical lenses act as plano-concave spherical lenses, except on only one axis. These lenses are used in applications that require one dimensional shaping of a light source. A typical application is to use a single cylindrical lens to turn a collimated laser into a line generator. Pairs of cylindrical lenses may be used to anamorphically shape images. To minimize the introduction of aberration, the curved surface of the lens should face the source when used to diverge a beam.
These N-BK7 Plano-Concave Cylindrical lenses are available uncoated or with one of three Antireflection Coatings, which can reduce the amount of light reflected from each surface of the lens. The uncoated lenses are highlighted on this page. Lenses with a -A (350 - 700 nm range), -B (650 - 1050 nm range), or -C (1050 - 1700 nm range) antireflection coating are featured elsewhere. Please see the Graphs tab for coating information.
For cage system and lens tube compatibility, please see our Mounted Plano-Concave Round Cylindrical lenses. These lenses are typically easier to integrate into our standard optomechanics.

Zemax Files
Click on the red Document icon next to the item numbers below to access the Zemax file download. Our entire Zemax Catalog is also available.
All cylindrical lenses can be ordered uncoated and the cylindrical lenses made from N-BK7 can be ordered with one of the following broadband AR coatings:
-A: 350-700 nm, -B: 650-1050 nm, or -C: 1050-1700 nm
These high performance multilayer AR coatings have an average reflectance of less than 0.5% (per surface) across the specified wavelength ranges. The central peak in each curve is less than 0.25%. These coatings provide good performance for angles of incidence (AOI) between 0° and 30° (0.5 NA). For optics intended to be used at large angles, consider using a custom coating optimized at a 45° angle of incidence; this custom coating is effective from 25° to 52°. The plot shown below indicates the performance of the standard coatings in this family as a function of wavelength.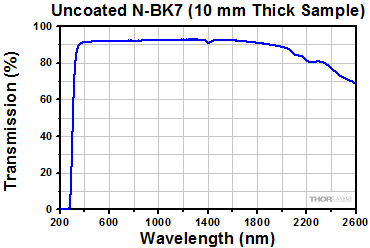 Click to Enlarge
Click
Here
for Raw Data
---