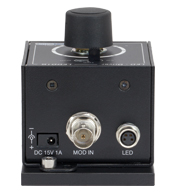 Click to Enlarge
Back View of the LEDD1B T-Cube. For more information, please see the
Pin Diagrams
tab.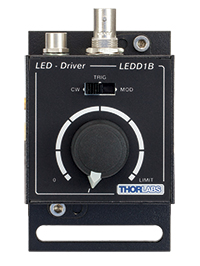 Click to Enlarge
Top View of the LEDD1B T-Cube
Features
Easy-to-Use LED Driver
3 Operation Modes:

Constant Current Mode
Modulation Mode
Trigger Mode

Compact Footprint Measuring 60 mm x 60 mm x 47 mm (2.4" x 2.4" x 1.8")
Pulse Width and Frequency Control via External 0-5 V Signal
Adjustable LED Current Limit
Includes One CAB-LEDD1 Cable (Additional Cables Available Separately Below)
The LEDD1B driver is designed to drive high-power LEDs with currents up to 1200 mA. It features an adjustable LED current limit to protect the connected LED. The output current can be limited continuously from 200 mA to 1.2 A using the adjuster on the front of the unit (shown below), thereby ensuring the output current does not exceed the limit regardless of the other settings or the modulation input voltage.
Current Limit Adjuster
The LEDD1B is compatible with our high-power LEDs, which are available in collimated, uncollimated, PCB-mounted, and fiber-coupled versions. It is also compatible with select unmounted LEDs offered by Thorlabs for which the maximum forward DC current is higher than 200 mA. When driving these LEDs, care must be taken to ensure the LEDD1B current limit is set at or below the LED's maximum forward DC current rating. Set the current limit (see left) by rotating the arrow direction with a flathead screwdriver.
The LEDD1B driver offers three operation modes: constant current mode, trigger mode, and modulation mode. The trigger and modulation modes are controlled by an external voltage in the 0 to 5 V range. When in the modulation mode, the LED current output exactly follows the amplitude and waveform of the input signal independent of the knob settings on the top of the T-Cube control unit. In trigger mode the output current switches to the level that has been selected by the knob on the top of module as soon as a threshold voltage is reached. This can be used for pulse width modulation (PWM). The threshold voltage is fixed and cannot be changed by the user. The operation mode can be changed by a switch next to the current selector knob.
This LED Driver has the same compact form factor as other T-Cube modules, and thus, it integrates well into the platform. It is shipped attached to a removable base plate, which allows the T-Cube to be easily secured to an optical table.
Multi-LED Source
A customizable multi-LED source, such as that featured in the Application Idea tab here, may be constructed using our mounted high-power LEDs and other Thorlabs items. This source may be configured for integration with Thorlabs' flexible SM1 Lens Tube Systems, 30 mm Cage Systems, and microscope adapters. Please see our mounted high-power LEDs presentation for a detailed item list and instructions. Thorlabs also offers integrated, user-configurable 4-Wavelength LED Sources thay can be driven using our four-channel LED drivers.
Warning!
The LEDD1B is designed for high-brightness LEDs only. The LED current limit has to be adjusted by the trim pot on the front of the unit so that the maximum current of the connected LED will not be exceeded. The available range for this limit is 200 to 1200 mA.
Power Supply Options
The preferred power supply (single channel or hub-based) depends on the end user's application and whether you already own compatible power supplies. To that end and in keeping with Thorlabs' green initiative, we do not ship these units bundled with a power supply. This avoids the cost and inconvenience of receiving an unwanted single-channel supply if a hub-based system would be more appropriate. The power supply options compatible with the LEDD1B LED Driver are listed below.
Specification
Value
Common Data
Output Current Range
0 - 1200 mA
LED Current Limit Set Point Range
200 - 1200 mA
LED Forward Voltage
11 V (Min)
12 V (Typical)
Current Ripple
8 mA
Current Ripple Frequency
570 kHz
Modulation Modea,b
Frequency Range
0 - 5 kHz, Sine Wave
Modulation Form
Arbitrary
Input Voltage Rate
0 - 5 V
Slew Rate
13.6 mA/µs
Decay Rate
13.1 mA/µs
Trigger Modea
Frequency Range
0 - 1 kHz
Duty Cycle Range
20 - 80% @ 1 kHz
2 - 98% @ 100 Hz
0.2 - 99.8% @ 10 Hz
Modulation Form
Square Wave / PWM
Logic Input Levels
TTL
Min H-Level: 2 V
Max L-Level: 0.55 V
Slew Rate
18 mA/µs
Rise Time
51 µs
Decay Rate
12 mA/µs
Fall Time
79 µs
General Data
Power Supply
15 VDC
Maximum Power Consumption
15 VA
Operating Temperature
0 - 40 °C
Storage Temperature
-40 to 70 °C
Weight
240 g
Dimensions (W x H x D)
60 mm x 73 mm x 104 mm
LED Connector - Female

| Pin | Description |
| --- | --- |
| 1 | LED Anode |
| 2 | LED Cathode |
| 3 | Unused |
| 4 | Unused |
Modulation In
BNC Female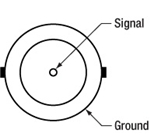 0 to 5 V external LED control.