Vibration Isolation for Microscopy Applications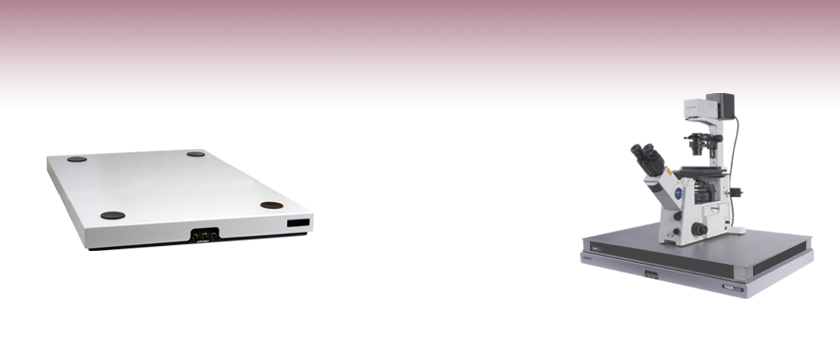 Portable, Passive Isolation System
Compatible with Leica, Olympus, Nikon, and Zeiss Microscopes
Provides Large Working Area and Three-Point Stability
PTT600600
Breadboard can be Purchased Separately
PTT900600 IsoPlate
Breadboard Available Separately
Microscope Not Included

Please Wait
Specifications
Load Capacity, Including Breadboard
45 - 180 kg
(100 - 400 lbs)
Resonant Frequencya
3.5 Hz
Transmissibility at Resonancea
24 dB
Transmissibility at 10 Hz
-16 dB
(0.15 Transmissibility Ratio)
Transmissibility Curve
Air Pressure Required (Max)
60 psi (415 kPa)
Inflation Method
Foot Pump
Air Connection
Schrader Valve
Measured at the maximum load of the IsoPlate.
Features
Portable, Passive Vibration Isolation
Designed for Major Manufacturers' Microscopes
Two Sizes:

600 mm x 600 mm (23.6" x 23.6")
900 mm x 600 mm (35.4" x 23.6")

Load Capacity, Including Breadboard: 45 - 180 kg (100 - 400 lbs)
Thorlabs' IsoPlate Vibration Damping Systems provide passive vibration isolation for medium-sensitivity microscopy measurements. They consist of a lightweight support base with pneumatic isolators at all four corners. A choice of breadboards is available separately, with an array of 1/4"-20 or M6 tapped holes, or an untapped (no holes) work surface. This two-piece design is simple to install and minimizes coupling between the microscope, table, and floor. It is compatible with any breadboard and microscope pair which has a combined weight that is less than 180 kg.
The IsoPlate support plate contains four rubber pads, underneath which are four inflated cushions. A pair of these cushions shares an air reservoir, and the remaining two cushions have independent reservoirs. This arrangement provides stable, three-point dynamics to the system. For a detailed plot of the transmissibility from 1 Hz to 50 Hz, please see the Graphs tab.
Air suspension is achieved by three Schrader valves on the front panel of the IsoPlate, which can be inflated by a standard foot pump.
Measured Transmissibility Curve

This graph shows the measured vibration transmissibility for frequencies from 1 Hz to 50 Hz