Cap Screw, Setscrew, and Screw Thread Adapter Kits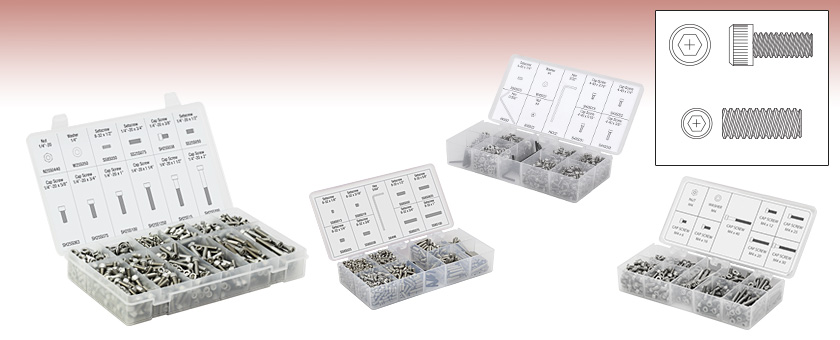 Essential Hardware for Any Lab Setup
A Variety of Screws in a Single Kit
Well Organized Package Reduces Setup Time
HW-KIT2
1/4"-20 Cap Screw Kit
HW-KIT3
8-32 Setscrew Kit
HW-KIT5
4-40
Cap Screw Kit
HW-KIT4/M
M6 x 1.0 Setscrew Kit

Please Wait
Features
Cap Screws, Setscrews, Washers, Nuts, and Hex Keys in Many Popular Sizes
4-40, M3 x 0.5, 8-32, M4 x 0.7, 1/4"-20, and M6 x 1.0 Kits Available
Individual Cap Screws, Setscrews, Washers, and Nuts are Also Available
Screw Thread Adapter Kit Contains Our Most Popular Adapters
Thorlabs' cap screw and setscrew kits are an essential part of any lab setup, especially when using optomechanical hardware. They provide a generous assortment of precisely machined screws, washers and nuts of different sizes within a conveniently organized storage box. Also available are screw kits specifically designed for use with our Mini-Series Construction Components. Screw kits are available in imperial or metric versions.
We also offer many of the cap screws, nuts, and setscrews used in these kits in packages of 25 or 50, which are useful for refilling the more frequently used kit components. Click on the links in the tables below to see the corresponding package of 25 or 50 screws.
Thread Adapter Kits are available in both imperial and metric varieties. Both kits come packaged in an organizing box with convenient scaled drawing labels and contain our most popular thread adapters. See below for a list of the specific adapters contained in each kit.