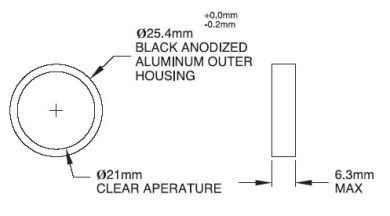 Applications
Emission Filters in Fluorescence Applications
Order Sorting Filters for Photometry
Stray Light or Trim Filters to Eliminate any Unwanted Near Band Radiation
Raman Spectroscopy Filters
Astronomy Applications
Thorlabs' Edgepass Filter Kits each contain 10 mounted longpass or shortpass filters for isolating regions of the visible or IR spectrum. Each filter is mounted in an unthreaded Ø1" black anodized aluminum ring that can be placed into our selection of filter mounts or Ø1" lens tubes using retaining rings. The filters are packaged in a plastic storage box. Detailed specifications can be found in the table below.
Our edgepass filters are constructed of durable dielectric coatings and will withstand the normal cleaning and handling associated with any high-quality optical component. Their film construction is essentially a modified quarter-wave stack, using interference effects, rather than absorption, to isolate their spectral bands. Thus, unlike colored filter glass, the cut-off/cut-on wavelength will be shifted to shorter wavelengths with an increase in the angle of incidence. This feature can be useful in applications where it is desirable to fine tune the location of the cut-on or cut-off wavelength. Our edgepass filters are hermetically sealed for maximum humidity protection and may be combined for custom bandpass filters.
Specifications
Longpass Filters
Shortpass Filters
Transmission Region
-
~400 nm to Cut-off
Transmission at Peak
80% (400 - 700 nm)
75% (750 - 1000 nm)
70% (>1000 nm)
70% (<500 nm)
70% (500 - 540 nm)
80% (550 - 1000 nm)
Cut-On or Cut-Off Tolerance
(Δλ@ 50% of Peak)
±3 nm to 750 nm
±15 nm to 1000 nm
±3 nm to 750 nm
±15 nm to 1000 nm
Rejection Region
0.01% abs., 0.01% 200 nm to Cut On
0.01% abs., 0.0001% avg. (1.3X Cut-Off)
Cut-Off Slope
3% OD = 0.3 to OD = 4
4-5%, OD = 0.3 to OD = 4
Construction
Immersed Dielectric
Scratch/Dig
80/50 per Mil-0-13830A
Substrate Material
Soda Lime or Equivalent
To inquire about our custom edgepass filter options, including the possibility of alternative cut-on or cut-off wavelengths, please contact Tech Support. Please note that there is a significant lead time and tooling cost associated with custom filters that makes the purchase of only a few pieces fairly costly.