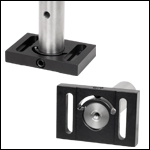 Click to Enlarge
RS4 Pillar Post Shown Mounted in a
Flexure Clamping Base
, Allowing for Small Height Adjustments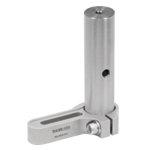 Click to Enlarge
RS4 Pillar Post Shown Mounted in a
Polaris Clamping Arm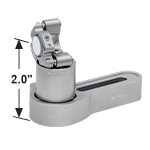 Click to Enlarge
Mirror Center of a Ø1/2" Polaris Mirror Mount Raised to a Standard 2.00" Height Using the PLS-P150 Post
Features
Standard Posts Used to Extend the Height of Our Pedestal Posts

Top- and Bottom-Located 8-32 (M4) Tap
Top- and Bottom-Located 1/4"-20 (M6) Tap

Posts Designed to Mount Polaris® Mirror Mounts

One or Three Top-Located 8-32 (M4) Taps
One Bottom-Located 1/4"-20 (M6) Tap

Ø1" (Ø25 mm) Solid, Nonmagnetic Stainless Steel Construction
Large-Diameter Relief Cut on Top and Bottom for Mounting Stability
3/16" (5 mm) or 0.24" (6 mm) Hole Provides Extra Leverage During Tightening
Thorlabs' Ø1" (Ø25 mm) Pillar Posts are a basic component in any optical setup. Posts with heights between 0.5" (12.5 mm) and 12" (300 mm) are available below, as well as a variety of post construction accessories. Ø1" (Ø25 mm) posts designed to mount our Polaris mirror mounts are also available.
Standard Ø1" (Ø25 mm) Posts
Our standard Ø1" (Ø25 mm) posts have a tap on both the top and bottom, allowing them to be threaded to another post or optical table in any orientation. We offer posts with 8-32, M4, 1/4"-20, or M6 taps on both ends. A 3/16" (5 mm) hole in the center of each post is provided so that a balldriver can be used to provide extra leverage when securing a mounted component. These posts can also be mounted with arbitrary height adjustments using Ø1" post mounts or Ø1" post holders. Alternatively, our BE1 pedestal adapter, sold below, can be threaded into the end of the post for functionality similar to that of our Ø1" pedestal posts.
Pillar posts are available in a variety of heights from 0.5" (12.5 mm) to 12" (300 mm). Additional heights can be achieved by stacking posts with heights of 0.39" (10 mm) or shorter on top of a standard pillar post. These posts can be stacked easily and securely by using the SPW501 or a balldriver on the torque hole, which provides extra leverage while tightening the components onto each other.
Ø1" (Ø25 mm) Posts Designed for Polaris Mirror Mounts
These posts are designed for use with Polaris mirror mounts. They contain one or three top-located 8-32 (M4) taps, for directly attaching a mirror mount without using a thread adapter, and a bottom-located 1/4"-20 (M6) tap. A precision 0.24" (6 mm) hole, located 20 mm from the base of the post, allows for alignment of multiple mounts along a common optical axis or for fine angle tuning. Popular post lengths are available from stock; custom lengths can be requested using the configurator below (single-mounting-hole versions only) or by contacting Tech Support. Although these posts can be mounted utilizing the options described above for our standard posts, we recommend using our Polaris clamping arms, sold below. These clamping arms, which are constructed from heat-treated stainless steel, remove the bridging effect commonly seen with standard clamping forks (described in further detail below), while also providing a higher holding force.