Right-Angle Mounting Adapters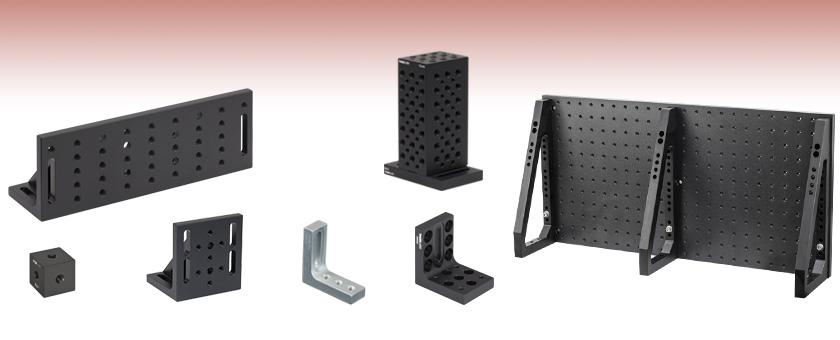 Stably Mount Small or Large Optomechanics at 90°
Slotted, Counterbored, and Tapped Holes Enable
Virtually Any Configuration
AP90L
Large Right-
Angle Plate
RM1F
1/4"-20 Tapped
Construction Cube
AB90CV
Vacuum-Compatible
Right-Angle Bracket with 1/4" (M6)
Counterbored Slot and 1/4"-20 Taps
AB90E
Right-Angle Bracket with 1/4" (M6)
Counterbored Slot and 8-32 Taps
TS240
Tombstone Mounting Block
Application Idea
VB01 Brackets Hold Large
Breadboards at 90º
AP90
Right-Angle Plate

Please Wait
Thorlabs' Right-Angle Mounting Adapters assist in creating sturdy three-dimensional optomechanical assemblies and are suited for setups of virtually any size. They can be used directly with mounted optomechanics or as supports for larger structures. The parts shown below are either machined from a single block of aluminum or constructed from extruded lengths of aluminum for exceptional precision and rigidity. We also offer vacuum-compatible versions of our general-purpose Right-Angle Brackets for 1/4"-20 (M6) Cap Screws.
Thorlabs also manufactures an Adjustable Mounting Plate and Right-Angle Clear Aperture Brackets for other applications requiring vertical mounting, as well as 30°, 45°, and 60° angled mounting plates. For mounting two posts at a right angle we offer Ø1/2" Post Angle Mounting Clamps and Ø1" Post 90° Mounting Clamps.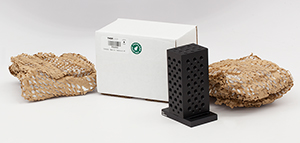 Click to Enlarge
Updated TS240 Packaging

Smart Pack Goals
Reduce Weight of Packaging
Increase Usage of Recyclable Materials
Improve Packing Integrity
Decrease Shipping Costs
Thorlabs' Smart Pack Initiative is aimed at minimizing waste while providing adequate protection for our products. By eliminating any unnecessary packaging, implementing design changes, and utilizing eco-friendly materials, this initiative seeks to reduce the environmental impact of our product packaging.

The updated TS240 and TS240/M packaging consists of recycled cardboard and weighs 6.7% and 14.7% less, respectively, than the original packaging. This weight change results in a respective 0.86 kg and 1.85 kg reduction in travel-based CO2 emissions per year, based on typical product sales. The other products on this page have transitioned, or are in the process of transitioning to recycled paper packaging.

As we move through our product line, we will indicate re-engineered, eco-friendly packaging with our Smart Pack logo, which can be seen above.