Fixed Mounting Adapters for Cylindrical Components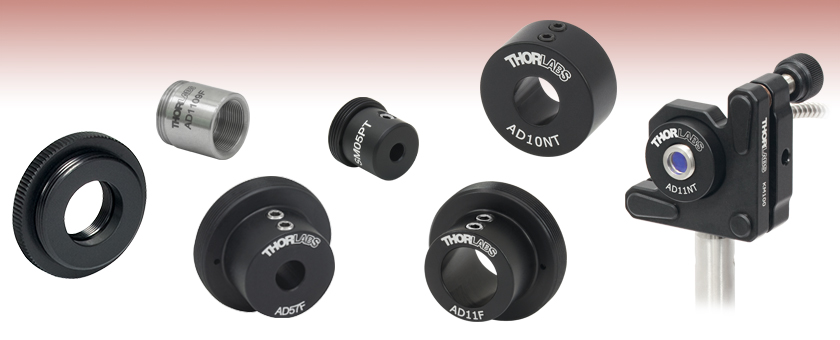 Adapters for Collimators and Other Cylindrical Components
Internal and External Threaded or Smooth Bore Options
Options for 3.5 to 16 mm Diameter Components
AD10NT
SM05PT
AD11F
AD1109F
Application Idea
AD11NT Adapter Used to Mount Fiber Collimator
RMS11P
AD57F

Please Wait
Features
Integrate Collimators and Other Cylindrical Components into Lens Tubes and Cage Systems
Align Components to the Optical Axis
Externally SM05-, SM1-, and RMS-Threaded Adapters
Externally Unthreaded Adapters with 1/2" (12.7 mm) and 1" (25.4 mm) Outer Diameter Available
Designed for Components with Smooth or Threaded Housings

Smooth Bore Diameters: 3.5 mm, 4 mm, 4.7 mm, 5.72 mm, 8 mm, 9 mm, 9.5 mm, 10 mm, 11 mm, 12 mm, 12.7 mm (1/2"), 15 mm, and 16 mm
Threaded Collimators: M9 x 0.5 and M11 x 0.5
These fixed adapters are designed to facilitate the integration of cylindrical components such as collimators into free-space optical setups. We offer adapters that feature external SM05 (0.535"-40), RMS (0.800"-36), or SM1 (1.035"-40) threading as well as adapters that have a smooth 1/2" or 1" outer diameter. The threaded adapters are compatible with our lens tube systems, cage systems, and numerous components in our product line. The non-kinematic unthreaded adapters are best suited for use in kinematic mirror mounts, allowing a collimated beam to be steered by the mount. Each adapter is designed so that the optical axis of the cylindrical component will be centered with respect to the outer diameter of the adapter.
In addition to these fixed adapters, we offer smooth bore and SM1-threaded (1.035"-40) kinematic collimator adapters with pitch and yaw adjustment for Ø8 mm, Ø11 mm, or Ø12 mm cylindrical components. We also offer a post-mountable kinematic mount for Ø11 mm cylindrical components, which is part of our Mini-Series line.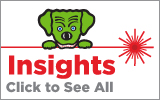 Insights into Best Lab Practices
Scroll down to read about a practice we follow when setting up lab equipment.
Fiber Collimators: Tip for Mounting with Adapters
Click here for more insights into lab practices and equipment.
Fiber Collimators: Tip for Mounting with Adapters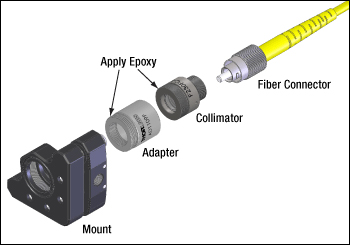 Click to Enlarge
Figure 1
: The components shown above are joined using threaded interfaces. Since unscrewing the fiber connector could unintentionally loosen connections between the other components, Thorlabs suggests applying epoxy to the other two interfaces to immobilize them.
Fiber collimators are often used to introduce light into an optical setup from a fiber coupled source. Thorlabs offers a variety of fiber collimator packages, some only provide a smooth barrel (like the triplet collimators) and others have a metric thread at the end of the barrel (like the asphere collimators).
For both packages, Thorlabs typically suggests the use of an adapter with a nylon tipped set screw that holds the barrel against a two line contact.
Adapters for the external thread are available (AD1109F) that allow the user to thread the fiber collimator into a mount.
However, the use of these adapters results in a stack up of threaded interfaces (threaded fiber connector, threaded collimator, and threaded adapter). As a result, it is possible that unscrewing the fiber connector could inadvertently loosen another thread interface and create an unknown source of instability in the setup.
For this reason, Thorlabs suggests epoxying the threaded fiber collimators into the threaded mounts if that mounting mechanism is preferred.
Figure 1 indicates the assembly order and places to apply the epoxy.
Date of Last Edit: Dec. 4, 2019