Rigid, Non-Isolating Breadboard Supports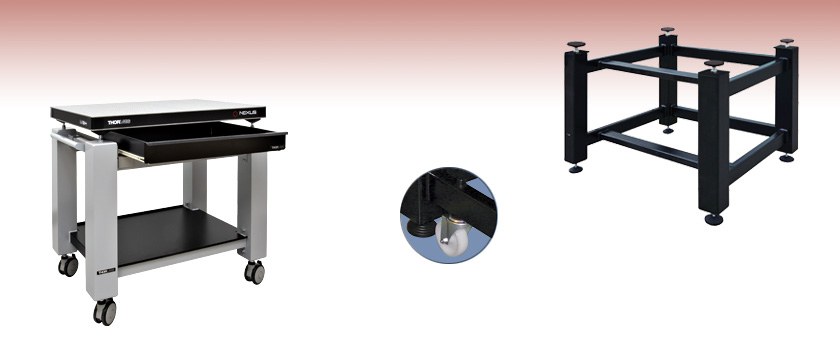 For Vibration Tolerant Applications
Manual Level Adjustment
Optics a la Cart – Mobile Workstation
POC001
Optics Cart Shown with
Drawer and Breadboard
(Each Sold Separately)
Casters Available Separately
PFR75120-7

Please Wait
Specifications
Load Capacity
700 kg (1540 lbs)
Height
700 mm (27.5") or 800 mm (31.5")
Leveling Pads (Top) Height
Adjustment Range
±15 mm (0.6")
Leveling Feet (Bottom) Height
Adjustment Range
±15 mm (0.6")
Finish
Black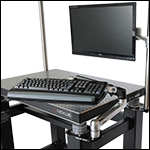 Click to Enlarge

The
PWA120
Accessory Adapter enables support for monitor and keyboard arms, as well as shelves and other accessories (not pictured).
Mobile Workstation Specifications
Load Capacity
320 kg (705 lbs)
Height
870 mm (34.25")
Leveling Pads (Top) Height
Adjustment Range
±10 mm (±0.39")
Finish
Silver
Support Frame Features
Accommodate Breadboard Sizes as Large as 1200 x 1800 mm (48" x 72"')
Available in 700 mm or 800 mm Frame Heights
Can be Upgraded to Passive Isolation using our PWA Series Passive Upgrade Kit
Sturdy, Fully Welded All Steel Design
Manually Leveling Feet to Compensate for Uneven Floors
Set of Casters Available (Item # PWA061)
Compatible with ScienceDesk™ Accessories, Such as Monitor Arms and Shelves, Using the PWA120 Adapter
This series of rigid support frames is designed to support optical breadboards in a laboratory or production environment where vibration isolation is not a critical factor. If needs change, these support frames can be easily upgraded to provide passive isolation using our PWA series passive upgrade kits.
Mobile Workstation Features
Lightweight Aluminum Design
Lockable Casters
Four Adjustable Anti-Slip Support Pads
Under Storage Tray and Optional Drawer
The Optics a la Cart is a mobile, non-isolating workstation, ideal for applications where an experiment needs to remain mobile before being moved to an optical table.
Our range of Nexus® Breadboards, including a line of non-magnetic breadboards are available separately.
Thorlabs non-isolating breadboard supports consists of a frame supported by four steel legs, with a rubber mount at the top which supports the breadboard. This rubber mount is attached to the supporting leg by a jack screw. Using an open ended wrench, these jack screws can be adjusted to level the breadboard or adjust the height over a ±15 mm (0.6") range.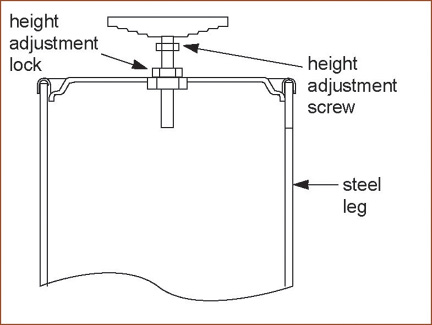 Please see the Vibration Isolation Tutorial for more information the design of our products and the theory of vibration isolation and damping.
Selecting a Vibration System
Thorlabs offers three types of breadboard support systems: Active Isolation, Passive Isolation and a rigid support system.
The Active and the Passive isolation systems are both based on compressed air, providing vibration isolation in frequencies above 2Hz and 10Hz (respectively) making them ideal systems for demanding photonic experiments or for work in a noisy environment. In addition, Thorlabs also offers rigid support systems with no vibration isolation for less demanding applications which require only breadboard isolation. The table below compares the isolation performance of our different isolation systems.
Active
Vibration Isolators
Standard Passive
Vibration Isolators
Heavy Duty Passive
Vibration Isolators
Rigid,
Non-Isolating
Optics a la Cart
Rigid Lab Cart
Vertical Resonant Frequency
<1.6 Hz
3.5 Hz
3.5 Hz
N/A
N/A
Horizontal Resonant Frequency
<1.2 Hz
N/A
N/A
N/A
N/A
Vertical Transmissibility at Resonance
<13 dB
24 dB
24 dB
N/A
N/A
Horizontal Transmissibility at Resonance
<8 dB
N/A
N/A
N/A
N/A
Vertical Transmissibility at 10Hz
-34 dB
-16 dB
-16 dB
N/A
N/A
Horizontal Transmissibility at 10Hz
-34 dB
N/A
N/A
N/A
N/A
Isolation Type
Active
Passive
Passive
N/A
N/A
Damping Efficiency
Best
Good
Good
N/A
N/A
Height
700 mm (27.5")
800 mm (31.5")
700 mm (27.5")
800 mm (31.5")
700 mm (27.5")
800 mm (31.5")
700 mm (27.5")
800 mm (31.5")
870 mm (34.3")
Load Capacity
700 kg (1540 lbs)
24 to 260 kg
(50 to 570 lbs)
135 to 700 kg
(300 to 1540 lbs)
700 kg (1540 lbs)
320 kg (705 lbs)
Mobility
N/A
N/A
N/A
N/A
Lockable Casters
Storage
N/A
N/A
N/A
N/A
Bottom Shelf
Optional Drawer
Vibration Isolation
Vibration isolation is needed to isolate between noises originating around the workstation and breadboard surface. Such vibrations may result from machinery in the building such as elevators or compressors, pedestrians, building vibrations and nearby street traffic. The role of the vibration system is to dampen, both horizontally and vertically, the noises generated by the surrounding environment. Such noises are typically in the range of 10-100 Hz. the table below depicts common vibration sources:
| Types | Frequency (Hz) | Amplitude (inches) |
| --- | --- | --- |
| Air Compressors | 4 - 20 | 10-2 |
| Handling Equipment | 5 - 40 | 10-3 |
| Pumps* | 5 - 25 | 10-3 |
| Building Services | 7 - 40 | 10-4 |
| Foot Traffic | 0.5 - 6 | 10-5 |
| Acoustics | 100 - 10,000 | 10-2 to 10-4 |
| Punch Presses | Up to 20 | 10-2 to 10-5 |
| Transformers | 50 - 400 | 10-4 to 10-5 |
| Elevators | Up to 40 | 10-3 to 10-5 |
| Building Motion | 46/Height in meters | 10-1 |
| Building Pressure Waves | 1 - 5 | 10-5 |
| Railroad | 5 - 20 | +/-0.15 g |
| Highway Traffic | 5 - 100 Hz | +/-0.001 g |