Passive Thermal Mount for One-Tab C-Mount Diode Lasers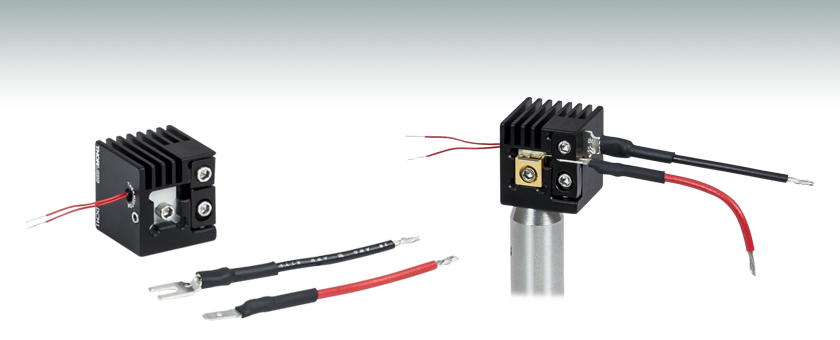 Passive Heat Sink and Mount for One-Tab C-Mount Diode Lasers
Provides up to 2 W of Heat Dissipation
Integrated Thermistor for Accurate Temperature Tracking
8-32 (M4) Taps for Post Mounting
LDCM1
LDCM1 with Mounted One-Tab C-Mount Laser (Not Included)

Please Wait
Features
Compatible with One-Tab C-Mount Laser Diodes
Provides up to 2 W of Heat Dissipation
Post-Mountable Design
Thorlabs' LDCM1 Passive Thermal Mount provides a passive heat sink and mount that facilitates quick installation and removal for one-tab C-Mount lasers. A 5/64" (2 mm) hex mounting cap screw secures the laser against the bare aluminum mounting surface. This surface ensures thermal contact between the laser and heat sink. It also provides electrical contact for the C-Mount laser's cathode (black lead). A pair of clamping fingers holds the tab of the one-tab C-Mount laser providing electrical contact for the anode (red lead). The LDCM1(/M) is compatible with single-tab laser configurations where the tab is the anode lead (+); please see the diagrams below.
The compact [0.75" × 0.75" × 0.80" (19 mm x 19 mm x 20 mm, L × W × H)], finned aluminum block provides up to 2 W of passive thermal dissipation without thermal grease or tape. At ambient temperatures of 20 °C, this passive regulation will hold the laser under 50 °C. A TH10K thermistor (see specifications in the table to the right) is integrated into the mount close to the laser for accurate temperature monitoring (see image to the right). An 8-32 (M4) threaded hole in the bottom of the mount allows for post mounting.
The passive heat sink does not contain any moving parts (such as a fan) and thus will not impart any vibrations. It places the lasing height at 0.5" above its post-mounting surface. This mount was designed for low-power laser diodes and is fully compatible with one-tab C-Mount laser diodes. Use of thermal grease is also not recommended for use with a C-Mount laser. Thermal grease tends to "creep" and eventually contaminates the laser facets. No additional material is required for thermal contact; however, if the user chooses materials to improve thermal contact, grease must be avoided and the user should ensure that electrical contact with the mount is not broken.