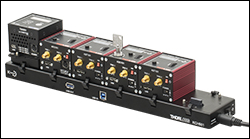 Click to Enlarge
The KCH601 USB Controller Hub with installed K-Cube and T-Cube modules. One KAP101 adapter plate is used for the T-Cube on the hub.
Features
Power Supplies for Individual K-Cubes™ and T-Cubes™
Power Supply for Up to Two K-Cubes and T-Cubes
USB Controller Hubs Combine Power and Communications for Up to Three or Six K-Cubes or T-Cubes
Adapter Plates for Using T-Cubes with USB Controller Hubs
Please note that with the exception of the USB Controller Hubs, each power supply is not compatible with all K-Cubes and T-Cubes. Please verify that the power supply can provide the required voltage and amperage for the K-Cubes and T-Cubes being used. See below for more details on choosing the correct option.
Power Supply Compatibility
Item #
Max Number of
Modules Powered
Motion Control Modules
Light Source & Driver Modules
Temperature Control Modules
KPS101
One
KBD101, KDC101, KIM101, KSC101, and KST101
KLS635, KLS1550, and LEDD1B
-
TPS101
One
-
-
TTC001
TPS002
Two
KNA-VISa, KNA-IRa, KPZ101,
KPA101, and KSG101
KLD101
-
KCH301
Three
Compatible with All Variantsb
KCH601
Six