Laser Diode Bias-T PCB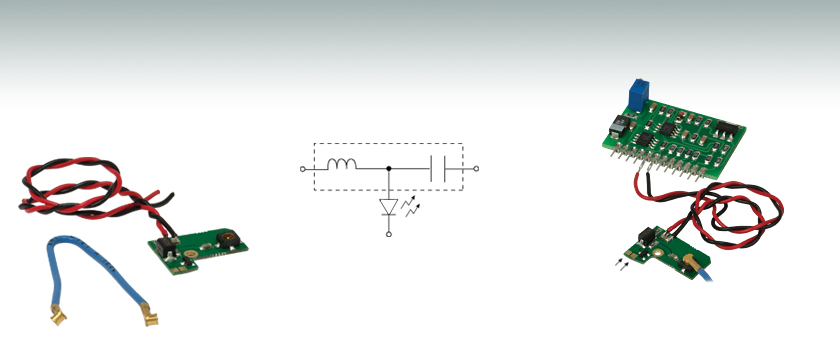 Superimpose an RF Modulation Input onto
a Laser Diode Drive DC Current
Modulation Frequencies from 10 kHz - 1 GHz
T1G
Shown with
Included OSMT
Coaxial Cable
Application Idea
LD1100 Laser
Diode Driver
T1G Bias-T
Laser Diode
Terminals
To Function
Generator
Laser Diode
DC Current
RF Modulation Input
Modulated
Laser Diode
Output

Please Wait

Click for Details
Specifications
Frequency Range
10 kHz to 1 GHz
Input Impedance
50 Ω
Max DC Current
110 mA
Max RF Current (RMS)
50 mA
The T1G laser diode bias tee is designed to superimpose a modulation current onto the laser diode DC-supply current, thereby modulating the output power of the laser. This is useful in applications where information is being transmitted over a fiber.
A laser diode driver sets the DC current, and then an alternating voltage is applied to the RF input, which produces a modulated current, allowing the user to achieve the desired modulation amplitude. This bias-T is capable of providing modulation frequencies in the range of 10 kHz to 1 GHz, although the actual frequency range is limited by the impedance network surrounding the laser diode. Using the provided OSMT wire, a function generator can be connected to the OSMT coaxial connector, which has a characteristic impedance of 50 Ω. A DC blocking capacitor and a reverse bias protection diode are included to protect the laser diode.
In addition to the T1G bias tee, Thorlabs manufactures a range of products well suited for building laser controllers, including laser diode drivers, temperature controllers, and evaluation kits. Thorlabs also offers packaged controllers that are ready for integration into rack-mounted systems without additional modification.