EF-Mount Adapter Rings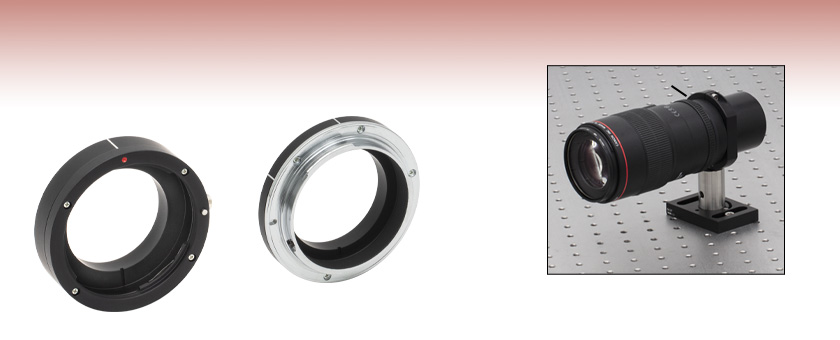 Female or Male Adapter Ring for Canon's EF-Mount Lenses or Cameras
Directly Compatible with SM2-Threaded (2.035"-40) Components
Great for Custom Imaging Applications
Application Idea
SM2CEFM EF-Mount Adapter Ring Shown with Post, Base, Lens Tube, EF-Mount Lens and SM2RC Mount.
SM2CEFM
Female EF-Mount
External SM2 (2.035"-40) Threading
SM2CEFM2
Male EF-Mount
External SM2 (2.035"-40) Threading
SM2CEFM

Please Wait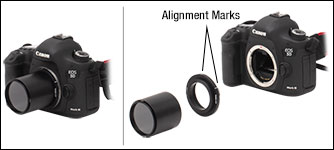 Click to Enlarge
The SM2CEFM2 easily secures a Ø2" lens tube and lens to an EF-Mount-compatible Canon camera. Lens and lens tube are sold separately. Canon cameras are not available from Thorlabs.
Features
Female EF-Mount Connects to Canon Lens
Male EF-Mount Connects to Canon Camera
External SM2 (2.035"-40) Threading for Compatibility with Ø2" Lens Tubes and Components
Thorlabs' EF-Mount Adapter Rings allow for easy integration of Canon EF-Mount lenses and cameras into experimental setups using Thorlabs' optomechanical components. The SM2CEFM adapter features female EF-Mounting, making it ideal for integrating Canon EF-mount-compatible lenses into Thorlabs cage systems and DIY Cerna setups. The SM2CEFM2 adapter features male EF-Mounting, giving the option to combine Canon EF-mount-compatible cameras with Thorlabs optics, as shown in the image below. On the side opposite of the EF-mounting hardware, both adapters feature SM2 (2.035"-40) external threading, and thus are directly compatible with Thorlabs' internally SM2-threaded components, such as our Ø2" lens tubes.
Posted Comments:
No Comments Posted