Product Demonstration Webinar Series


Please Wait
Upcoming Live Educational Webinars
Want to be Notified About
Upcoming Webinars?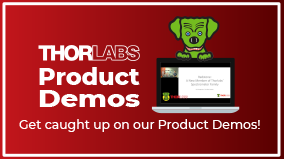 Thorlabs' live product demonstrations provide information on how to use our products, highlight key features and specifications, and showcase how our products can be used to solve everyday problems. Register for an upcoming Demo to connect directly with our engineering team and get answers to any questions you may have about the products or their applications. Missed an event? Contact Tech Sales at any time for questions or to schedule a separate time to review one of our systems.
Keep an eye on this page for announcements about future product demonstrations, or you can browse the content from prior ones on the Recorded Demos tab.
Previously Recorded Demonstrations
Want to be Notified About
Upcoming Demonstrations?
Each Thorlabs Product Demonstration is recorded and added to the archive on this page. To see what is coming next, please see the Upcoming Demos tab.
Obtaining Spectral Measurements: Live Product Demo
Dr. Carl Borgentun, a member of Thorlabs' optical spectrum analyzers development team, will demonstrate the newly released Redstone™ Optical Spectrum Analyzer (OSA305). This live demonstration will include an example of gas absorption spectroscopy, some interactive examples using the GUI interface, an explanation of customization options, and a review of Thorlabs' Software Development Kit possibilities for LabVIEW, C++, C#, and Python.



Presented by Dr. Carl Borgentun, OSA Research and Development at Thorlabs
Dr. Carl Borgentun is a member of the development team behind Thorlabs' optical spectrum analyzers. He received his Ph.D. from Chalmers University of Technology in Gothenburg in 2012, where he designed and built widely tunable semiconductor disk lasers. After a few years of developing custom lasers for space applications at Jet Propulsion Laboratory in Pasadena, CA, he moved back to Sweden and joined the spectroscopy team at Thorlabs.
Large Field of View Raman Spectroscopy Using Large Coded Apertures
In this webinar, we present a new Raman spectroscopy kit that uses an aperture with a patterned mask. Its novel design allows for Raman measurements with a very large 2 mm² field of view while maintaining good sensitivity and spectral resolution.



Presented by Dr. Sönke Oswald, Technical Support Engineer
Sönke Oswald studied physical chemistry at the University of Göttingen in Germany and focused during his Ph.D. on vibrational and rotational spectroscopy methods for gaining further insight into the electronic structures of weak hydrogen bonds. He joined Thorlabs in 2020 as a technical support engineer, with a focus on spectroscopy.
Multivariate Optical Elements (MOE) for Real-Time Chemical Sensing
This webinar will provide a brief overview of how Thorlabs' Multivariate Optical Element (MOE) technology may be used for chemical sensing applications versus optical spectroscopy. Adam Fisher will demonstrate several system design variations, as well as a benchtop system. He will conclude with some exciting updates regarding Thorlabs' MOE technology in 2021.

Presented by Adam Fisher, Team Lead, Thorlabs Spectral Works
James "Adam" Fisher earned a B.S. in Physics from the University of South Carolina (USC) and is currently pursuing an MBA with a focus on Innovation. In 2015, Mr. Fisher joined MagAssemble, a start-up company spun out of research conducted at USC's Department of Physics and Astronomy. This technology was ultimately acquired by Cirtemo, a developer of Multivariate Optical Computing/Element (MOC/MOE) technology. Cirtemo was acquired by Thorlabs in May of 2019, becoming Thorlabs Spectral Works (TSW). Located in Columbia, SC, Adam is currently the Team Lead at TSW, where he is leading engineering efforts to develop the next generation of MOE systems.
EXULUS® Spatial Light Modulators: Principles and Applications
In this webinar, Dr. Yat Hei Lo will introduce liquid-crystal-based spatial light modulators (SLM). This discussion will include basic SLM principles, structures, and applications, as well as theories behind their operation. He will also describe Thorlabs' EXULUS® SLM product series.

Presented by Yat Hei Lo, Liquid Crystal Manager
Dr. Yat Hei Lo is the leader of the liquid crystal (LC) product development group at Thorlabs in Shanghai, China. The LC group designs and develops a wide variety of polarization optics and devices, from simple variable retarders and optical shutters to tunable filters, laser stabilizers, polarization imaging devices, and spatial light modulators. Dr. Lo received his Ph.D. from the University of Auckland, New Zealand in 2009, and worked as a post-doctoral fellow at the University of Hong Kong during 2009 to 2013. His background includes Polarization Optics, Interferometry, Spectroscopy, Imaging, and Modeling.
ORIC® Piezo Inertia Drive Stages: Travel from Nano to Infinity
In this webinar, Dr. Renlong Gao will discuss the mechanism behind piezoelectric inertia drive motors and how that mechanism is used in Thorlabs' ORIC® stage series to extend motion from nanometer scales to infinite travel. In this discussion, he will also introduce the current ORIC stages, and will share information about new stages and features currently under development.

Presented by Renlong Gao, Piezo Manager
Dr. Renlong Gao is the manager of the R&D and Manufacturing Department for Thorlabs' Piezo Business Unit in Shanghai, China. He received his Ph.D. from Tsinghua University in 2015 for his doctoral thesis focused on lead-free piezoelectric ceramic materials and multilayer devices. He and his group have designed and produced over 100 kinds of piezo actuator components and piezo motion control devices for Thorlabs' portfolio.
Introducing the Quantum Cryptography Teaching Kit
With quantum technology entering a new phase in quantum computing, sensing, and communication, the topic of quantum optics in general, and quantum cryptography in particular, is of high interest in the teaching community. In our educational kit, we allow students to experience every major step of the BB84 quantum cryptography protocol.



Presented by Jens Küchenmeister, Leader, Thorlabs Educational Products
Dr. Jens Küchenmeister is the leader of Thorlabs' Educational Products business unit. He received his Ph.D. from the Karlsruhe Institute of Technology, Germany where his doctoral thesis focused on the numerical solution of Maxwell's equations in nanostructured systems. His high motivation for teaching physics, demonstrated by numerous voluntary teaching assignments, led him to Thorlabs, where he has been growing the educational business unit since 2013.
Galvanometer Laser Scanning Solutions: Design and Applications
Thorlabs has recently expanded its offering of galvanometer scanning systems. In this presentation, we will discuss the characteristics of our single- and dual-axis configurations. We will also highlight our novel three-axis galvanometers, which utilize post-objective scanning for dynamic focusing. The webinar will then describe popular laser scanning applications, including laser processing and imaging, and illustrate the benefits of Thorlabs' portfolio and OEM capabilities.

Presented by Brian Candiloro, Director of Engineering, Thorlabs Measurement Systems
Brian Candiloro received his master's degree in Electrical and Computer Engineering from Worcester Polytechnic Institute in 1994. He has engineered embedded and control systems across many fields and applications, including defense, aerospace, automotive, energy utilities, and life sciences. He is a contributing inventor on nine patents. After more than 15 years developing galvanometers and related technologies, Brian has joined Thorlabs as the Director of Engineering at Thorlabs Measurement Systems.
Posted Comments:
No Comments Posted