Smooth Bore Kinematic Mirror Mounts with Two Adjusters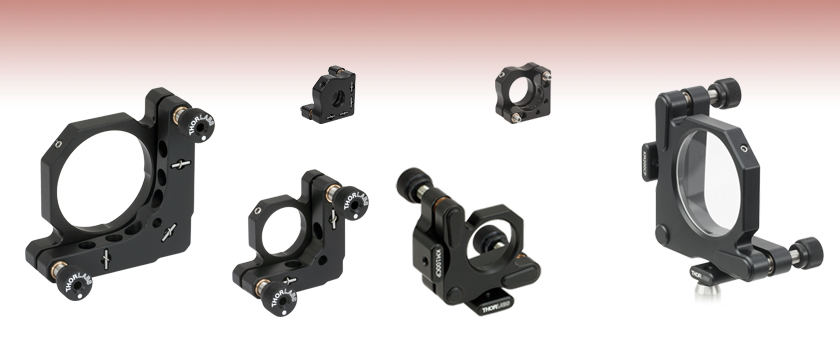 Kinematic Mirror Mounts for Ø7 mm, Ø10 mm, Ø1/2", Ø1", and Ø2" Optics
Angular Adjustment Ranges of ±3° or ±4°
KM100
For Ø1" Optics
KM200
For Ø2" Optics
Application Idea
KM200CP Post-Centered Mount with Beamsplitter on a Ø1/2" Post
KM100CP
For Ø1" Optics,
Post Centered
MK7
For Ø7 mm Optics
MK05
For Ø1/2" Optics

Please Wait
The knobs on our kinematic mirror mounts can be removed to reduce the footprint of the mount.
Features
Securely Mount Ø7 mm, Ø10 mm, Ø1/2", Ø1", or Ø2" Optics
Hardened Steel Inserts at Kinematic Contact Points to Reduce Wear
Phosphor Bronze Bushings and Stainless Steel Lead Screws for Smooth Adjustment
Fabricated from Black Anodized Aluminum
Mounting Holes Enable Left-Handed or Right-Handed Operation
Larger Mirror Mounts Also Available

Thorlabs offers standard two-adjuster kinematic mirror mounts for Ø7 mm, Ø10 mm, Ø1/2", Ø1", or Ø2" optics. These mounts offer an angular adjustment range of ±4° (±3° for the KM200 and KM200CP), are all mountable in left- or right-handed orientations, and secure the mirror at three points using a nylon-tipped locking screw and a double-bored mounting hole. The knobs on the Ø1" and Ø2" mounts are removable, as shown in the video to the right, and feature a through-hole design allowing fine adjustment with a hex key while the knobs are still attached.
Mounts that center the front surface of a mirror over the center of the mounting post are also available. This design allows a beam incident at 45° to be easily aligned with an optical table's hole matrix.
For your convenience, the popular KM100 and KM200 mounts can be purchased prepackaged with one of our broadband dielectric-coated mirrors at a discount to the individual component prices; please see the product listings below for the available selection. More information regarding the general specifications and the reflectivity of each coating across its spectral range is available under the Mirror Info tab above.
Thorlabs offers a variety of other two and three adjuster mirror mounts, including SM-threaded mounts and our high-stability Polaris® Mirror Mounts.
A complete presentation of the available information on the broadband dielectric coated mirrors that come premounted in the KM series of kinematic mirror mounts can be seen by following this link. However, the general specifications, spectral operating range, and the reflectivity as a function of wavelength for an unpolarized beam incident at 45° is shown below.
Common Specifications
Substrate Material
Fused Silica
Flatness
λ/10
Surface Quality
10-5 Scratch- Dig
Back Surface
Fine Ground
Clear Aperture
>90% of Diameter
Thickness Tolerance
±0.2 mm
Diameter Tolerance
+0.00/-0.10 mm
Mirror
Spectral Range
(Click for Plot)
Damage Threshold
UV Laser Mirror
(KM100-E01)
350 - 400 nm
Pulse
1 J/cm2 (355 nm, 10 ns, 10 Hz, Ø0.373 mm)
Visible Laser Mirror
(KM100-E02)
(KM200-E02)
400 - 750 nm
Pulse
0.25 J/cm2 (532 nm, 10 ns, 10 Hz, Ø0.803 mm)
CWa,b
>2.3 kW/cm (532 nm, Ø1.000 mm)
Near IR Laser Mirror
(KM100-E03)
(KM200-E03)
750 - 1100 nm
Pulse
1 J/cm2 (810 nm, 10 ns, 10 Hz, Ø0.133 mm),
0.5 J/cm2 (1064 nm, 10 ns, 10 Hz, Ø0.433 mm),
0.205 J/cm2 (800 nm, 99 fs, 1000 Hz, Ø0.166 mm)
CWa,b
>45 kW/cm (1070 nm, Ø0.971 mm)
1.28 - 1.6 µm Laser Mirror
(KM100-E04)
1280 - 1600 nm
Pulse
2.5 J/cm2 (1542 nm, 10 ns, 10 Hz, Ø0.181 mm)
CWa,b
>1.52 kW/cm (1540 nm, Ø1.030 mm)
The stated damage threshold is a certification measurement, as opposed to a true damage threshold (i.e., the optic was able to withstand the maximum output of the laser with no damage).
The power density of your beam should be calculated in terms of W/cm. For an explanation of why the linear power density provides the best metric for long pulse and CW sources, please click here.

Click to Enlarge
Old KM100 Packaging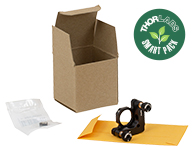 Click to Enlarge
New KM100 Packaging
Smart Pack Goals
Reduce Weight of Packaging
Increase Usage of Recyclable Materials
Improve Packing Integrity
Decrease Shipping Costs
Thorlabs' Smart Pack Initiative is aimed at minimizing waste while providing adequate protection for our products. By eliminating any unnecessary packaging, implementing design changes, and utilizing eco-friendly materials, this initiative seeks to reduce the environmental impact of our product packaging.

The new KM100 packing box and envelope are made of compostable, 100% recycled paper products. The transition from plastic bubble wrap to recycled paper results in a 29.33% reduction in the amount of CO2 produced per kg of packing materials. As we move through our product line, we will indicate re-engineered, eco-friendly packaging with our Smart Pack logo.