Accessory Adapter for Breadboard Frames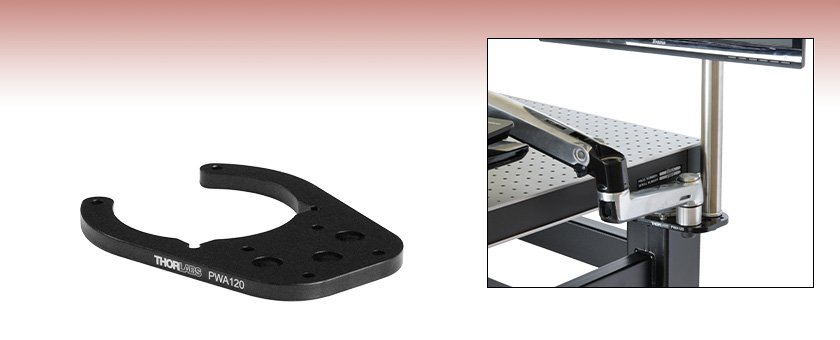 Mount ScienceDesk™ Accessories on Thorlabs' Breadboard Frames
Fabricated from Laser Cut Steel Plate
Easy Installation
Application Idea
The PWA120 Adapter allows ScienceDesk Accessories like our Ø1.5" Posts and PSY132 Keyboard Mount to be mounted on a Breadboard Frame.
PWA120
Adapter for Breadboard Frames

Please Wait
The PWA120 is easy to install on a compatible PFR, PFP or PFH (shown here) Series Breadboard Frame.
Features
Able to Accommodate 40 kg (88 lbs) Vertical Loads
Compact Solution for Mounting Accessories on Breadboard Frames
Easily Installed Without Having to Remove Breadboard
Thorlabs' PWA120 Accessory Adapter for Breadboard Frames is easy to install and features three M16 and four M6 clearance holes (both can be seen in the image to the right). The M16 clearance holes can be used to attach our Ø1.5" Accessory Mounting Posts, which are compatible with the variety of workstation accessories mentioned below. The M6 clearance holes are useful for directly attaching Aluminum Breadboards or Ø1.5" Pillar Posts to the side of your workbench.
Shelving, Mounting Brackets, and Component Trays
Thorlabs offers a variety of shelves, component trays, and breadboard brackets that can clamp onto a single Ø1.5" accessory mounting post mounted on the PWA120 adapter.
Computer Workstation Add-Ons
Thorlabs offers the PSY121 Monitor Mount and the PSY132 Keyboard Holder as options for adding a dedicated computer terminal to a breadboard frame. Simply attach the Monitor Mount to any Ø1.5" Accessory Post secured to one of the outer M16 bores on the Accessory Adapter. Then, directly secure the Keyboard Holder to the M16 clearance hole which remains. Please note that the Keyboard Holder and the Ø1.5" Accessory Post cannot be attached to the same PWA120 if the central M16 bore is occupied.
Installation Process on Breadboard Frames
The PWA120 accessory adapter can be easily installed on any of our rigid, standard passive, or heavy-duty passive breadboard frames using the included screws and hex wrench. If a different orientation is required, the accessory adapter can be rotated 90°. When adding accessories to a table frame, the center-of-mass of the setup should remain within table frame area and heavy loads should be placed in lower positions to avoid affecting the stability of the frame. For mounting instructions, see the Manual, which can be found by clicking on the red Doc's icon (

) next to the item number below.
Posted Comments:
No Comments Posted