Hexagonal Light Mixing Rod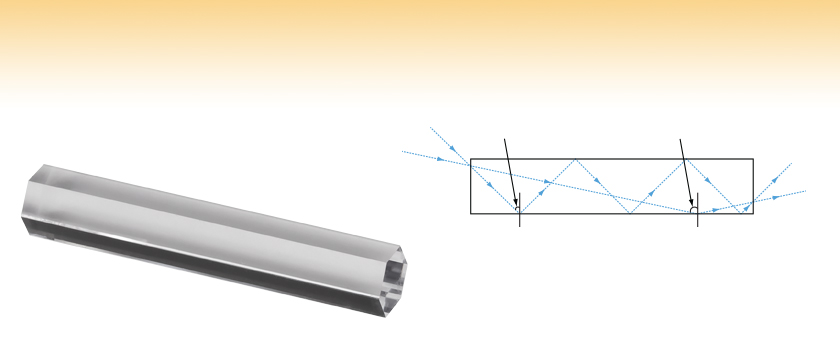 Homogenizes Spatially Non-Uniform Light
Total Internal Reflection Transmits Light Through Rod
UV Fused Silica Substrate
4.0 mm Aperture
HMR425
Uncoated Hexagonal Mixing Rod
Transmitted
Rays
Incident
Rays
θc
Total Internal Reflection of Two Rays Entering at Different Incident Angles
θ >> θc

Please Wait
General Specifications
Substrate
UV Fused Silicaa
Transmission
(Click Icon for Plot)
Index of Refractionb
(Click Icon for Plot)
Sellmeier Equationb
Surface Flatness
3λ-λ @ 633 nm
Surface Quality

60-40 Scratch-Dig
Length
25.0 mm
Length Tolerance
±0.3 mm
Aperture
4.0 mm
Aperture Tolerance
±0.1 mm
Parallelism
≤5 arcmin
Click link for detailed specifications on the substrate.
I. H. Malitson. Interspecimen Comparison of the Refractive Index of Fused Silica, J. Opt. Soc. Am. 55, 1205-1208 (1965)

Zemax Files
Click on the red Document icon next to the item numbers below to access the Zemax file download. Our entire Zemax Catalog is also available.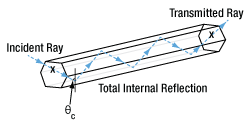 Click to Enlarge
TIR in a Hexagonal Mixing Rod
Features
Hexagonal Rod for Mixing Light
Converts a Non-Uniform Beam into a Homogeneous Profile
Total Internal Reflection Transmits Light Through the Rod
UV Fused Silica Substrate
Preserves NA
For Other Mixing Rod Lengths and AR Coatings, Contact Tech Support
Thorlabs' Hexagonal Light Mixing Rods are ideal for applications that require homogenization of non-uniform light, such as LED illuminators and OEM illumination projects. If light enters at an incident angle that is greater than or equal to the critical angle (θc), total internal reflection (TIR) occurs and light is transmitted through the rod as seen in the diagram on the right. TIR inside the rod ensures the generated output light is a flat top profile at the exit surface. The index of refraction is the only factor that affects the critical angle, defining the angle where TIR will occur.
θc is defined by the equation

where n is the refractive index of the material. These rods are manufactured from UV fused silica, which has a refractive index of 1.458 at its d-line of 587.6 nm, meaning θc is 43.3°. The number of reflections of every ray depends on the incidence angle. The larger the incident angle, the fewer total number of reflections within the rod as seen in the family image above.
These rods can be used with non-uniform light sources such as laser diodes and LEDs. Regardless of individual spectral characteristics, the light of one or more point sources can be mixed and homogenized using these rods. Since the homogenously distributed light is on the output surface, we recommend a working distance of 3 mm.
Please note that the Zemax file provided below is not the common sequential (SC) raytracing file which we typically provide, but the non-sequential (NSC) raytracing file. Due to the nature of the hexagonal rod, many internal reflections cannot be described in the SC mode. Be aware that the standard version of Zemax OpticStudio® does not support the NSC mode.
If you are interested in custom hexagonal mixing rods in other lengths or with antireflection coatings, please contact Tech Support with inquiries.
Note: These light mixing rods are meant for use with non-collimated light sources. For collimated laser sources, please see our selection of PMMA microlens arrays, aspheric condenser lenses with diffusers, and optical diffusers.