Spanner Wrenches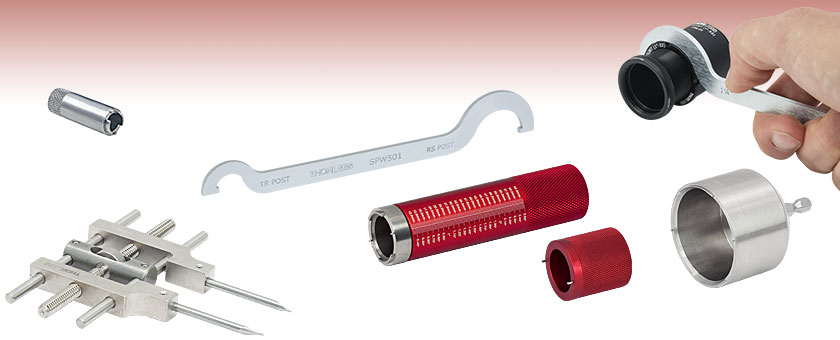 Easily Work with Retaining Rings, Thread Adapters, and Mounted Aspheric Lenses
Stainless Steel Construction
SPW301
For Mounted Aspheric Lenses
SPW801
Adjustable Spanner Wrench
SPW602
Graduated SM1 Spanner Wrench
SPW501
For Tightening Ø1/2" or
Ø1" Optical Posts
SPW909
For SM1 and C-Mount Adapters
SPB2
SM2 Spanner Bit
SPW502, SPW503, and SPW504 wrenches can be used to tighten slotted locking rings for adjustable lens tubes and couplers.

Please Wait
Thorlabs' Spanner Wrenches are used to install and adjust retaining rings in lens tubes, lens mounts, diode mounts, and other optomechanics. They are also useful when positioning thread adapters for aspheric lenses, connectorized fibers, and fiber collimators and installing locking collars on adjuster screws.
Our standard spanner wrenches provide safe, simple adjustment of retaining rings without risking damage to optical elements. They feature aluminum, diamond-knurled grips and a hollow interior that allows a beam to pass through while the part is adjusted. Stainless steel flanges exhibit reduced wear compared to aluminum flanges and are designed to a low-tolerance fit for our retaining rings. The lack of a surface coating on the flanges minimizes dust or other particulates contaminating the surface of a lens.
We also offer stainless steel spanner bits with a 1/4" hex shank for our SM05, SM1, SM1.5, SM2, and SM3 standards similar to our standard spanner wrenches. A kit is also offered that includes spanner bits for the SM05, SM1, and SM2 standards; a driver handle with a 1/4" hex socket; and a case. The SM1.5 and SM3 spanner bits are not included with this kit.
For customers with specialized retaining rings, adapters, or mounts, Thorlabs offers the SPW801 Adjustable Spanner Wrench, which features an adjustable spanning range as well as long blades that extend 1.6" (40.7 mm) from the body of the wrench.
The SPW501 stainless steel spanner wrench is designed for tightening Ø1/2" and Ø1" optical posts, and the SPW502, SPW503, and SPW504 spanner wrenches are designed for slotted locking rings, which are compatible with our adjustable lens tubes and couplers. The SPW504 spanner wrench can also be used to tighten the SM1.5 slotted locking ring included with the RSHA(/M) Adjustable Height Collar.