These vises offer various solutions for woodworking and metalworking designs. The Pana Vise's split-ball joint offers a large range of versatility and is designed to be bolted onto a working surface. The Toolmakers vise is made of ground tool steel, making it sturdy and reliable, and features a flat bottom and sides, allowing it to be set horizontally or vertically on any flat working surface. For specific details regarding each vise, please see below.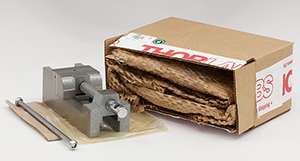 Click to Enlarge
TMV2 Packaging

Smart Pack
Reduce Weight of Packaging
Increase Usage of Recyclable Materials
Improve Packing Integrity
Decrease Shipping Costs
Thorlabs' Smart Pack Initiative is aimed at minimizing waste while providing adequate protection for our products. By eliminating any unnecessary packaging, implementing design changes, and utilizing eco-friendly materials, this initiative seeks to reduce the environmental impact of our product packaging.
The updated TMV2 packaging primarily consists of recycled paper and cardboard and weighs 12.60% less than the original packaging. This weight change results in a 0.97 kg reduction in travel-based CO2 emissions per year, based on typical product sales.
As we move through our product line, we will indicate re-engineered, eco-friendly packaging with our Smart Pack logo, which can be seen above.