Cross-Flexure Single-Axis Galvo Systems
Single-Axis Galvos for Beam Diameters up to 30 mm
Cross-Flexure Pivot Mechanism Ideal for Raster Scanning
Longer Lifetimes than Traditional Galvos
SP30Y-AG
Square Profile Housing,
Y-Axis Mirror
Round Profile Housing,
Custom Mirror
Back
Front
Included Servo Driver

Please Wait
Key Specifications
Item #
SS30X-AG
SS30Y-AG
SP30X-AG
SP30Y-AG
Housing Profile
Ø2.00" Round
1.62" x 1.62" Square
Mirror Orientation
Horizontal
Vertical
Horizontal
Vertical
Mirror Coating
Protected Silver, 450 nm - 10.6 µm
Repeatability
<10 µrad
Max Scan Angle
(Optical Angle)
Raster: ±20°
Vector: ±10°
Applications
Raster Imaging
Laser Marking
Instrumentation
Polygon Facet Correction
High-Duty or Small-Angle Applications

Large-Volume Orders
For orders where a large quantity of an item is purchased and the delivery of that item is scheduled with our production (i.e., not taken directly from inventory), Thorlabs passes on to the customer the cost savings associated with planned production of high volumes of that item. Since the volume and planned production are key to realizing the cost savings, we ask that you contact us to obtain volume pricing.
Additional requests can include custom optic sizes and coatings, specialized tuning, and variable cable options.

Features
Moving-Magnet Galvanometers with Cross-Flexure Pivot Design
30 mm Max Beam Diameter; Larger Sizes Upon Request
Smooth Scanning Motion Ideal for Raster Applications
Excellent Cross-Axis Stability
No Lubricants; Suitable for Vacuum Applications
Longer Lifetime than Ball-Bearing Galvos
Servo Driver Included
These Single-Axis Galvanometers use a cross-flexure pivot design to provide smooth, stable scanning motion. The cross-axis flexure design replaces the traditional ball bearing design, eliminating errors due to rumble and lubrication and reducing wear on the components. These moving-magnet galvos are ideal for raster imaging applications, feedback-stabilized imaging systems, or as tracking scanners for viewing or marking moving objects.
The angular orientation (position) of the mirror is measured using a capacitive sensing system, which is integrated into the interior of the galvanometer housing and allows for the closed-loop operation of the galvo mirror system. The galvo systems can be driven to scan their full ±20° optical range when used in continuous raster scanning applications. Operation in vector or point-and-hold applications should be limited to ±10°. See the green box to the left for details.
Cross-Flexure Galvos vs. Ball Bearing Galvos
The cross-flexure pivot mechanism used in these galvanometers is designed for smoother scanning motion and higher cross-axis stability compared to those with ball bearing pivots. The flexure element is rigidly coupled to a single axis, minimizing movement in the orthogonal direction. In continuous raster and small-angle applications, cross-flexure pivots experience less wear and position error than ball bearings, achieving longer device lifetimes and higher repeatability.
However, cross-flexure pivots are not suitable for applications where the mirror must be rotated by a large angle and held in that position. The flexure element is designed primarily to bend and then return to neutral. Applying continuous bending force to the flexure element will significantly reduce its lifetime.
Our cross-flexure galvos are available with the mirror in a horizontal (X) or vertical (Y) orientation. Additionally, each is available in a housing with a Ø2.00" round profile or a 1.62" square profile, for integration into a variety of subassemblies. The mirrors accept beam diameters up to 30 mm; larger mirrors can be provided upon request.
The included servo driver must be connected to a DC power supply, the galvo motor, and an input voltage source (the monitoring connection is optional). For continuous scanning applications, a function generator with a sine wave output is sufficient for scanning the galvo mirror over its entire range. For more complex scanning patterns, a programmable voltage source such as a DAQ card can be used. Please note that these systems do not include a function generator or a DAQ card.
The compatible power supply (item # GPWR15) and cable set (item # CBLS3F) are sold separately. One power supply unit can power up to two galvanometers. One cable set is required for each galvanometer.
Item #
SS30X-AG
SS30Y-AG
SP30X-AG
SP30Y-AG
Housing Profile
Ø2.00" Round
1.62" x 1.62" Square
Mirror
Orientation
Horizontal
(X-Axis)
Vertical
(Y-Axis)
Horizontal
(X-Axis)
Vertical
(Y-Axis)
Maximum Beam Diameter
30 mm
Coating
Protected Silver
Wavelength Range
450 nm - 10.6 µm
Absolute Reflectance
≥92% (450 - 500 nm)
≥94.5% (500 - 2000 nm)
≥98% (2 - 10.6 µm)
Surface Quality
40-20 Scratch-Dig
Motor and Position Sensor
Linearity (50% Full Travel)
>99.9%
Scale Drift
190 ppm/°C
Zero Drift
40 µrad/°C
Repeatability
<10 µrad
Maximum Scan Angle
(Optical Angle)
Raster: ±20°
Vector: ±10°
Angular Sensitivity
100 µA/°
Torque Constant
2.8 x 105 dyne·cm/A
Rotor Inertia
8.25 g·cm2
Coil Resistance

5.8 Ω
Coil Inductance @ 1 kHz
450 µh
Operating Temperature
0 to 40 °C
Storage Temperature
-10 to 50 °C
Servo Amplifier Specsa
Inputs
Command Input Range
±5 V
Position Input Scale Factor
0.22 V/° Optical
Command Input Impedance
20 kΩ ± 1% (Differential)
10 kΩ ± 1% (Single Ended)
Position Offset Range
±0.25 V
External Enable
See Footnote b
Diagnostic Outputs
Servo Ready
12 V
Position
0.22 V/° Optical
Position Error
0.22 V/° Optical
Velocity
Analog (Reference Only)
AGC Voltage
Analog (DC)
Coil Current
1 V/A
Analog Output Impedance
1 kΩ ± 1% (For All Outputs)
Power Supply (Not Included)
Input Voltage
±15 to ±24 VDC
<100 mV Ripple
<0.5% DC to 30 MHz Noise
Maximum Drive Current Limit
4 A (RMS); 10 A (Peak)
Quiescent Current
220 mA (Servo Enabled, Galvo at Rest)
Gain Drift
Up to 20 ppm/°C
Offset Drift
Up to 30 µrad/°C
General Specs
Operating Temperature
0 to 45 °C (With Appropriate Cooling)
Storage Temperature
-10 to 60 °C
Dimensions
2.38" x 2.13" x 1.06"
(60.5 mm x 54.1 mm x 27.0 mm)
Mass (Weight)
74 g (2.6 oz)
Specifications are obtained after a 2 minute warm-up period.
The enable pin is soldered in the on position at the factory. To enable remote control, remove the solder or contact us prior to purchase to obtain an unsoldered unit.

Click to Enlarge
SS30 Galvo Round Body Mechanical Drawing (Shown Without Mirror)
GPWR15 Power Supply Unit Specs
Input
100 - 120 VAC or 220 - 240 VAC
Output
±15 V at 5 A
(150 W Max Power)
Operating Temperature
0 to 50 °C
Dimensions
14.0" x 4.9" x 3.5"
(356 mm x 124 mm x 90 mm)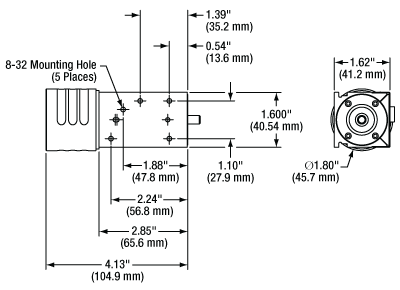 Click for Details
SP30 Galvo Square Body Mechanical Drawing (Shown Without Mirror)
Posted Comments:
No Comments Posted