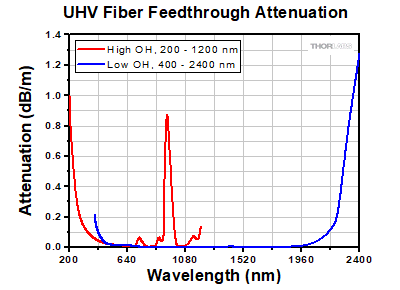 Click to Enlarge

Click for Data

This attenuation data was calculated as a function of wavelength for the fibers used in the UHV fiber feedthrough CF and KF40 flanges.
Fiber Feedthrough
Common Specifications
NA
0.22 ± 0.02
Insertion Loss
≤2.3 dB
Max Optical Power
1 W
Max Temperature
250 °C
Leak Rate
≤1 x 10-10 mbar⋅L/s (Helium Standard)
Features
Quickly Connect SMA-Terminated Fibers to a Vacuum Chamber
CF (Ø2.75") or KF40 (Ø2.17") Flange Options
Hermetically Sealed Multimode Step-Index Fiber

Ø100 µm, Ø200 µm, Ø400 µm, or Ø600 µm Core
High OH (200 - 1200 nm) or Low OH (400 - 2400 nm)

Compatible with Thorlabs Vacuum-Compatible Multimode Fiber Optic Patch Cables
Bake-Out can be Conducted at Temperatures up to 250 °C
Vacuum-Compatible Mating Sleeve and Flange Mounting Components Sold Below
Thorlabs manufactures Ultra-High-Vacuum Compatible Fiber Feedthroughs for both CF Ø2.75" (DN40) and KF40 flanged systems. These feedthroughs allow for optical coupling into ultra-high-vacuum (UHV) systems using SMA905-terminated fiber patch cables and mating sleeves. Each fiber feedthrough incorporates a hermetically sealed step-index multimode optical fiber in a stainless steel shell, provides a low insertion loss of ≤2.3 dB, and can handle optical powers up to 1 W. The flanges are double-vacuum bagged to help prevent contamination when transported into a cleanroom environment.
The fiber feedthroughs feature male SMA905 connectors on both sides; mating sleeves may be used to connect fiber patch cables. For the side of the feedthrough that is inside of the vacuum environment, the ADASMAV vacuum-compatible SMA-to-SMA mating sleeve, available below, can be used to connect a vacuum-compatible patch cable. Constructed using 304 stainless steel, this adapter is designed to be used within ultra-high vacuum systems and features a Ø0.063" (Ø1.6 mm) hole through the body to serve as a vent, allowing trapped gas to escape. When using fiber patch cables in a vacuum environment, ensure that the cables are vacuum compatible.

The laser-welded joints of these flanges provide sturdier construction than traditional adhesives and greatly minimize leak rate. In addition, the locations of these laser welds and the hermetic glass-to-metal seal ensure that only external, easy-to-clean surfaces are directly exposed to the vacuum. Since there is no epoxy on the vacuum side of the feedthrough, there is minimal contamination and gas load on the vacuum system.

Thorlabs also sells additional high-vacuum CF components, KF-flanged component and accessories, as well as an extended line of vacuum-compatible parts.