Fiber Polishing Supplies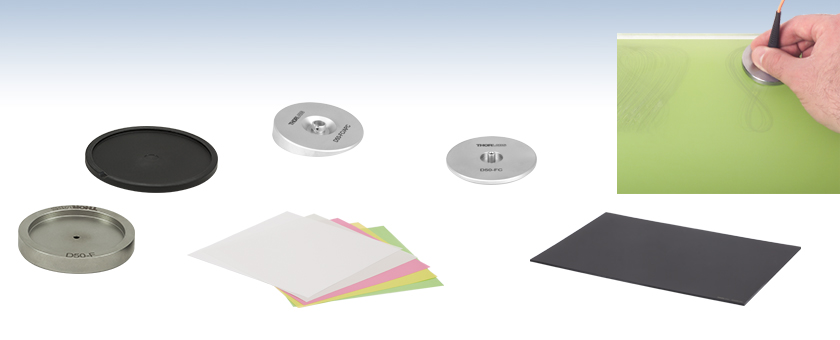 Polishing Pucks for 5 Different Connector or Ferrule Types
Diamond, Aluminum Oxide, Silicon Carbide, and Calcined Alumina Lapping Film
Glass Polishing Plate and Rubber Polishing Pad
D50-F
Ferrule
Polishing Puck
D50-FC/APC
Polishing Disk
D50-FC
Polishing Disk
NRS913A
Rubber Polishing Pad for Polishing Sheets
0.02 µm Final Polish
For Ceramic Ferrules
1 µm
3 µm
6 µm
30 µm
Polishing/Lapping Sheets

Please Wait
Thorlabs offers a family of products to assist customers who would like to connectorize their bare fiber, including fiber polishing film for use with ceramic or stainless steel ferrules, polishing pucks, polishing plates, and connectorization kits. We also offer instructions on how to polish a connector, including how to glue and cleave the fiber. A color manual can be purchased below, or it can be downloaded here for free. The components sold here are also available in kits, sold at the bottom of the page.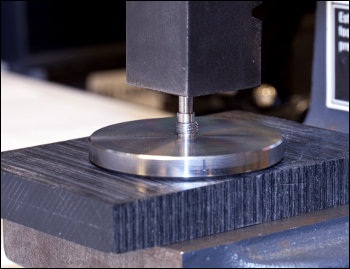 Click to Enlarge
Calibrating the D50-SMA
Included with the D50-SMA is the D50-A calibration pin. To use this calibration pin, you will need an arbor press and a flat surface as a reference. Using the arbor press, press the calibration pin into the center hole of the puck. This will press the threaded part of the polishing puck into the flat disc until the end of the calibration pin is level with the bottom surface of the puck. This will ensure that the fiber is polished to the correct height in the SMA ferrule.