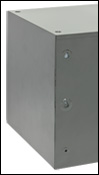 Click to Enlarge
Slots on the rear of the case allow for wall mounting.

The ESK05(/M) will be retired without replacement when stock is depleted. If you require this part for line production, please contact our OEM Team.
Features
Imperial and Metric Kits
Frame Dimensions (L x W x H): 17" x 11" x 11" (432 mm x 279 mm x 279 mm)
Drawer Dimensions (L x W x H): 10.56" x 5.19" x 3.06" (268 mm x 132 mm x 78 mm)
Easy-to-Read Labels List Contents for Each Drawer
Increased Savings Over Individual Component Products
These kits contain our most popular kinematic, fixed, translational, and rotational optical mounting components for various optic sizes. Refer to the Contents tab above for detailed information about the components included with the imperial and metric versions of each kit. Complement these kits with our ESK01 (ESK01/M) Bases and Post Holders and ESK16 (ESK16/M) Posts and Accessories Essentials Kits.
Mounting Options
The kit can be stored on a tabletop for easy, convenient access or placed on an RK4101 or RK4102 rack shelf, both of which can be installed in our RK3884 standard 19" rack. The image to the right shows an ESK18 kit as well as another custom-labeled S19909 cabinet installed in a 19" rack. The cabinet used in each Essential Series Kit features slots in the rear of the case (see image to far right) for wall mounting and features indentations on the top and four feet on the bottom for stable stacking. Warning: ensure that the wall and wall mounts can support such weights before mounting the unit.
Kit Components
Click on the yellow bars below to view the contents of each kit. Each kit includes the listed components and an S19909 9-Drawer Cabinet. In cases where the metric and imperial kits contain parts with different item numbers, metric item numbers and measurements are indicated in parentheses.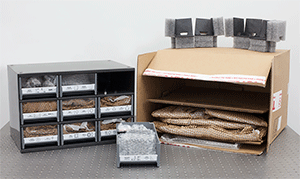 Click to Enlarge
ESK05 Packaging

Item #
% Weight
Reduction
CO2-Equivalent
Reductiona
ESK05
83.10%
87.67 kg
ESK05/M
83.10%
96.59 kg
Smart Pack
Reduce Weight of Packaging Materials
Increase Usage of Recyclable Packing Materials
Improve Packing Integrity
Decrease Shipping Costs
Thorlabs' Smart Pack Initiative is aimed at waste minimization while still maintaining adequate protection for our products. By eliminating any unnecessary packaging, implementing packaging design changes, and utilizing eco-friendly packaging materials for our customers when possible, this initiative seeks to improve the environmental impact of our product packaging. Products listed above are now shipped in re-engineered packaging that minimizes the weight and the use of non-recyclable materials.b As we move through our product line, we will indicate re-engineered packages with our Smart Pack logo.