Click to Enlarge
Features
Imperial and Metric Kits
Frame Dimensions (L x W x H): 17" x 11" x 11" (432 mm x 279 mm x 279 mm)
Drawer Dimensions (L x W x H): 10.56" x 5.19" x 3.06" (268 mm x 132 mm x 78 mm)
Clear Labels with Product Icons Facilitate the Process of Locating the Desired Part
Greater than 10% Savings Over Individual Items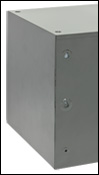 Click to Enlarge
Slots on the rear of the case allow for wall mounting.
This Bases and Post Holders Essentials Kit contains all of the commonly used post holders, bases, and table clamps in easy-to-use, labeled compartments. The large variety of sizes provides the maximum amount of flexibility when breadboarding an optical system. Refer to the Contents tab above for detailed information about the components included with the imperial and metric versions of this kit. This kit is best used in conjunction with the ESK16 (ESK16/M) Post and Accessory Essentials Kit.
Application Idea: Use the RK4101 rack shelf to organize our ESK Series Essential Kits within our RK3884 standard 19" rack. Post-mounted optical elements can be stored in the 19" rack with the use of the RK4102 rack shelf as shown in the photo to the right.
All ESK Series Essentials Kits are equipped with easy-to-read labels complete with product icons, allowing quick access to all products housed within the kits. All ESK Series Cabinets have slots in the rear of the case, shown to the left, for wall mounting and feature indentations on the top and four feet on the bottom for stable stacking.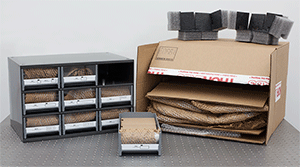 Click to Enlarge
ESK01 Packaging

Item #
% Weight
Reduction
CO2-Equivalent
Reductiona
ESK01
83.10%
322.46 kg
ESK01/M
83.10%
381.90 kg
Smart Pack
Reduce Weight of Packaging Materials
Increase Usage of Recyclable Packing Materials
Improve Packing Integrity
Decrease Shipping Costs
Thorlabs' Smart Pack Initiative is aimed at waste minimization while still maintaining adequate protection for our products. By eliminating any unnecessary packaging, implementing packaging design changes, and utilizing eco-friendly packaging materials for our customers when possible, this initiative seeks to improve the environmental impact of our product packaging. Products listed above are now shipped in re-engineered packaging that minimizes the weight and the use of non-recyclable materials.b As we move through our product line, we will indicate re-engineered packages with our Smart Pack logo.