Ø1.5" Post Construction Accessories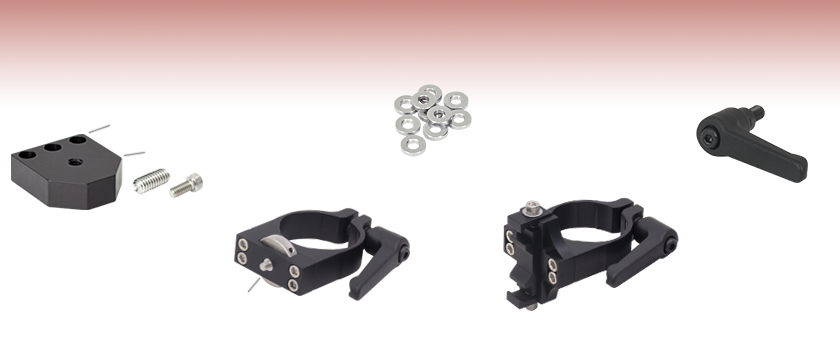 Ideal for Securing Optomechanics to Our Ø1.5" Stainless Steel Posts
Rigid Construction Provides Stability for Sensitive Alignment Assemblies
#8 (M4) Counterbore
1/4"-20 (M6) Tap
Rotating 8-32 (M4) Mounting Stud
MA1
Post Mounting Adapter
C1510
Compact Post Clamp
CH1530
30 mm Cage System Adapter
SD1
Adapter Ring
C15QR
Quick-Release Handle

Please Wait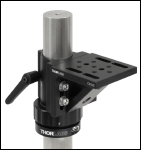 Click to Enlarge
C1515
Mounting Bracket with C15QR Quick-Release Handle Placed Above a PSHA Adjustable Height Collar
These post mounting adapters provide direct compatibility between virtually all of our Optomechanics and our Ø1.5" posts.
Compact Post Clamp
The C1510(/M) Compact Post Clamp allows optic mounts with 8-32 (M4) tapped mounting holes to be attached to a Ø1.5" post. The angle of the optic mount can be adjusted easily using the knurled knob.
Slip-On Post Clamps
Our slip-on post clamps can be used for mounting 1/4"-20 (M6) components to our Ø1.5" posts. When the SD1 counterbore adapter ring is being used, 8-32 (M4) components can also be mounted.
Cage Clamp Mounts
Our CH1530(/M), CH1560(/M), and CV1530(/M) Cage Clamp Mounts allow 30 mm or 60 mm cage assemblies to be securely attached in a horizontal or vertical direction to our Ø1.5" posts using a quick-connect mechanism.
Post Mounting Adapters
Our post mounting adapters function as mounting platforms for Ø1.5" posts. They are offered with several configurations of 1/4"-20 (M6) and 8-32 (M4) tapped holes and counterbores.
Quick-Release Handle
A quick-release handle is also available that allows for a simple and reliable way of securing clamps to a post. The handle is compatible with any clamp that uses a 1/4"-20 (M6) locking screw. The 2.03" (51.4 mm) long handle contains a 1/4"-20 (M6) threaded stud that engages the part by simply rotating the handle. It is included on all of the items below except for the C1498(/M) Slip-on Clamp and the post mounting adapters.
Adjustable Height Collar
The PSHA(/M) Adjustable Height Collar allows for fine height adjustment of post-mounted components. It is compatible with our Ø1.5" posts and offers up to 0.32" of vertical adjustment.