Cage-Compatible Fiber Launch Solutions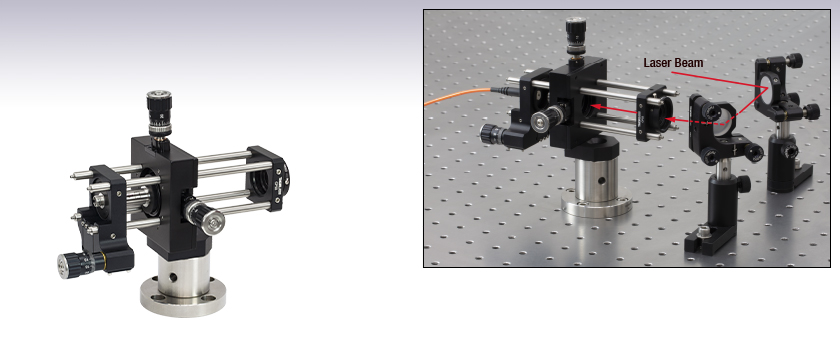 Couples Free-Space Laser Beams into FC- or SMA-Terminated Fiber Cables
XY Translator with Submicron Resolution
KT120
Free-Space
Fiber Coupler
Application Idea
Two mirrors, each mounted in a kinematic mount, are used to align an incoming laser beam with the optical axis of the KT120 cage-compatible fiber launch solution for coupling into a multimode fiber. Recommended setup and alignment details are available in the manual.

Please Wait
Recommended Focusing Optics
Item #
Description
C230TMD-A
350 - 700 nm, f = 4.51 mm, NA = 0.55 Aspheric Lens
C230TMD-B
600 - 1050 nm, f = 4.51 mm, NA = 0.55 Aspheric Lens
C230TMD-C
1050 - 1700 nm, f = 4.51 mm, NA = 0.55 Aspheric Lens
Features
Thorlabs' KT120(/M) Cage-Compatible Fiber Launch Solution is designed for coupling free-space laser beams into either FC- or SMA- terminated fiber optic cables. This system, which can be used with either single or multimode fiber, is equipped with high-precision differential adjusters capable of submicron translation.
This fiber-coupling solution, designed to be compatible with our 30 mm cage system, uses two translation mounts to provide XYZ motion control. The ST1XY-D(/M) XY translator with differential drives offers ±3.0 mm of travel with both coarse and fine adjustment knobs. This allows for both aligning the focusing optic onto the optical axis of the launch system and optimizing transmission through the fiber. To translate the fiber end through the focus of the laser beam, the SM1ZA Z translation mount offers 2.0 mm of fine adjustment. Please see the provided manual for more details about the alignment process.
Either an RMS-threaded microscope objective or an M9 x 0.5 threaded aspheric lens mounted in the provided RMS thread adapter can be used as the focusing optic in these fiber launch solutions. An external SM1 thread to internal RMS thread adapter is included for compatibility with the internal SM1 threads of the XY translator. To accommodate microscope objectives that are not RMS-threaded, additional external SM1 thread to standard internal thread adapters are available on our thread adapters guide.
These fiber launch solutions includes our PB1 universal post base, which features four 1/4" (M6) counterbored holes for mounting the system on an imperial or metric optical table or optical breadboard with mounting holes on 1" or 25 mm centers. CL5 L-shaped table clamps can also be used to secure the base in place. When completely assembled and mounted, the optical axis sits 3.7" above the optical table.
Please note that these fiber launch solutions only include optomechanical components; the individual optomechanical parts used in the KT120 assembly are imperial or universal, while the parts used in the KT120/M assembly are metric or universal. A complete list of components can be found on the Components tab.
Recommended Aspheric Lenses
The C230TMD lenses, which have an equivalent microscope magnification of 35X, are ideal choices for most free-space coupling applications and are available with one of three AR coatings (see table above). To achieve best performance when coupling into a multimode fiber, the numerical aperture of the lens should match that of the fiber. Similarly, for optimized coupling into a single mode fiber, the spot size of the focused beam must be less than the mode-field diameter of the fiber.
Fiber Alignment and Launch Solutions
For coupling free-space laser beams into optical fibers with a multi-axis stage, Thorlabs offers a selection of basic and professional fiber launch solutions. We also offer 3-axis and 6-axis NanoMax™ fiber alignment stages, with stage accessories available separately, for applications that require additional stability and control.
Thorlabs' Cage-Compatible Fiber Launch Solution is available in imperial and metric versions. The individual optomechanical parts used in the KT120 assembly are imperial or universal, while the parts used in the KT120/M assembly are metric or universal.

Click to Enlarge
KT120
KT120/M
Description
Qty.
CP33
CP33/M
SM1-Threaded 30 mm Cage Plate
1
CPA1
30 mm Cage System Alignment Plate
1
E09RMS
Extended RMS to M9 x 0.5 Adapter
1
ER2
Cage Assembly Rod, 2" Long
4
ER3
Cage Assembly Rod, 3" Long
4
MA2
MA2/M
Ø1.5" Post Mounting Adapter
1
P1.5
P30/M
Ø1.5" Mounting Post
1
PB1
Mounting Post Base
1
SM1A3
Adapter with External SM1 Threads and
Internal RMS Threads
1
SM1D12
SM1 Lever-Actuated Iris Diaphragm
1
SM1FC
FC/PC Fiber Adapter Plate
1
SM1RR
SM1 Retaining Ring
3
SM1ZA
Z-Axis Translation Mount
1
SPW301
Spanner Wrench for a M9 x 0.5 Optics Housing
1
SPW801
Adjustable Spanner Wrench
1
ST1XY-D
ST1XY-D/M
XY Translator with Differential Drives
1
SM1SMA
SMA Fiber Adapter Plate
1
-
5/64" (2.0 mm) Hex Keya
1
Additional hex keys can be purchased seperately in packs of 10 (Item # 564HK).
Cage System Overview
The Cage Assembly System provides a convenient way to construct large optomechanical systems with an established line of precision-machined building blocks designed for high flexibility and accurate alignment.
16 mm, 30 mm, and 60 mm Cage System Standards
Thorlabs offers three standards defined by the center-to-center spacing of the cage assembly rods (see image below). The 16 mm cage, 30 mm cage, and 60 mm cage standards are designed to accomodate Ø1/2", Ø1", and Ø2" optics, respectively. Specialized cage plates that allow smaller optics to be directly inserted into our larger cage systems are also available.
Standard Threads
The flexibility of our Cage Assembly System stems from well-defined mounting and thread standards designed to directly interface with a wide range of specialized products. The three most prevalent thread standards are our SM05 Series (0.535"-40 thread), SM1 Series (1.035"-40 thread), and SM2 Series (2.035"-40 thread), all of which were defined to house the industry's most common optic sizes. Essential building blocks, such as our popular lens tubes, directly interface to these standards.
An example of the standard cage plate measurements determining cage system compatibility.
Standard Cage System Measurements
Cage System
16 mm
30 mm
60 mm
Thread Series
SM05
SM1
SM2
Rod to Rod Spacing
16 mm (0.63")
30 mm (1.18")
60 mm (2.36")
Total Length
25 mm (0.98")
41 mm (1.60")
71.1 mm (2.8")
Cage Components
Cage Rods
16 mm
These rods are used to connect cage plates, optic mounts, and other components in the cage system. The SR Series Cage Rods are compatible with our 16 mm cage systems, while the 30 mm and 60 mm cage systems use ER Series Cage Rods.
30 mm
60 mm
Cage Plates
16 mm
These serve as the basic building blocks for a cage system. They may have SM-threaded central bores, smooth bores sized for industry standard optics or to accommodate the outer profile of our SM Series Lens Tubes, or specialized bores for other components such as our FiberPorts.
30 mm
60 mm
Optic Mounts
16 mm
Thorlabs offers fixed, kinematic, rotation, and translation mounts specifically designed for our Cage Systems.
30 mm
60 mm
Cage Cubes
16 mm
These cubes are useful for housing larger optical components, such as prisms or mirrors, or optics that need to sit at an angle to the beam path, such as beamsplitters. Our cage cubes are available empty or with pre-mounted optics.
30 mm
60 mm
Post and Breadboard Mounts and Adapters
Mounting options for cage systems can be found on our Cage System Construction pages. Cage Systems can be mounted either parallel or perpendicular to the table surface.
Size Adapters
Cage System Size Adapters can be used to integrate components from different cage system and threading standards.
Specialized Components
Thorlabs also produces specialized cage components, such as Filter Wheels, a HeNe Laser Mount, and a FiberPort Cage Plate Adapter, allowing a wide range of our products to be integrated into cage-mounted optical systems. Explore our Cage Systems Visual Navigation Guide to see the full range of Thorlabs' cage components.
Posted Comments:
No Comments Posted