SM1.5-Compatible Fixed Mount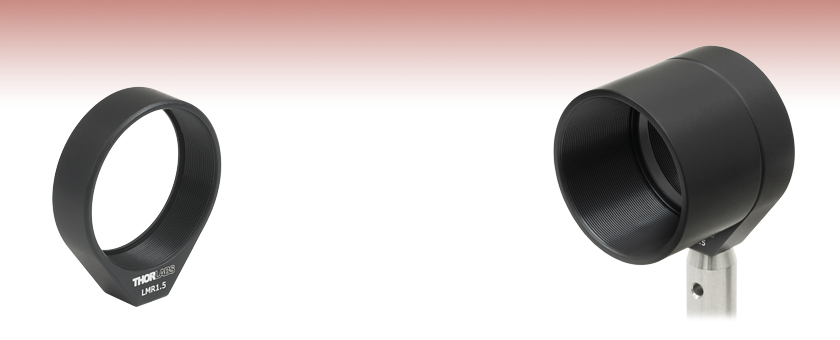 Internal SM1.5 (1.535"-40) Threading
Mount SM1.5-Threaded Lens Tubes or Ø1.5" Optics
8-32 (M4) Tap for Post Mounting
LMR1.5
Compatible with Ø1.5" Optics
Application Idea
SM1.5 Lens Tube Mounted to a LMR1.5 Fixed Mount

Please Wait
Features
Internally SM1.5-Threaded (1.535"-40) Fixed Mount
Compatible with SM1.5-Threaded Components such as Lens Tubes
Accepts Optics up to 0.36" (9.2 mm) Thick
Optics Held by SM1.5RR Retaining Ring (Included) and Back Lip
8-32 (M4) Tapped Hole Allows for Mounting to Ø1/2" Posts
The LMR1.5(/M) Fixed Optic Mount is a convenient way to mount a Ø1.5" optic or SM1.5-threaded (1.535"-40) component on a Ø1/2" post. The maximum optic thickness allowed is 0.36" (9.2 mm). One SM1.5RR retaining ring, which can be tightened using an SPW801 Adjustable Spanner Wrench, is included to secure optics within the mount. Additional retaining rings can be purchased separately. Each of these mounts features an 8-32 (M4) tapped hole at the base, allowing them to be mounted on our Ø1/2" posts.
Item #
Optic Diameter
Max Optic Thicknessa
Clear Aperture
Optical Height
Included Retaining Ring
Suggested Spanner Wrench
LMR1.5
Ø1.5"
0.36" (9.2 mm)
Ø1.37" (Ø34.8 mm)
1.13" (28.6 mm)
SM1.5RR
SPW608 or SPW801
LMR1.5/M
Ø1.38" (Ø34.9 mm)
This specification is true for thin lenses. For lenses with small focal lengths, and hence large lens curvatures, please contact Tech Support to ensure a proper fit.
Posted Comments:
No Comments Posted