Mounting the LT1 Single Axis Translation Stage to an LT101 Base Plate
Features
2" (50 mm) Travel, Dual Resolution Coarse and Fine Drive System
Adjustment

Coarse: 0.055" per Revolution
Fine: 0.010" per Revolution

Load Capacity

Horizontal: 70 lbs (31 kg)
Vertical: 40 lbs (18 kg)

Large Mounting Surface with Numerous Mounting Features
Modular Design Allows Quick Assembly of 2- or 3-Axis Stage
The LT1 and LT3 Translation Stages provide 2" (50 mm) travel on each axis and feature a 3.75" x 3.75" (95 mm x 95 mm) mounting surface with a generous supply of 1/4"-20 (M6) tapped mounting holes. These stages are intended for general purpose laboratory applications that benefit from a high degree of adaptability. A dual action coarse and fine actuator design provides easy, rapid motion via a coarse pitch lead screw (18 TPI) and high resolution via a fine lead screw (100 TPI) that is placed in series with the coarse adjuster. Travel can be locked using a locking plate that is located on the side opposite to these actuators.
The LT1(/M) stages are easily assembled into XY, XZ, YZ, or XYZ configurations using our SH25S025 1/4" long cap screws. We recommend these cap screws due the shorter thread depth required to assemble multi-axis stages. Precision alignment holes that allow the individual stages to be assembled into multi-axis systems as well as dowel pins are provided to ensure that the axes are perpendicular. The procedure for mounting the LT1 stage to an LT101 base plate is shown in the video to the right.
Alternatively, our 2" (50 mm) crossed-roller bearing stages feature low angular deviation, high load capacity, a graduated micrometer, and integrated dovetails for quick multi-axis construction.
| Item # | LT1, LT3 |
| --- | --- |
| Travela | 2.0" (50 mm) |
| Max Load Vertical | 40 lbs (18 kg) |
| Max Load Horizontal | 70 lbs (31 kg) |
| Orthogonality | <2 mrad |
| Angular Deviation | <2 mrad |
| Coarse Thread Pitch | 18 TPI |
| Fine Adjustment Range | 0.5" |
| Fine Adjustment Thread Pitch | 100 TPI |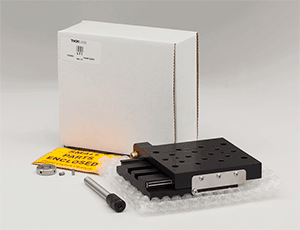 Click to Enlarge
LT1 Packaging

Item #
% Weight
Reduction
CO2-Equivalent
Reductiona
LT1
56.05%
71.88 kg
LT1/M
56.05%
85.09 kg
Smart Pack
Reduce Weight of Packaging Materials
Increase Usage of Recyclable Packing Materials
Improve Packing Integrity
Decrease Shipping Costs
Thorlabs' Smart Pack Initiative is aimed at waste minimization while still maintaining adequate protection for our products. By eliminating any unnecessary packaging, implementing packaging design changes, and utilizing eco-friendly packaging materials for our customers when possible, this initiative seeks to improve the environmental impact of our product packaging. Products listed above are now shipped in re-engineered packaging that minimizes the weight and the use of non-recyclable materials.b As we move through our product line, we will indicate re-engineered packages with our Smart Pack logo.