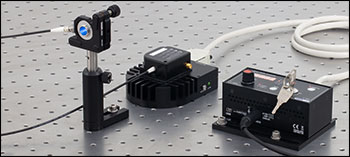 Click to Enlarge
LDM9LP
diode mount and driven by a former generation TLD001 current driver. The LED's output is collimated using an
RC08SMA-P01
reflective collimator.
Webpage Features
Clicking this icon opens a window that contains specifications and mechanical drawings.
Clicking this icon allows you to download our standard support documentation.
Pin Code

Features
Pigtailed LEDs with 470 nm, 590 nm, 700 nm, or 810 nm Center Wavelength
Output Powers Ranging from 3.5 mW to 100 mW
SMA905 Connector
1 m of Multimode Fiber with Ø400 µm or Ø1000 µm Core
Custom LED Pigtails Available by Contacting Tech Support
Thorlabs' light-emitting diodes (LEDs) are pigtailed with multimode (MM) fiber and are available at visible or NIR spectral ranges with center wavelengths from 470 nm to 810 nm. Based on Ø9 mm TO-packaged diodes, these LEDs feature either Ø400 µm core MM fiber (Item # suffix S04) or Ø1000 µm core MM fiber (Item # suffix S10). The fiber ends are terminated with an SMA905 connector.
Each LED is coupled to the multimode fiber using a butt-coupling technique. During this process, the fiber connector is positioned so that the end of the fiber will be as close as possible to the emitter, thereby minimizing losses at the fiber input and maximizing output power. Each LED undergoes a high-quality MM pigtail alignment process during manufacturing to ensure that the coupling efficiency is maximized.
Complete specifications, as well as spectrum and L-I-V plots, are provided by clicking on the blue info icons (

) in the tables. This information is also provided in the spec sheets, which can be accessed by clicking on the red docs icon (

) next to the Item # below. Each unit is tested before shipment and includes a product-specific datasheet; click here for a sample.
LEDs are sensitive to electrostatic discharge (ESD). Please take the proper precautions when handling the device; see ESD protection accessories.
Mount and Driver Options
These LEDs are compatible with all mounts and drivers that accept pigtail packages with a Pin G configuration. Compatible laser diode mounts can be found here, and we offer a wide variety of compatible laser diode current drivers. We recommend the CLD1010LP, which is an all-in-one, combined mount and driver that serves as both a current and temperature controller. Our pigtailed LEDs can also be driven by our LEDD1B LED current driver using the included CAB-LEDD1 connection cable, which interfaces the diode's two connection pins with the driver's connection terminal. The image to the above-right shows an LED mounted in an LDM9LP laser diode mount and driven by a former generation TLD001 T-Cube laser diode driver. Refer to the tables below for a list of recommended mounts and drivers.
Fiber Care
We recommend cleaning the fiber connector of the pigtail package before each use if there is any chance that dust or other contaminants may have deposited on the surface. To view our fiber cleaning products, click here. The intensity at the center of the fiber tip can be very high and may burn the tip of the fiber if contaminants are present. While the connectors on these pigtailed LEDs are cleaned and capped before shipping, we cannot guarantee that they will remain free of contamination after they are removed from the package. We also recommend that the LED is turned off when cleaning the fiber or when connecting or disconnecting the device from other fibers.
Light Emitting Diode (LED) Selection Guide
(Click
Representative
Photo to Enlarge;
Not to Scale)
Wavelength
Unmounted
LEDs
Pigtailed LEDs
LEDs in
SMT Packages
PCB-
Mounted LEDs
Heatsink-
Mounted LEDs
Collimated LEDs for Microscopy
(Item # Prefixa)
Fiber-
Coupled LEDsb
High-Power LEDs for Microsocopy
Multi-Wavelength
LED Source
Optionsc
LED Arrays
Single Color LEDs
250 nm
LED250J
(1 mW Min)
-
-
-
-
-
-
-
-
-
255 nm
LED255W
(0.4 mW)
-
-
-
-
-
-
-
-
-
LED255J
(1 mW Min)
260 nm
LED260W
(0.3 mW)
-
-
-
-
-
-
-
-
-
LED260J
(1 mW Min)
265 nm
LED265W2
(1.6 mW)
-
-
M265D2
(10 mW Min)
M265L3
(10 mW Min)
-
-
-
-
-
M265D3
(24 mW Min)
M265L4
(24 mW Min)
275 nm
LED275W
(0.8 mW)
-
-
M275D2
(45 mW Min)
M275L4
(45 mW Min)
-
-
-
-
-
LED275J
(1 mW Min)
280 nm
LED280J
(1 mW Min)
-
-
-
-
-
-
-
-
-
LED280W
(2.3 mW)
285 nm
LED285W
(0.8 mW)
-
-
M285D3
(50 mW Min)
M285L5
(50 mW Min)
-
M285F4
(420 µW)
-
-
-
290 nm
LED290W
(0.8 mW)
-
-
-
-
-
-
-
-
-
300 nm
LED300W
(0.5 mW)
-
-
M300D3
(26 mW Min)
M300L4
(26 mW Min)
-
M300F2
(320 µW)
-
-
-
310 nm
LED310W
(1.5 mW)
-
-
-
-
-
-
-
-
-
315 nm
LED315W
(0.6 mW)
-
-
-
-
-
-
-
-
-
325 nm
LED325W2
(1.7 mW)
-
-
-
-
-
-
-
-
-
340 nm
LED340W
(1.7 mW)
-
-
M340D3
(53 mW Min)
M340L4
(53 mW Min)
-
M340F3
(1.06 mW)
-
-
-
LED341W
(0.33 mW)
365 nm
-
-
-
M365D1
(190 mW Min)
M365L2
(190 mW Min)
M365L2
(60 mW)d
M365F1
(4.1 mW)
SOLIS-365C
(3.0 W)e
Chrolis
(1130 mW)
LIU365A
(31 mW)
M365L3
(880 mW Min)
M365D2
(1150 mW Min)
M365LP1
(1350 mW Min)
M365LP1
(350 mW)d
M365FP1
(15.5 mW)
4-Wavelength
Source
(85 mW)
375 nm
LED375L
(1 mW)
-
-
M375D4
(1270 mW Min)
M375L4
(1270 mW Min)
-
M375F2
(4.23 mW)
-
-
-
LED370E
(2.5 mW)
385 nm
LED385L
(5 mW)
-
-
M385D1
(270 mW Min)
M385L2
(270 mW Min)
M385L2
(90 mW)d
M385F1
(10.7 mW)
SOLIS-385C
(5.8 W)e
Chrolis
(1250 mW)
-
M385L3
(1240 mW Min)
M385D2
(1650 mW Min)
M385LP1
(1650 mW Min)
M385LP1
(520 mW)d
M385FP1
(23.2 mW)
4-Wavelength
Source
(95 mW)
395 nm
LED395L
(6 mW)
-
-
M395D3
(400 mW Min)
M395L4
(400 mW Min)
-
M395F3
(6.8 mW)
-
-
-
M395D4
(1420 mW Min)
M395L5
(1130 mW Min)
M395FP1
(20.1 mW)
M395LP1
(1420 mW Min)
Wavelength
Unmounted
LEDs
Pigtailed LEDs
LEDs in
SMT Packages
PCB-
Mounted LEDs
Heatsink-
Mounted LEDs
Collimated LEDs
for Microscopy
(Item # Prefixa)
Fiber-
Coupled LEDsb
High-Power LEDs
for Microsocopy
Multi-Wavelength
LED Source
Optionsc
LED Arrays
Single Color LEDs
405 nm
LED405L
(6 mW)
-
-
M405D2
(1500 mW Min)
M405L4
(1000 mW Min)
M405L3
(440 mW)d
M405F1
(3.7 mW)
SOLIS-405C
(3.9 W)e
Chrolis
(900 mW)
-
M405L4
(510 mW)f
4-Wavelength
Source
(290 mW)
LED405E
(10 mW)
M405LP1
(1200 mW Min)
M405LP1
(450 mW)d
M405FP1
(24.3 mW)
415 nm
-
-
-
M415D2
(1640 mW Min)
M415L4
(1310 mW Min)
-
M415F3
(21.3 mW)
SOLIS-415C
(5.8 W)e
-
-
M415LP1
(1640 mW Min)
420 nm
-
-
-
-
-
-
-
-
Chrolis
(710 mW)
-
4-Wavelength
Source
(95 mW)
430 nm
LED430L
(8 mW)
-
-
M430D2
(490 mW Min)
M430L4
(490 mW Min)
-
-
-
-
-
445 nm
-
-
-
-
-
-
-
SOLIS-445C
(5.4 W)e
-
-
450 nm
LED450L
(7 mW)
-
LEDS450
(250 mW)
M450D3
(1850 mW Min)
M450LP1
(1850 mW Min)
-
-
-
-
-
455 nm
-
-
-
M455D3
(1150 mW Min)
M455L4
(1150 mW Min)
M455L3
(360 mW)d
M455F3
(24.5 mW)
-
4-Wavelength
Source
(310 mW)
-
M455L4
(490 mW)d
465 nm
LED465E
(20 mW)
-
-
-
-
-
-
-
-
-
470 nm
LED470L
(170 mW)
EP470S04
(18 mW Min)
-
M470D2
(650 mW Min)
M470L4
(760 mW Min)
M470L3
(250 mW)d
M470F3
(17.2 mW)
SOLIS-470C
(3.0 W)e
4-Wavelength
Source
(250 mW)
LIU470A
(253 mW)
EP470S10
(100 mW Min)
M470D3
(760 mW Min)
M470L4
(330 mW)d
475 nm
-
-
-
-
-
-
-
-
Chrolis
(630 mW)
-
490 nm
LED490L(3 mW)
-
-
M490D3
(205 mW Min)
M490L4
(205 mW Min)
-
M490F3
(2.3 mW)
-
Chrolis
(120 mW)
-
4-Wavelength
Source
(50 mW)
505 nm
LED505L
(4 mW)
-
-
M505D2
(400 mW Min)
M505L4
(400 mW Min)
M505L3
(150 mW)g
M505F3
(11.7 mW)
SOLIS-505C
(1.0 W)e
4-Wavelength
Source
(170 mW)
-
M505D3
(400 mW Min)
M505L4
(170 mW)d
525 nm
LED525E
(2.6 mW Max)
-
-
-
-
-
-
SOLIS-525C
(2.4 W)e
Chrolis
(180 mW)
LIU525A
(111 mW)
LED525L
(4 mW)
LED528EHP
(7 mW)
530 nm
-
-
-
M530D3
(370 mW Min)
M530L4
(370 mW Min)
M530L3
(150 mW)g
M530F2
(6.8 mW)
-
4-Wavelength
Source
(100 mW)
-
M530L4
(160 mW)d
554 nm
-
-
-
MINTD3
(650 mW Min)
MINTL5
(650 mW Min)
-
MINTF4
(21 mW Min)
-
-
-
565 nm
-
-
-
M565D2
(880 mW Min)
M565L3
(880 mW Min)
-
M565F3
(13.5 mW)
SOLIS-4C
(3.2 W)e
Chrolis
(350 mW)
-
4-Wavelength
Source
(106 mW)
570 nm
LED570L
(0.3 mW)
-
-
-
-
-
-
-
-
-
590 nm
LED590L
(2 mW)
EP590S04
(3.5 mW Min)
-
M590D3
(230 mW Min)
M590L4
(230 mW Min)
M590L3
(60 mW)d
M590F3
(4.6 mW)
SOLIS-590C
(350 mW)e
Chrolis
(140 mW)
LIU590A
(109 mW)
LED591E
(2 mW)
EP590S10
(18 mW Min)
M590L4
(100 mW)d
4-Wavelength
Source
(65 mW)
595 nm
-
-
-
M595D3
(820 mW Min)
M595L4
(820 mW Min)
-
M595F2
(8.7 mW)
SOLIS-595C
(700 mW)e
-
-
Wavelength
Unmounted
LEDs
Pigtailed LEDs
LEDs in
SMT Packages
PCB-
Mounted LEDs
Heatsink-
Mounted LEDs
Collimated LEDs
for Microscopy
(Item # Prefixa)
Fiber-
Coupled LEDsb
High-Power LEDs
for Microsocopy
Multi-Wavelength
LED Source
Optionsc
LED Arrays
Single Color LEDs
600 nm
LED600L
(3 mW)
-
-
-
-
-
-
-
-
-
610 nm
LED610L
(8 mW)
-
-
-
-
-
-
-
-
-
617 nm
-
-
-
M617D2
(600 mW Min)
M617L3
(600 mW Min)
M617L3
(230 mW)d
M617F2
(10.2 mW)
SOLIS-617C
(1.5 mW)e
4-Wavelength
Source
(210 mW)
-
M617D3
(660 mW Min)
M617L4
(660 mW Min)
M617L4
(280 mW)d
623 nm
-
-
-
-
-
-
-
SOLIS-623C
(3.8 W)e
-
-
625 nm
LED625L
(12 mW)
-
-
M625D3
(700 mW Min)
M625L4
(700 mW Min)
M625L3
(270 mW)d
M625F1
(13.2 mW)
-
Chrolis
(490 mW)
-
M625L4
(490 mW)d
4-Wavelength
Source
(240 mW)
630 nm
LED630L
(16 mW)
-
-
-
-
-
-
-
-
LIU630A
(208 mW)
635 nm
LED631E
(4 mW)
-
-
-
-
-
-
-
-
-
LED635L


(170 mW)

639 nm
LED630E
(7.2 mW)
-
-
-
-
-
-
-
-
-
645 nm
LED645L
(16 mW)
-
-
-
-
-
-
-
-
-
660 nm
LED660L
(13 mW)
-
-
M660D2
(940 mW Min)
M660L4
(940 mW Min)
M660L4
(400 mW)d
M660F1
(14.5 mW)
SOLIS-660C
(2.0 W)e
4-Wavelength
Source
(210 mW)
-
670 nm
LED670L
(12 mW)
-
-
-
-
-
-
-
-
-
680 nm
LED680L
(8 mW)
-
-
M680D2
(180 mW Min)
M680L4
(180 mW Min)
-
M680F3
(2.7 mW)
-
-
-
700 nm
-
EP700S04
(5 mW Min)
-
M700D2
(80 mW Min)
M700L4
(80 mW Min)
-
M700F3
(1.7 mW)
-
-
-
EP700S10
(30 mW Min)
730 nm
-
-
-
M730D3
(540 mW Min)
M730L5
(540 mW Min)
M730L4
(165 mW)d
-
-
-
-
740 nm
-
-
-
-
-
-
M740F2
(6.0 mW)
SOLIS-740C
(2.0 W)e
-
-
750 nm
LED750L
(18 mW)
-
-
-
-
-
-
-
-
-
760 nm
LED760L
(24 mW)
-
-
-
-
-
-
-
-
-
770 nm
LED770L
(22 mW)
-
-
-
-
-
-
-
-
-
780 nm
LED780E
(18 mW)
-
-
M780D2
(200 mW Min)
M780L3
(200 mW Min)
M780L3
(130 mW)d
M780F2
(7.5 mW)
-
Chrolis
(40 mW)
LIU780A
(315 mW)
LED780L
(22 mW)
M780D3
(800 mW Min)
M780LP1
(800 mW Min)
800 nm
LED800L
(20 mW)
-
-
-
-
-
-
-
-
-
810 nm
LED810L
(22 mW)
EP810S04
(16 mW Min)
-
M810D2
(325 mW Min)
M810L3
(325 mW Min)
M810L3
(210 mW)d
M810F2
(6.5 mW)
-
-
-
EP810S10
(90 mW Min)
M810D3
(363 mW Min)
M810L4
(363 mW Min)
830 nm
LED830L
(22 mW)
-
-
-
-
-
-
-
-
-
840 nm
LED840L
(22 mW)
-
-
-
-
-
-
-
-
-
850 nm
LED851L
(13 mW)
-
-
M850D2
(900 mW Min)
M850L3
(900 mW Min)
M850L3
(330 mW)d
M850F2
(13.4 mW)
SOLIS-850C
(2.7 W)e
-
LIU850A
(322 mW)
M850D3
(1400 mW)
M850LP1
(1400 mW Min)
870 nm
LED870E
(22 mW)
-
-
-
-
-
-
-
-
-
LED870L
(24 mW)
880 nm
-
-
-
M880D2
(300 mW Min)
M880L3
(300 mW Min)
-
M880F2
(3.4 mW)
-
-
-
890 nm
LED890L
(12 mW)
-
-
-
-
-
-
-
-
-
910 nm
LED910L
(10 mW)
-
-
-
-
-
-
-
-
-
LED910E
(12 mW)
930 nm
LED930L
(15 mW)
-
-
-
-
-
-
-
-
-
940 nm
LED940E
(18 mW)
-
-
M940D2
(800 mW Min)
M940L3
(800 mW Min)
M940L3
(320 mW)d
M940F3
(14.2 mW)
SOLIS-940C
(2.5 W)e
-
-
970 nm
LED970L
(5 mW)
-
-
M970D3
(600 mW Min)
M970L4
(600 mW Min)
-
M970F3
(8.1 mW)
-
-
-
Wavelength
Unmounted
LEDs
Pigtailed LEDs
LEDs in
SMT Packages
PCB-
Mounted LEDs
Heatsink-
Mounted LEDs
Collimated LEDs
for Microscopy
(Item # Prefixa)
Fiber-
Coupled LEDsb
High-Power LEDs
for Microsocopy
Multi-Wavelength
LED Source
Optionsc
LED Arrays
Single Color LEDs
1050 nm
LED1050E
(2.5 mW)
-
-
M1050D1
(50 mW Min)
M1050L2
(50 mW Min)
-
-
-
-
-
LED1050L
(4 mW)
M1050D3
(160 mW Min)
M1050L4
(160 mW Min)
M1050F3
(3 mW)
1070 nm
LED1070L
(4 mW)
-
-
-
-
-
-
-
-
-
LED1070E
(7.5 mW)
1085 nm
LED1085L
(5 mW)
-
-
-
-
-
-
-
-
-
1200 nm
LED1200E
(2.5 mW)
-
-
M1200D2
(30 mW Min)
M1200L3
(30 mW Min)
-
-
-
-
-
LED1200L
(5 mW)
1300 nm
LED1300E
(2 mW)
-
-
M1300D2
(25 mW Min)
M1300L3
(25 mW Min)
-
-
-
-
-
LED1300L
(3.5 mW)
1450 nm
LED1450E
(2 mW)
-
-
M1450D2
(31 mW Min)
M1450L3
(31 mW Min)
-
-
-
-
-
LED1450L
(5 mW)
1550 nm
LED1550E
(2 mW)
-
-
M1550D2
(31 mW Min)
M1550L3
(31 mW Min)
-
-
-
-
-
LED1550L
(4 mW)
1600 nm
LED1600L
(2 mW)
-
-
-
-
-
-
-
-
-
1650 nm
LED1600P
(1.2 mW)
-
-
M1650D2
(13 mW)
M1650L4
(13 mW)
-
-
-
-
-
1750 nm
LED1700P
(1.2 mW
Quasi-CW,
30 mW Pulsed)
-
-
-
-
-
-
-
-
-
1850 nm
LED1800P
(0.9 mW
Quasi-CW,
20 mW Pulsed)
-
-
-
-
-
-
-
-
-
1950 nm
LED1900P
(1.0 mW
Quasi-CW,
25 mW Pulsed)
-
-
-
-
-
-
-
-
-
2050 nm
LED2050P
(1.1 mW
Quasi-CW,
28 mW Pulsed)
-
-
-
-
-
-
-
-
-
2350 nm
LED2350P
(0.8 mW
Quasi-CW,
16 mW Pulsed)
-
-
-
-
-
-
-
-
-
4200 nm
LED4300P
(0.03 mW
Quasi-CW,
0.2 mW Pulsed)
-
-
-
-
-
-
-
-
-
4500 nm
LED4600P
(0.006 mW
Quasi-CW,
0.12 mW Pulsed)
-
-
-
-
-
-
-
-
-
Wavelength
Unmounted
LEDs
Pigtailed LEDs
LEDs in
SMT Packages
PCB-
Mounted LEDs
Heatsink-
Mounted LEDs
Collimated LEDs
for Microscopy
(Item # Prefixa)
Fiber-
Coupled LEDsb
High-Power LEDs
for Microsocopy
Multi-Wavelength
LED Source
Optionsc
LED Arrays
Multi-Color, Broadband, and White LEDs
455 nm (12.5%h) and 640 nm
-
-
-
MPRP1D2
(275 mW Min)
MPRP1L4
(275 mW Min)
-
-
-
-
-
572 nm and 625 nm
LEDGR
(0.09 mW
and 0.19 mW)
-
-
-
-
-
-
-
-
-
588 nm and 617 nm
LEDRY
(0.09 mW
and 0.19 mW)
-
-
-
-
-
-
-
-
-
467.5 nm,
525 nm,
and 627.5 nm
LEDRGBE
(5.8 mW,
6.2 mW,
and 3.1 mW)
-
-
-
-
-
-
-
-
-
430 - 660 nm
(White)
LEDWE-15


(13 mW)

-
-
-
-
-
-
-
-
-
LEDW7E
(15.0 mW)
LEDW25E
(15.0 mW)
470 - 850 nm
(Broadband)
-
-
-
MBB1D1
(70 mW Min)
MBB1L3
(70 mW Min)
-
MBB1F1
(1.2 mW)
-
-
-
6500 K
(Cold White)
-
-
-
MCWHD4
(990 mW Min)
MCWHL6
(990 mW Min)
MCWHL5
(440 mW)f
-
SOLIS-1C
(3.3 W)e
-
-
MCWHD3
(2350 mW Min)
MCWHLP1
(2350 mW Min)
MCWHL6
(354 mW)d

6200 K
(Cold White)
-
-
-
-
-
-
MCWHF2
(21.5 mW)
-
-
-
5000 K
(Cold White)
-
-
LEDSW50
(110 mW)
-
-
-
-
-
-
-
4600 - 9000 K
(Cold White)
-
-
-
-
-
-
-
-
-
LIUCWHA


(250 mW)

4000 K
(Warm White
-
-
LEDSW40
(115 mW)
-
-
-
MWWHF2
(16.3 mW)
-
-

-

3000 K
(Warm White)
-
-
LEDSW30
(100 mW)
MWWHD3
(2000 mW Min)
MWWHL4
(570 mW Min)
-
-
SOLIS-2C
(3.2 W)e
-
-
MWWHLP1
(2000 mW Min)
5700 K
(Day Light White)
-
-
-
-
-
-
-
SOLIS-3C
(3.5 W)
-
-