Manual Micrometer Heads, 50 mm Travel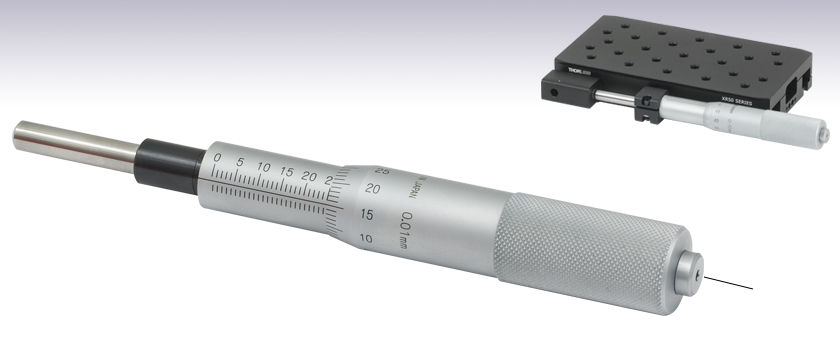 50 mm Travel Range
10 µm of Travel per Division
Spherical Tip Minimizes Positioning Alignment Errors
Available With or Without 5/64" (2.0 mm) Hex on the End
151-411ME-H
5/64" Hex
Application Idea
The XR50P Quick Connect Translation Stage
incorporates the 151-411ME-H Micrometer.

Please Wait
Item #
151-411ME
151-411ME-H
Travel Range
50.00 mm
Graduation
10 µm per Division
Distance per Rev
0.5 mm
Barrel Diameter
3/8" (9.5 mm)
Hex
N/A
5/64" (2.0 mm)
Load Capacity
4 kg (Max)
Scale Surface
Hard-Chrome Plating
Features
Chrome-Plated Polished Spindle Improves Accuracy
Knurled Adjustment Knob for Grip
Standard Ø3/8" (Ø9.5 mm) Mounting Barrel
Engraved Graduations for Accurate Alignment
Version with 5/64" (2.0 mm) Hex Available
These micrometers provide 50.00 mm of travel range with 10 µm spacing between graduations. The 151-411ME-H micrometer incorporates a 5/64" (2.0 mm) hex allowing it to be actuated in space-constrained environments.
The spherical spindle tip provides a single point of contact, which minimizes positioning alignment errors. Thorlabs can integrate this micrometer into many of our standard products; please contact Tech Support for details. We also offer the RBA1 Barrel Adapter to increase the barrel diameter to 1/2" (12.7 mm).

Click to Enlarge
151-411ME(-H)


Click to Enlarge
Hex on Micrometers with Item Numbers Ending in -H