All Thorlabs' Rack System Modules require the use of the APT™ MMR601 Rack System Enclosure. Independent operation of the modules outside the enclosure is not possible.
Features
Tracking Feature Maintains Optimum Throughput Indefinitely
Advanced Dark Search Algorithms for First Light Detection with Motorized Fiber Launch
Active Fiber Alignment for maintaining alignment during processes and experimentation
IR (InGaAs) & PIN Current Inputs Supplied
Visible (Si) Detectors Available Separately
Mainframe Access Mix and Match up to 6 Modules, Stepper, Piezo, and NanoTrak® Each with Two Channels
USB Plug and Play Connectivity
Full Software GUI Control Suite
ActiveX® Graphical Panel Controls & Programming Interfaces
Seamless Software Integration with Entire APT Family of Products (Electronics and Mechanics)
The modular NanoTrak Auto-Alignment Controller combines an intelligent, active-feedback, alignment control system and a two-channel, piezoelectric controller into a single plug-in unit. As part of the APT™ series, this autoalignment system represents the latest developments in automated optical alignment technologies. This system is a basic building block from which advanced alignment systems can be quickly configured. It can be fully integrated into a rack system that is comprised of a selection of our plug-ins: piezoelectric controllers, stepper motor controllers, and this NanoTrak autoalignment module. The Controller is available with InGaAs (900 - 1700 nm) or Si (320 - 1000 nm) detectors.
The initial coupling of light from one device (e.g. fiber) to another involves searching a multidimensional space until a signal is detected. The NanoTrak support software offers a series of motor search algorithms for this first light detection. Although used primarily for aligning optical fibers and integrated optical devices, the NanoTrak is ideal for automating just about any labor intensive alignment tasks such as waveguide characterization, fiber pigtailing of active and passive devices, as well as a multitude of other R&D applications.
The NanoTrak is supplied with an Infrared wavelength (InGaAs) detector (NTA007) and a PIN diode SMB input for use with external detector heads. A visible wavelength (Si) detector (NTA009) is available separately as detailed below.
Module Specifications
Signal Measurement
PIN Photodiode
Mechanical Connector
SMB Male
Photocurrent Range
1 nA to 10 mA
Optical Connector
FC/PC
NanoTraking
Circle Scanning Frequency
1 to 300 Hz
Circle Position Range
<1% to >99% MPE
Circle Diameter Adj. Modes
Automatic and Manual
Signal Phase Compensation
±180°
Piezoelectric Input/Output
Number of Piezo Channels
2
HV Output Connectors
Connector Type
SMC Male
Voltage Output
0 to 75 VDC/Channel
Voltage Stability
100 ppm over 24 Hours
Noise
<3 mV (RMS)
Output Current
500 mA/Channel
Analog Output Monitors
Connector Type
BNC
Voltage Range
0 to 10 VDC
Strain Gauge Position Feedback
Connector Type
9-Pin D-Type Female
Feedback Type
AC
Other Input/Output
Optical Power Monitor
Connector Type
BNC
Voltage Range
0 to 10 VDC
Ext Signal In Input
Connector Type
BNC
Voltage Range
0 to 10 VDC
User Control
Connector Type
26-Pin HD D-Type Female
Isolated Digital Inputs
4 off TTL
Isolated Digital Outputs
4 off TTL
Trigger Input
1 off TTL
Trigger Output
1 off TTL
Potentiometer Channel Ctrl Input
1-10 k (Each Channel)
Analog Channel Output Monitors
0 to 10 VDC (Each Channel)
General
Dimensions (W x D x H)
190 mm x 270 mm x 50 mm
Weight
1.5 kg (3.3 lbs)
Optical Detector Specfications
| Item # | NTA007 | NTA009 |
| --- | --- | --- |
| Detector Type | InGaAs | Si |
| Operating Wavelength | 900 - 1700 nm | 320 - 1000 nm |
| Active Area | Fiber Input | Fiber Input |
| Rise Time | 100 ps @ 12 V | 100 ps @ 12 V |
| NEP | 4.5 x 10-15 W/√Hz | 1.5 x 10-15 W/√Hz |
| Dark Current | 0.05 nA @ 5 V | 0.01 nA @ 10 V |
NanoTrak® Controller
D-type Female

Pin
Description
Return
Pin
Description
Return
Pin
Description
Return
1
DIG I/P 1a
19
10
DIG O/P 1a
19
19
Isolated Groundb
-
2
DIG I/P 2a
19
11
DIG O/P 2a
19
20
Ext Trigger I/P
22
3
DIG I/P 3a
19
12
DIG O/P 3a
19
21
Ext Trigger O/P
22
4
DIG I/P 4a
19
13
DIG O/P 4a
19
22
Ground
-
5
Channel 1 RS485 (+)
-
14
Channel 2 RS485 (+)
-
23
5 V User O/P (Isolated)
-
6
Channel 1 RS485 (-)
-
15
Channel 2 RS485 (+)
-
24
Not Used
-
7
Not Used
-
16
Not Used
-
25
Analog Ground
-
8
Channel 2 10 V O/Pc
25
17
External Analog I/P CH2 0 - 10 V
25
26
Signal Power Outd
25
9
Channel 1 10 V O/Pc
25
18
External Analog I/P CH1 0 - 10 V
25
Piezo Controller
D-type Female

| Pin | Description | Return | Pin | Description | Return | Pin | Description | Return |
| --- | --- | --- | --- | --- | --- | --- | --- | --- |
| 1 | Wheatstone Bridge Excitation | 4 or 6 | 4 | D.C.(+) or Equipment Grounda | - | 7 | D.C.(-) or Actuator ID Signala,b | 4 or 6 |
| 2 | +15Vc | 4 or 6 | 5 | Feedback Signal In | 4 or 6 | 8 | RS485 (-) | 9 |
| 3 | -15Vc | 4 or 6 | 6 | Equiptment Ground | - | 9 | RS485 (+) | 8 |
LV Out
BNC Female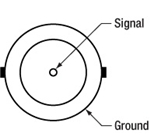 0 to +10V. This output is mirrors HV OUT, 10V being equivalent to 75V on the HV outputs, and can be connected to an oscilloscope to enable the drive signal of the piezo actuator to be monitored.
HV Out
SMC
0 to 75V, 0 to 500mA. Provides the drive signal to the piezo actuator.
Signal In
BNC Female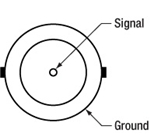 0 to 10V, 100kΩ load. Used to receive a signal of optical power from an external power meter.
Principle of Operation
During the auto-alignment process, the NanoTrak® uses gradient search algorithms to locate the direction of a peak signal. This operation is similar to that of a compass finding the north pole. The sensitivity of the search is such that even far away from the peak signal, where there are small power gradients, the NanoTrak can decide in which direction the peak signal is located. This information is then used to make positional corrections via the attached high speed piezo actuators without having to map or search a large area.
In the proximity of a peak signal, the signal gradient seen is much smaller, indicating that smaller positional correction is required. When peak signal is reached the gradient seen changes to zero, indicating that no positional correction is needed.
The dynamic behavior of the NanoTrak allows it to continue the alignment process indefinitely. Should the alignment change, the gradient search will detect the change and make a corrective move.
Typical Application Example (Optical Device Alignment)
Optical power transmission through any system under alignment can be described as a Gaussian coupling. Coupled power lowers as a function of distance relative to the aligned position (dependent upon device). Discrete power level alignments can be thought of as positions about the ideal coupling position, where the distances from the aligned position are equal. These discrete power alignment positions form concentric circles. These concentric circles represent the power contours and can be thought of as the gradient contours of a hill on a topographic map.
By detecting the gradient of the power at any given position, the NanoTrak can adjust the position until the power is maximized and the gradient becomes zero. This is achieved by scanning over the contours in a circular path to establish the direction of the signal maximum on the circular trajectory. The origin of the scan circle is then moved in the direction of the signal maximum.
Continuous active alignment can be used to maintain alignment, or the search algorithms can be halted for next step assembly or R&D operations.
Thorlabs offers two platforms to drive our wide range of motion controllers: our Kinesis® software package or the legacy APT™ (Advanced Positioning Technology) software package. Either package can be used to control devices in the Kinesis family, which covers a wide range of motion controllers ranging from small, low-powered, single-channel drivers (such as the K-Cubes™ and T-Cubes™) to high-power, multi-channel, modular 19" rack nanopositioning systems (the APT Rack System).
The Kinesis Software features .NET controls which can be used by 3rd party developers working in the latest C#, Visual Basic, LabVIEW™, or any .NET compatible languages to create custom applications. Low-level DLL libraries are included for applications not expected to use the .NET framework. A Central Sequence Manager supports integration and synchronization of all Thorlabs motion control hardware.

Kinesis GUI Screen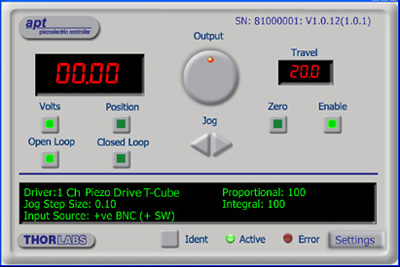 APT GUI Screen
Our legacy APT System Software platform offers ActiveX-based controls which can be used by 3rd party developers working on C#, Visual Basic, LabVIEW™, or any Active-X compatible languages to create custom applications and includes a simulator mode to assist in developing custom applications without requiring hardware.
By providing these common software platforms, Thorlabs has ensured that users can easily mix and match any of the Kinesis and APT controllers in a single application, while only having to learn a single set of software tools. In this way, it is perfectly feasible to combine any of the controllers from single-axis to multi-axis systems and control all from a single, PC-based unified software interface.
The software packages allow two methods of usage: graphical user interface (GUI) utilities for direct interaction with and control of the controllers 'out of the box', and a set of programming interfaces that allow custom-integrated positioning and alignment solutions to be easily programmed in the development language of choice.
A range of video tutorials is available to help explain our APT system software. These tutorials provide an overview of the software and the APT Config utility. Additionally, a tutorial video is available to explain how to select simulator mode within the software, which allows the user to experiment with the software without a controller connected. Please select the APT Tutorials tab above to view these videos.
Software
Kinesis Version 1.14.25
The Kinesis Software Package, which includes a GUI for control of Thorlabs' Kinesis and APT™ system controllers.
Also Available:

These videos illustrate some of the basics of using the APT System Software from both a non-programming and a programming point of view. There are videos that illustrate usage of the supplied APT utilities that allow immediate control of the APT controllers out of the box. There are also a number of videos that explain the basics of programming custom software applications using Visual Basic, LabView and Visual C++. Watch the videos now to see what we mean.
To further assist programmers, a guide to programming the APT software in LabView is also available.