Fiber Optic Cannulae with Diffuser Tip, Ø200 µm Core
Diffuser Tip Scatters Output Light Over Wide Angle
2, 5, 10, or 20 mm Fiber Length
Ø1.25 mm Ceramic Ferrule
Custom Versions Available
CFDSB02
2 mm Cannula Fiber with Diffuser Tip
CFDSB05
5 mm Cannula Fiber with Diffuser Tip
CFDSB10
10 mm Cannula Fiber with Diffuser Tip
CFDSB20
20 mm Cannula Fiber with Diffuser Tip
Cannula Without Diffuser Tip
Cannula With Diffuser Tip
Application Idea

Please Wait
Cannula Fiber Specifications
Fiber Type
FT200EMT
Wavelength Range
(Click for Plot)
400 - 2200 nm
Fiber Core Diameter

200 ± 5 µm

Fiber Outer Diameter

225 ± 5 μm

Numerical Aperture

0.39 (Without Diffuser Tip)

Transmission (Typical)a

95% @ 470 nm

Min/Max Output Powerb
≥50% Over 220° Range @ 470 nm
The transmission is specified as the total output power relative to the same cannula without a diffuser tip.
The ratio of the minimum output power to the maximum output power at any angle over the specified range.

Click to Enlarge

Comparison of
CFMLC12L10
Standard Cannula with CFDSB10 Cannula with Diffuser Tip; the output powers are not normalized relative to each other. For normal cannula, the profile is wavelength independent; however, with the diffuser tip, there is increased scattering for shorter wavelengths.


Click to Enlarge

The diffuser tip scatters the ouput light.
Features
Cannulae with Diffuser Tip that Scatters Output Light (>220° Angle)
Easier Excitation of Cells and Less Dependence on Fiber Orientation
Ø200 µm Core, 0.39 NA Fiber Secured in Ø1.25 mm (LC) Ceramic Ferrule
Custom Cannulae Available (Contact Tech Support with Inquiries)
Thorlabs' Diffusing Cannulae feature a tip made from a highly diffusing material that scatters the output light over a wide angle. The diffuser material provides a high scattering cross section over the entire operating wavelength range. This allows for simpler optical excitation of all cells near the implanted cannula and less dependence on the fiber orientation. Diffused cannulae can also be used in imaging applications.
These cannulae use a Ø200 µm, 0.39 NA fiber (Item # FT200EMT) secured within a Ø1.25 mm (LC) ceramic ferrule. The fiber ends are flat cleaved to a pre-determined length (2, 5, 10, or 20 mm). An implant guide for the cannulae sold on this page is also available below in packs of one or five; the 2 mm cannula cannot be used with an implant guide.
Ceramic LC ferrules are minimally invasive and lightweight, making them ideal for smaller specimens or placing multiple cannulae in close proximity. After implantation using stereotaxic guidance, the ferrule remains exposed; this provides an interface with our line of Optogenetics Equipment (see below for a diagram of a typical setup).
Each cannula includes a protective cap that shields the ferrule end from dust and other hazards. Additional CAPL Fiber Caps are also sold separately. If the ferrule end becomes dirty from use, we offer a selection of inspection tools, as well as fiber optic cleaning products.
Cleaning and Handling
The cannula fiber can be gently wiped with a Kimwipe®† or CTA10 Cotton-Tipped Applicator and 70% ethanol or isopropyl alcohol. The cannula can also be cleaned using an ultrasonic cleaner while ensuring that the tip does not come into contact with any solid surface.
†Kimwipes® is a registered trademark of the Kimberly-Clark Corporation.
Mating Sleeve and Patch Cable Compatibility
The ferrule diameter of a patch cable and cannula is the key factor for physical compatibility with an interconnect or mating sleeve. Mixing stainless steel and ceramic ferrules should not introduce significant additional signal losses. Cannulae and patch cables using Ø1.25 mm (LC) ferrules can be connected using the ADAL1 mating sleeve or ADAL3 interconnect.
Custom Cannulae and High-Volume Orders
Thorlabs also manufactures custom fiber optic cannulae. We can provide different scattering profiles, fiber and/or ferrule types, as well as different fiber lengths; please contact Tech Support for details. High-volume orders are also possible; please contact OEM Sales for more information.
Optogenetics Product Family for In Vivo Applications
Thorlabs offers a wide variety of products designed to support in vivo optogenetics applications. Please visit the OG Selection Guide tab above to see a full listing of available products for different applications.

Optogenetics Selection Guide
Thorlabs offers a wide range of optogenetics components; the compatibility of these products in select standard configurations is discussed in detail here. Please contact Technical Support for assistance with items outside the scope of this guide, including custom fiber components for optogenetics.
Single-Site Stimulation
One Light Source to One Cannula Implant
The most straightforward method for in vivo light stimulation of a specimen is to use a single fiber optic with a single LED light source. The single wavelength LED is powered by an LED driver, and then the illumination output is fiber-coupled into a patch cable, which connects to the implanted cannula. See the graphics and expandable compatibility tables below for the necessary patch cables and cannulae to create this setup. To choose the appropriate LED and driver, see below or the full web presentation.
Click on Each Component for More Information



Click for Details
Click to See Ø1.25 mm (LC) Ferrule Compatible Patch Cables, Cannulae, and Interconnects

Click for Detials
Click to See Ø2.5 mm (FC) Ferrule Compatible Patch Cables, Cannulae, and Interconnects
Bilateral Stimulation
The ability to accurately and simultaneously direct light to multiple locations within a specimen is desired for many types of optogenetics experiments. For example, bilateral stimulation techniques typically target neurons in two spatially separated regions in order to induce a desired behavior. In more complex experiments involving the simultaneous inhibition and stimulation of neurons, delivering light of two different monochromatic wavelengths within close proximity enables the user to perform these experiments without implanting multiple cannulae, which can increase stress on the specimen.
Bilateral stimulation can be achieved with several different configurations depending on the application requirements. The sections below illustrate examples of different configurations using Thorlabs' optogenetics products.
---
Option 1: One Light Source to Two Cannula Implants Using Rotary Joint Splitter
Thorlabs' RJ2 1x2 Rotary Joint Splitter is designed for optogenetics applications and is used to split light from a single input evenly between two outputs. The rotary joint interface allows connected patch cables to freely rotate, reducing the risk of fiber damage caused by a moving specimen. See the graphic and compatibility table below for the necessary cables and cannulae to create this setup. For LEDs and drivers, see below or the full web presentation.



Click for Details
Click to See Ø1.25 mm (LC) Ferrule Components Recommended for Use with RJ2 Rotary Joint Splitter

Click for Detials
Click to See Ø2.5 mm (FC) Ferrule Components Recommended for Use with RJ2 Rotary Joint Splitter
---
Option 2: One or Two Light Sources to Two Cannula Implants
If the intent is for one LED source to connect to two cannulae for simultaneous light modulation, then a bifurcated fiber bundle can be used to split the light from the LED into each respective cannula. For dual wavelength stimulation (mixing two wavelengths in a single cannula) or a more controlled split ratio between cannula, one can use a multimode coupler to connect one or two LEDs to the cannulae. If one cable end is left unused, the spare coupler cable end may be terminated by a light trap. See the graphic and compatibility table below for the necessary cables and cannulae to create this setup. For LEDs and drivers, see below or the full web presentation.
Click on Each Component Below for More Information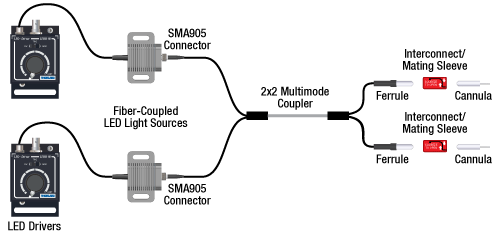 Two Light Sources into One Dual-Core Cannula Implant
For bilateral stimulation applications where the two cannulas need to be placed in close proximity (within ~1 mm), Thorlabs offers dual-core patch cables and cannulae that are designed for this specific application. Each core is driven by a separate light source, enabling users to stimulate and/or supress nerve cells in the same region of the specimen. See the graphic and compatibility table below for the necessary cables and cannulae to create this setup. For LEDs and drivers, see below or the full web presentation.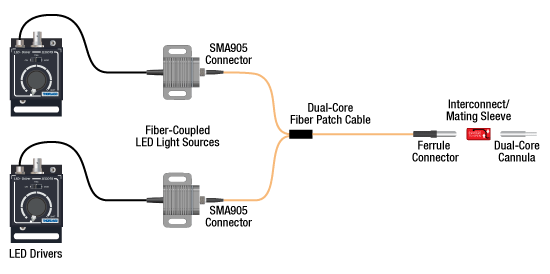 Click on Each Component for More Information
Part Selection Table (Click Links for Item Description Popup)
Common Fiber Properties
Core Diameter
200 µm
Wavelength Range
400 - 2200 nm
NA
0.39
Fiber Type
FT200EMT
Ferrule Stylea
FC

(Ø2.5 mm)

Dual-Core Patch Cable
FC/PC Input
BFY32FL1
SMA905 Input
BFY32SL1
Compatible Mating Sleeve/Interconnect
ADAF1
ADAF2
ADAF4-5
Dual-Core Fiber Optic Cannulaec
Stainless Steel
CFM32L10
CFM32L20
FC components have a Ø2.5 mm ferrule end.
Patch cables for dual light source to single implant applications are highlighted in green above. Choose a patch cable with an input that matches your light source.
Available cannulae are highlighted in orange of the table above. Cannule within the same column are interchangeable.
| LED Item # | Wavelengtha | Typical Opsin | Output Powerb | Color |
| --- | --- | --- | --- | --- |
| M385F1c | 385 nm | EBFP, moxBFP | 10.7 mW | UV |
| M405F1c | 405 nm | mmilCFP, hcriGFP | 3.7 mW | UV |
| M430F1 | 430 nm | ChR2 | 7.5 mW | Violet |
| M455F3 | 455 nm | ChIEF, bPAC | 24.5 mW | Royal Blue |
| M470F3 | 470 nm | ChR2, ChR2-SFO | 21.8 mW | Blue |
| M490F3 | 490 nm | Rh-CT, ChR2 (E123A) | 3.1 mW | Blue |
| M505F3 | 505 nm | ChRGR, Opto-α1AR, Opto-β2AR | 11.7 mW | Cyan |
| M530F2 | 530 nm | C1V1, VChR1 | 9.6 mW | Green |
| M565F3 | 565 nm | Arch, VChR1-SFO | 13.5 mW | Lime |
| M595F2 | 595 nm | ChR2-SFO, eNpHR3.0 | 11.5 mW | Amber |
| M625F2 | 625 nm | ReChR | 17.5 mW | Red |
Click the link for a spectrum and raw data.
Typical output power measured with a Ø400 µm Core, 0.39 NA multimode fiber.
Precautions must be taken to prevent looking directly at the UV light and UV light protective glasses must be worn to avoid eye damage. Exposure of the skin and other body parts to UV light should be avoided.
Illumination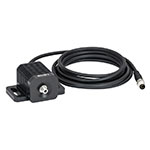 Click to Enlarge
M470F3
Fiber-Coupled LEDs and Drivers
Our fiber-coupled LEDs are ideal light sources for optogenetics applications. They feature a variety of wavelength choices and a convenient interconnection to optogenetics patch cables. Thorlabs offers fiber-coupled LEDs with nominal wavelengths ranging from 280 nm to 1050 nm. See the table to the right for the LEDs with the most popular wavelengths for optogenetics. A table of compatible LED drivers can be viewed by clicking below.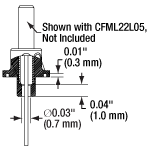 Click for Details

Cross Section Drawing of OGL with CFML22L05 Cannula (Not Included)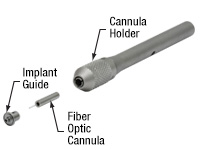 Click for Details

Implant Guide Assembly
Improves Adhesion and Stability During Implantation
Compatible with Ø1.25 mm Fiber Optic Cannulae with ≥5 mm Length
Ø3.8 mm Mounting Surface with Grooved Ring for Dental Cement
Lightweight Surgical Titanium Construction (0.09 g)
Weep Holes for Glue and Epoxy to Secure a Cannula
Compatible with Stereotaxic Cannula Holders
This Cannula Implant Guide is designed to provide guidance and stability for a fiber optic cannula during an implantation procedure. The bottom surface of each implant guide features a roughened surface and circular groove that increases the surface area available to dental cement and improves adhesion to the specimen. A 1.6 mm long protrusion on the implant guide helps stabilize the guide when implanted. The implant is constructed using lightweight surgical titanium (0.09 g) which can be sterilized prior to use. The OGL implant guide is compatible with our standard Ø1.25 mm cannulae (ceramic and stainless steel). When assembled, the length of the protruding fiber is reduced by 1 mm; therefore, the implant guide cannot be used with our 2 mm long cannulae. For convenience, the guide is offered in packs of one or five.
For best results when implanting a cannula, the OGL should be used with a cannula holder and stereotaxic guidance equipment. To affix the cannula within the implant guide, first insert the cannula into the receptacle of the implant guide (see drawing to the right). Then, add a small amount of cement or epoxy to the cannula via the two Ø0.8 mm weep holes. Finally, attach the cannula ferrule to an XCL cannula holder.