Ti:Sapphire Optical Frequency Comb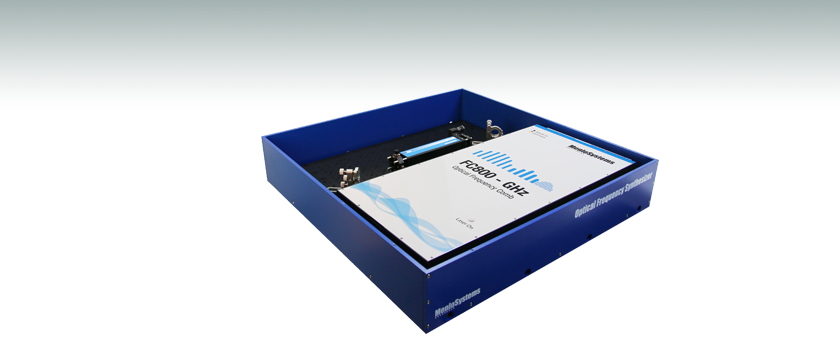 High Power in Each Optical Mode
High Repetition Rate of 1 GHz
Operating Range from 500 nm to 1.1 µm
FC800

Please Wait
Simon Kocur

Menlo Systems

Feedback? Questions? Need a Quote?

Please note that the FC800 is available directly from Menlo Systems, Inc. within the United States and from Menlo Systems GmbH outside the United States.
United States
Phone: +1-973-300-4490
Email: ussales@menlosystems.com
Outside United States
Phone: +49-89-189166-0
Email: sales@menlosystems.com
Applications
Laser Cooling
Optical Clocks
Microwave Generation
Optical Metrology
Spectroscopy
Features
Sealed, Alignment-Free Ti:Sapphire Oscillator
Includes Optical Unit: Oscillator with Free-Space PM Output and f:2f Interferometer
Includes Electronic Control Units: Phase-Locked Loops, Displays, and Data Acquisition
Click Here to View Menlo Systems' Frequency Comb Brochure
Menlo Systems' FC800 is a Ti:Sapphire-based Optical Frequency Comb with a mode spacing of 1 GHz. Its oscillator is the Laser Quantum taccor turnkey femtosecond laser. Menlo Systems uses a robust, mature, single-arm, f:2f interferometer design together with optimized control loops and established software packages for automation and data evaluation. With the combination of Ti:Sapphire low-noise performance and a high repetition rate, the frequency comb system is designed for 24/7 operation. This optical frequency comb is as simple as the well-known FC1500 fiber-based frequency comb systems, which are used in labs all over the world.
FC800 Specifications
Performance Specifications
Comb Spacing
1 GHz
Accuracy
10-14 in 120 sa
Stability
5 x 10-13 in 1 sa
Comb Spacing Tuning Range
>30 kHz
CEO Frequency Tuning Range
>1 GHz
Laser Outputs
Free Space
Center Wavelength
800 nm
Spectral Range
>23 nm
Average Output Power
Up to 1 W (at 800 nm)
Environmental Specifications
Input Requirements
10 MHz Frequency Reference,
Power Level +7 dBm
Operating Voltage
100/115/230 VAC
Frequency
50 to 60 Hz
Power Consumption
<500 W, <3 kW Including Chiller
Cooling Requirements
Closed Cycle Chiller Included
Operating Temperature
22 ± 5 °C
Optical Unit Dimensions / Weight
706 x 716 x 139 mm / ~80 kgb
(27.8" x 28.2" x 5.5" / ~176 lbs)
Control Electronics Dimensions / Weight
600 x 800 x 1400 mm / ~140 kgb
(23.6" x 31.5" x 55.1" / ~308 lbs)
Or same as reference, whichever applies first.
For Standard System Configuration
Optional Packages
BDU Beat Detection Unit
Generates and measures the beat signal between the frequency comb and an external CW laser. Available for various spectral ranges, with free-space or fiber-coupled optics, and matched to the customer's laser.
LLE-SYNCHRO Laser Locking Electronics
Allows locking of an external CW laser to the stabilized frequency comb. Performance has been field tested with lasers from major suppliers.
Microwave Ultrastable RF Output
Ultrastable RF output in the 1 MHz to 10 GHz range. Utilizing a high-sensitivity fast photodetector and a frequency divider where needed.
GPS GPS-Based 10 MHz Frequency Reference
Provides the RF reference input signal for the frequency comb, combining the superior short-term stability of an ultrastable quartz oscillator with the long-term accuracy of the GPS.
WLM-VIS Integrated Wavelength Meter
Integrated wavelength meter with 100 MHz accuracy over 500 - 1100 nm.
PCF Photonic Crystal Fiber
Additional photonic crystal fiber for different spectral coverage.
Posted Comments:
No Comments Posted