Slip Rings and Clamps for Aluminum Lens Tube Covers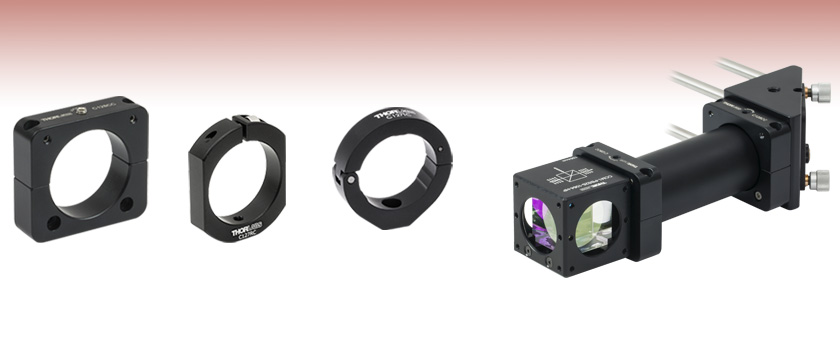 Easily Secure Ø1.27" Cylindrical Components
Post Mountable and 30 mm Cage Component Versions Available
Ideal for Use with Aluminum Lens Tube Covers
Application Idea
Two C128CC clamps secure an aluminum lens tube cover between a right-angle cage mount and a high-power beamsplitter cube to create an enclosed beam path.
C127RC
Ø1.27" Slip Ring with 8-32 Tap
C127TC
Clamp for Ø1.27" Components
C128CC
Adapter Clamp for Ø1.27" Components

Please Wait
Item #
Compatible Components
Inner Diameter
Locking Screw Hex
C127RC(/M)
Ø1.27" Components Such as
Aluminum Lens Tube Covers
1.27" (32.3 mm)
9/64" (3.0 mm)
C127TC
1.27" (32.3 mm)
5/64" (2.0 mm)
C128CC
1.28" (32.6 mm)
5/64" (2.0 mm)
Features
Enclose Optical Path Between Two Components
Easy to Integrate into Existing Systems
Useful for Space Constrained Systems
These slip rings and clamps are designed to enable easy placement and removal of aluminum lens tube covers in optical systems. Ø1.27 mm aluminum lens tube covers and other cylindrical components can be mounted into a slip ring by passing them through the ring's clear aperture and securing the flexure lock. To remove the cover on a clamp, simply unscrew the clamping screw(s), open the mount, and lift the tube out. This feature is useful for users who do not have the room to slide the entire cover out of a mount due to tight space constraints or are concerned with disturbing the rest of the system.
Posted Comments:
No Comments Posted

Ideal for Compact Setups
8-32 (M4) Mounting Holes for Imperial and Metric Systems
Aluminum Lens Tubes are Mounted by Passing Through the Clear Aperture
The C127RC(/M) Slip Ring has flat sides that are designed to conserve space in a system. A 9/64" (3.0 mm) locking screw is located along the top flat surface of the mount for easy access. This mount also includes a 8-32 (M4) tap for mounting onto our Ø1/2" posts.

Clamps Enable Easy Drop-In Installation and Removal of Components
Available with a Hinge or Two-Piece Design
Adapter Clamps Available in Packs of Four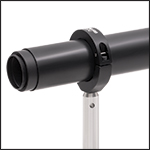 Click to Enlarge
SC600
Lens Tube Cover with SM1 Lens Tube Mounted in a C127TC Clamp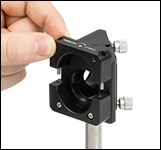 Click for Details
The C128CC can be mounted onto any 30 mm cage-compatible component with 4-40 cage rod mounting holes.

Click to Enlarge

View Imperial Product List
View Metric Product List
Two C128CC clamps are being used to secure an
SC600
Lens Tube Cover between two
KCB1
mounts to cover the beam path.
The C127TC Clamp incorporates a hinge design that utilizes one 5/64" (2.0 mm) locking cap screw. The hinged clamp supplies the mounting force needed to secure the component in place. The C127TC can be mounted directly to any of our posts using the #8 (M4) counterbore on the bottom of the clamp.
Alternatively, the C128CC Clamp is a two piece design that utilizes two captive 5/64" (2.0 mm) cap screws to connect the two pieces. A 5/64" (2.0 mm) locking setscrew is included to provide the mounting force needed to secure the component in place. Two #4 counterbores, spaced 30 mm apart, on the front of the clamp are included to attach the C128CC directly to any 30 mm cage component with 4-40 mounting taps. This allows for the creation of an enclosed optical path between two 30 mm cage accessories using our aluminum lens tube covers, as shown in the photo to the right and above. The two piece design allows the cover to be easily removed to verify or correct alignment issues. Two 4-40 cap screws with a 5/64" (2.0 mm) hex are included to mount the clamp. The C128CC is also available in a pack of four, item # C128CC-P4.