Thulium-Doped Fiber Lasers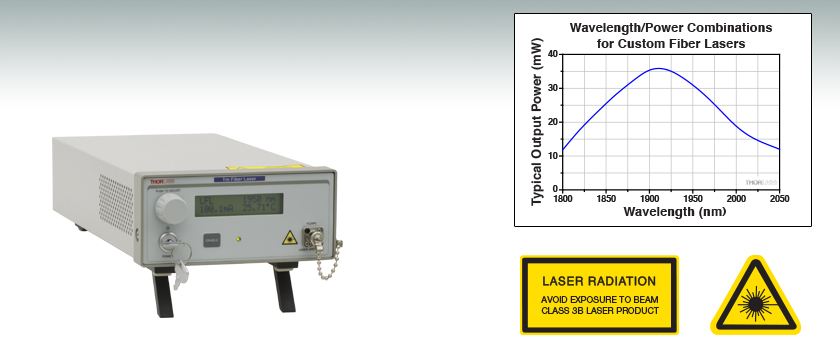 Single Mode, Thulium-Doped, CW Fiber Lasers
Fiber-Bragg-Grating-Stabilized ≤0.2 nm RMS Linewidth
Stock Wavelengths at 1900 nm, 1950 nm, and 2000 nm
Custom Wavelengths Available from 1800 nm to 2050 nm
LFL1950
≥25 mW Fiber Laser,
1950 nm Emission Wavelength
Custom Fiber Lasers with Emission Wavelengths from 1800 nm to 2050 nm Available

Please Wait
Features
CW Lasers in the Thulium Emission Band

1900 nm, 1950 nm, or 2000 nm Emission Wavelengths Available from Stock
Custom Versions Available at Discrete Wavelengths from 1800 to 2050 nm

Fiber-Bragg-Grating (FBG)-Stabilized ≤0.2 nm RMS Linewidth
Adjustable Output Power
Intuitive Turnkey Operation Through Panel Interface or Remote USB Commands
Single Mode Fiber Output
FC/APC Bulkhead
Thorlabs' Thulium-Doped (Tm) Fiber Lasers are benchtop Fabry-Perot fiber laser sources featuring single mode fiber output in the 2 µm band and simple operation for test and measurement applications. Each fiber laser is constructed using a thulium-doped fiber as the gain medium and two fiber Bragg gratings to select the laser wavelength. In contrast to Fabry-Perot semiconductor lasers, the FBG-based Fabry-Perot fiber laser design has narrow-bandwidth FBG reflectors and smaller longitudinal mode spacing (typically <200 MHz compared to >100 GHz for semiconductor lasers). This enables the RMS spectrum to be much narrower (≤0.2 nm versus a few nm) with both short-term and long-term spectral stability. These features make the Tm-doped fiber lasers ideal for applications where spectral stability or narrow spectral width is required.
Three wavelength options are available from stock: 1900 nm, 1950 nm, and 2000 nm. Tm-doped fiber can also support other emission wavelengths from 1800 nm to 2050 nm. Custom fiber lasers with different emission wavelengths are available upon request by contacting Tech Support. The graph below shows the typical output power for a sample of possible custom emission wavelengths.
The laser output is accessible via a fiber connector bulkhead that is compatible with 2.0 mm narrow key FC/APC connectors. An integrated isolator at the output minimizes the impact of back reflections on the laser cavity. For best results, use a fiber patch cable with SM2000 fiber (e.g., Item # P3-2000-FC-2a) to connect the output of the laser source to other fiber-coupled devices or free-space optics.
An LCD display allows the user to view the parameters for the fiber laser. The user can adjust the drive current of the pump laser to control the fiber laser output power; each laser is shipped with test data that shows output power scaling as a function of the pump drive current. A USB interface allows control of the laser source through a command line interface. Please see the Software tab for Windows drivers. Each laser source also includes a universal power supply rated for 100 to 240 VAC without the need for selecting the voltage.
For added safety, there is an interlock located on the rear panel that must be shorted in order for the output to be enabled. This can easily be configured to be triggered by lab doors to disable the fiber laser in unsafe conditions. The power switch is a key-lock system to prevent accidental or unwanted use. An enable button must be set to activate the unit with a green LED indicator to easily determine its current state. There is a 3-second delay before the fiber laser turns on, and the user is warned by the rapidly blinking LED.
a. This previous generation item is no longer available. The P3-1950-FC-2 cable can be used as an alternative; note that a 20% loss is expected when coupling to the fiber laser due to the MFD mismatch between the cable's SM1950 fiber and the SM2000 fiber internal to the laser.
Item #
LFL1900
LFL1950
LFL2000
Optical
Emission Wavelength
1900 ± 2 nm
1950 ± 2 nm
2000 ± 2 nm
Output Power at Maximum Drive Currenta
≥30 mW
≥25 mW
≥18 mW
RMS Linewidth
200 pm (Max)
Drive Current
450 mA (Max)
Polarization
Random
Power Stability (Ambient Temperature ±2 °C)
<±2% Over 24 Hours (After 15 min Warm Up)
Relative Intensity Noise (RMS, 10 Hz - 1 MHz)a
<0.5%
Output Fiber Type
SM2000
Output Fiber Mode Field Diameter

13 ± 1 µm @ 1996 nm
Output Fiber NA
0.11
Output Fiber Connector
2.0 mm Narrow Key FC/APC
Electrical
AC Input
100 - 240 VAC, 50 - 60 Hz
Input Power
20 VA (Max)
Fuse Ratings
500 mA
Fuse Type
IEC60127-2/III (250 VA, Slow Blow Type "T")
Fuse Size
5 mm x 20 mm
Physical
Dimensions (W x H x D)
5.77" x 3.07" x 12.17"
(146.5 mm x 77.9 mm x 309.1 mm)
Weight
1.96 kg (4.32 lbs)
4.13 kg (9.1 lbs) Shipping Weight
Operating Temperature
15 to 35 °C
Storage Temperature
0 to 50 °C
Connections and Controls
Interface Control
Optical Encoder with Pushbutton
Enable Select
Keypad Switch Enable with LED Indicator
Power On
Key Switch
Display
LCD, 16 x 2, Alphanumeric Characters
Input Power Connection
IEC Connector
Interlock
2.5 mm Mono Phono Jack
Communications
Communications Port
USB 2.0 Compatible
COM Connection
USB Type B Connector
Required Cable
2 m USB Type A to Type B Cable
(Replacement Item # USB-A-79)
The output power is specified at the fiber bulkhead for the emission wavelength.
Multiple longitudinal modes exist within the linewidth of the laser that are separated by more than 100 MHz. The beating between these modes can create additional noise at frequencies >100 MHz.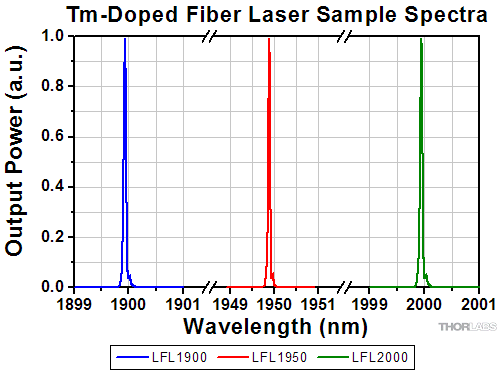 Click to Enlarge

Click
Here
for Raw Data
Each laser spectrum is measured with a resolution bandwidth of 0.05 nm. Multiple longitudinal modes exist within the linewidth of the laser that are separated by more than 100 MHz. The spectrum of each individual laser source is measured and included in the individualized data sheet that ships with each laser.

Click to Enlarge

Click
Here
for Raw Data
These L-I curves provide an example of how the output power varies with the pump current, which is adjustable via the knob on the front panel of each source. The L-I curve is also included in the individualized data sheet that ships with each laser.
Remote Interlock Input
2.5 mm Mono Phono Jack

Terminals must be shorted either by included plug or user device, i.e. external switch, for laser mode "ON" to be enabled.
USB
USB Type B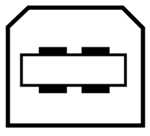 Computer Interface