Stage Specifications
Travel
25 mm
XY Stacked Orthogonality
<25 µrad
Angular Deviation
<150 µrad
Platform Size
3.35" x 2.00"
(85.0 mm x 50.7 mm)
Mounting Holes
17 x 1/4"-20 (M6) Taps
Mating Dovetail Width
2"
Horizontal Load Capacity (Max)
170 lbs (77.1 kg)
Vertical Load Capacity (Max)a
8.8 lbs (4.0 kg)
Bearing Type
Crossed Roller Bearings
Micrometer Specifications
Micrometer Item #
150-801ME-H
Resolution
500 µm Per Revolution
Travel
25 mm
Micrometer Barrel Size
Ø3/8" (Ø9.5 mm)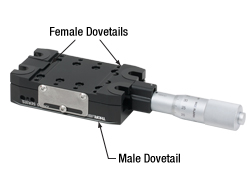 Click to Enlarge

The 2" wide female dovetails on the bottom of one stage mates with the male dovetail on the other to form XY stage configurations. The left female dovetail is on a retractable clamping arm, allowing stages to be dropped into place.
Quickly Construct Multi-Axis Stages

Each stage features 2" dovetails on the top and bottom plate that allow for quick construction of multi-axis systems. There are no dowel pins to install or screws that need to be inserted through the top plate, which means that mounted
components
do not need to be removed from the top stage before constructing an XY configuration. In addition, the top stage can be locked at any location along the dovetail, allowing for coarse positioning.
Features
Crossed-Roller Bearings for High Load Capacity and Low Angular Deviation
Metric Micrometer in Two Different Orientations:


Side Mounted for Compact Design
End Mounted for Ease of Adjustment

Quickly Connect Stages and Accessories Using 2" Wide Dovetails
Preassembled XY and XYZ Stages with Side-Mounted Micrometers
Optional Accessories Provide Additional Functionality:

Z-Axis Assembly Kits: Construct Z, XZ, YZ, and XYZ Stages
Rail Carriers: Removable Plates with Additional Mounting Options
Rotation Adapter: Coarse Rotation Between Components
Baseplates: Coarse Alignment of Stage with Table Hole Matrix
Extended Baseplates: Coarse Adjustment Perpendicular to Stage Translation Axis
XRN25 Mounting Adapter Plate: Enables Compatibility between XRN25 Series Stages and XR25 and XR50 Series Stages
Micrometer Conversion Kits: Change Micrometer Location
These 25 mm translation stages feature a full aluminum body with crossed roller bearings for precision motion, high load capacity, and low angular deviation. The XRN25 series stages provide a convenient solution for mounting optomechanical components on a small, versatile stage. As shown in the image to the upper right, each stage features mating female dovetails on the bottom plate and male dovetails on the top plate that allow for quick construction of multi-axis systems using no additional hardware. The stages are locked into place via a lock plate that accepts a 5/64" (2.0 mm) hex key or ball driver. See the animation to the lower right to see how multi-axis systems can be quickly constructed using this novel design.
Additional functionality is provided by a complete line of accessories that include multi-axis assembly kits, rail carriers, a rotation adapter, baseplates, and micrometer conversion kits. An adapter plate is also available for mounting these compact 25 mm stages with an integrated 2" wide dovetail onto 25 mm and 50 mm stages with a 3" wide dovetail. For more information about a specific accessory, please click on the link in the table below.
Micrometer Conversion Procedure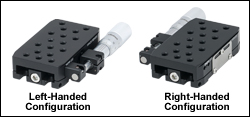 Click to Enlarge
The side-mounted micrometer can be swapped with the locking plate to create both left-and right-handed stages.
Micrometer Conversion
The video to the left outlines how to convert a rear-mounted micrometer stage (XRN25C and XRN25C/M) to a side-mounted micrometer stage using the XRN-C1 conversion kit. To convert a side-mounted micrometer stage (XRN25P and XRN25P/M) to a rear-mounted micrometer stage, simply follow the directions in reverse and use the XRN-C2 conversion kit.
Note: Before removing the micrometer, lock the stage by tightening the button head cap screw in the groove in the steel locking plate using a 5/64" (2 mm) hex key.
Swapping a Side-Mounted Micrometer
If you would like to switch the location of the locking plate, as shown in the photo to the right, back out the micrometer to the 25 mm reading before removing all three button head screws from the locking plate. Failure to do this will cause the stage to quickly retract to its minimum position when the micrometer is removed, potentially damaging the mechanism.