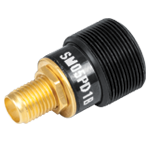 Compatible with all of Thorlabs' Mounted Photodiodes and Biased Photodetectors.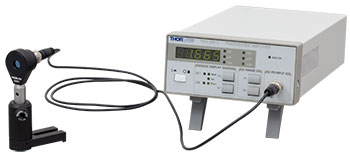 Click to Enlarge
PDA200C Benchtop Photodiode Amplifier Connected to an SM1-Threaded
Mounted Photodiode
Using a
BNC Cable

Click to Enlarge
The photodiode bias voltage, monitor control output (Analog Out), and grounding jack are located on the back panel of the PDA200C.
Features
Transimpedance Photocurrent Amplifier
Extremely Low Noise Operation Over Entire Dynamic Range
5 Digit Display with up to 10 pA Resolution
Supports Single Point Power Calibration
Supports Both Photodiode Polarities (CG and AG)
Adjustable Bias Voltage
Offset Compensation for Input Amplifier and Photodiode Dark Current
RoHS Compliant
The PDA200C Photodiode Amplifier is ideally suited for ultra low noise amplification of very small photodiode currents. It offers six current ranges from 100 nA to 10 mA full scale and provides a maximum display resolution of 10 pA. The unit supports cathode grounded (CG) and anode grounded (AG) photodiodes. This amplifier may be operated in either photovoltaic or photoconductive mode. The adjustable bias voltage provides improved linearity of the responsivity and increased frequency response. This photodiode amplifier is compatible with all of Thorlabs' mounted photodiodes and biased photodetectors. Our SM05-threaded mounted photodiodes feature a female SMA connector; to convert to BNC either an adapter cable or electrical adapter may be used.
With the updated PDA200C Series, our Photocurrent Amplifier is RoHS compliant. Additionally, the current measurement ranges were changed. The rest of the features are virtually the same as the former PDA200 Series.
PDA200C Specifications
Full Scale Current Measurement Ranges
100 nA to 10 mA (in Decade Steps)
Maximum Resolution
10 pA
Display Range
0 to 10000 (CG)
0 to -10000 (AG)
Polarity of the Photodiode
Cathode Grounded (CG)
Anode Grounded (AG)
Bias Voltage
0 to -10 V (CG)
0 to +10 V (AG)
Photodiode Sensitivity (for Calibrated Power Display)
0.05 to 2 A/W
Max. Photodiode Capacitance for
Frequency Compensated Operation
10 nF
Temperature Coefficient
<50 ppm/°C
Input Impedance
~0 Ω (Virtual Ground)
Photo Current Monitor Output
Output Voltage Range (Analog Output)
0 to +10 V (CG)
0 to -10 V (AG)
Conversion Coefficient
1 x 103 to 1 x 108
(Depending on Measurement Range)
Conversion Coefficient Accuracy
±5%
Noise
≤0.02%
(RMS, Full Scale of Current Measurement Range)
Load Resistance
>10 kΩ
General Data
Display
LED, 5 Digits
Connectors for Photodiode Input and Analog Output
BNC
Chassis Ground Connector
4 mm Banana Jack
Line Voltage/
Frequency
100 V, 115 V, 230 V +15% -10% each/
50 to 60 Hz
Maximum Power Consumption
10 VA
Mains Supply Overvoltage
Category II (Cat II)
Operating Temperature
0 to +40 °C
Storage Temperature
-40 to +70 °C
Relative Humidity
Max. 80% Up to 31 °C,
Decreasing to 50% at 40 °C
Pollution Degree (Indoor Use Only)
2
Operation Altitude
<2000 m
Warm-up Time for Rated Accuracy
10 min
Weight
<3 kg
Dimensions without Operating Elements
(W x H x D )
146 x 66 x 290 mm³
Dimensions with Operating Elements
(W x H x D )
146 x 77 x 320 mm³
Measurement
Range
Resolution
Accuracy
Analog PD Current Output
Conversion Coefficient
Bandwidtha
10 mA
1 µA
± 0.05% f.s.
1 x 103 V/A ±5%
500 kHz
1 mA
100 nA
± 0.05% f.s.
1 x 104 V/A ±5%
250 kHz
100 µA
10 nA
± 0.05% f.s.
1 x 105 V/A ±5%
70 kHz
10 µA
1 nA
± 0.05% f.s.
1 x 106 V/A ±5%
20 kHz
1 µA
100 pA
± 0.05% f.s.
1 x 107 V/A ±5%
5 kHz
100 nA
10 pA
± 0.1% f.s.
1 x 108 V/A ±5%
1 kHz
Photodiode Input
BNC Female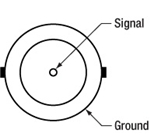 Input Range: 100 nA ... 10 mA
Analog Control Output
BNC Female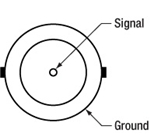 0 - ±10 V, Input Resistance should be ≥ 10 kΩ.
| PDA200C | Part |
| --- | --- |
| x | PDA200C Photodiode Amplifier |
| x | Operating Manual |
| x | Power Cord |