Monitor & Tablet Mounts, Ø1.5" Post Mountable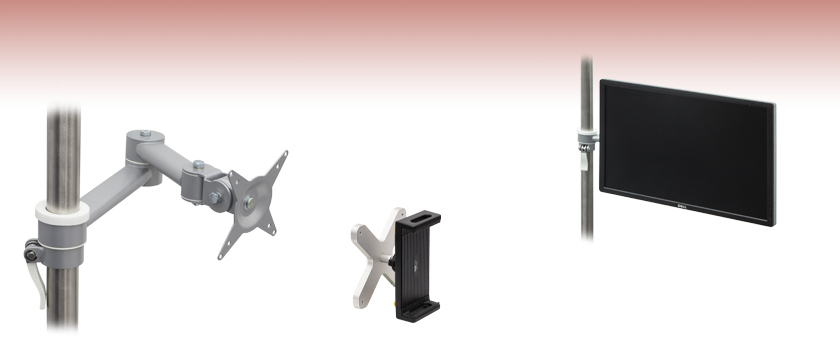 VESA Pattern Compatible Bracket with Articulating Arm
Attaches Directly to a Ø1.5" Post
Tablet & Phone Adapter (Sold Separately)
PSY121
Monitor Mount
(Post Not Included)
PSY121 Monitor Mount Being Used to Secure a Flatscreen Monitor onto a Ø1.5" Post
PSY122
Tablet Adapter for
PSY121 Monitor Mount

Please Wait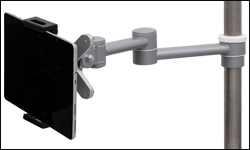 Click to Enlarge
PSY122 Tablet Adapter Attached to
PSY121 Monitor Mount and Ø1.5" Post
Features
PSY121 Monitor Mount:

Compatible with 75 mm x 75 mm (2.95" x 2.95") and 100 mm x 100 mm (3.94" x 3.94") VESA Patterns
10 kg (22 lbs) Max Load Capacity
Mounts to a Standard or ScienceDesk Ø1.5" Posts (Not Included)

PSY122 Tablet Adapter:

Attaches to PSY121 Monitor Mount (Sold Separately)
Spring-Loaded Clamp Fits Devices from 5.5" to 8.7" (140 to 220 mm) Wide and ≤0.67" (17 mm) Thick
40° Adjustment Cone with Lockable Ball Joint
The PSY121 Flat Screen Monitor Support Bracket is compatible with 75 mm x 75 mm and 100 mm x 100 mm VESA mounting patterns. These mounting patterns are typically used on small to medium LCD monitor displays. The monitor mount features an articulated arm that allow flexible positioning and has a load capacity of 10 kg (22 lbs).
The PSY122 Tablet Mounting Adapter attaches directly to the PSY121 Monitor Mount (sold separately) and is compatible with tablets from 5.5" to 8.7" (140 to 220 mm) wide and ≤0.67" (17 mm) thick. The tablet is held by a spring-loaded clamp with a yellow strap on each end, designed to aid in pulling the clamp arms apart. The locknut on the back of the holder can be loosened to change the angle of the holder. For Ø1/2" post mounting, we also offer the PSX123 Tablet Mount.
A Ø1.5" post (standard lab post, Item # PSY161, or PSY162) is required to secure the PSY121 mount to an optical table or breadboard. Alternatively, a post from an Overhead Shelf/Instrument Shelf could also be used.
Posted Comments:
No Comments Posted