Fixed Mirror Mounts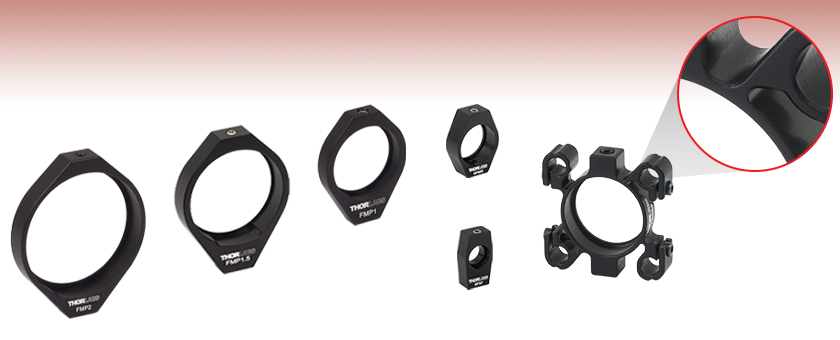 Fixed Mounts In Sizes from Ø7 mm to Ø3"
Post Mountable via an 4-40 (M3) or 8-32 (M4) Tapped Hole
Available with 30 mm or 60 mm Cage System Compatibility
FMP2
Ø2" Bore,
8-32 Tap
FMP1
Ø1" Bore,
8-32 Tap
MFM05
Ø1/2" Bore,
4-40 Tap
CP06F
Dual Flexure Cage Plate
for Ø1" Optics
The CP06F Cage Plate's flexure arm automatically compensates for rod misalignment in 30 mm cage systems to prevent cage plate binding.
MFM7
Ø7 mm Bore,
4-40 Tap
FMP1.5
Ø1.5" Bore,
8-32 Tap

Please Wait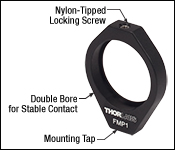 Click to Enlarge
Common Features
Features
Mounts for Ø7 mm, Ø10 mm, Ø12.5 mm, Ø1/2", Ø25 mm, Ø1", Ø1.5", Ø50 mm, Ø2", or Ø3" Optics
4-40 (M3) or 8-32 (M4) Tapped Hole for Post Mounting
30 mm and 60 mm Cage System Compatible Versions Available
Nylon-Tipped Setscrew Secures Optic in Mount
Material: Black Anodized Aluminum
For applications where kinematic adjustment is not needed, these fixed optical mounts provide a solution for securing mirrors or other optical components. For applications requiring kinematic adjustment, see our kinematic mirror mounts.