Zerodur® Broadband Dielectric Mirrors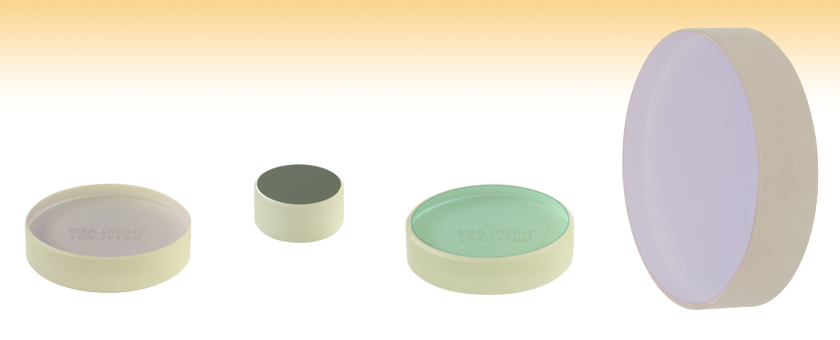 Lower Coefficient of Thermal Expansion Than Fused Silica
>99% Reflectance Over Specified Spectral Ranges
Four Broadband Coatings Available
Available in Ø1/2", Ø1", and Ø2" Sizes
BB0511-E02
Ø1/2" Mirror
BB111-E03
Ø1" Mirror
BB211-E04
Ø2" Mirror
BB111-E01
Ø1" Mirror

Please Wait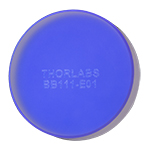 Click to Enlarge
Back View
Features
Extremely Low Coefficient of Thermal Expansion
Four Broadband Coatings Available:

350 - 400 nm
400 - 750 nm
750 - 1100 nm
1280 - 1600 nm

Ravg > 99% for S- and P-Polarizations for Angles of Incidence from 0 to 45°
Available in Ø1/2", Ø1", and Ø2" Sizes
Designed for CW and Nanosecond Lasers
Zerodur®'s* coefficient of thermal expansion is 0 ± 0.100 x 10-6 /°C, which is significantly smaller than the value for fused silica, 0.55 x 10-6 /°C. This property makes these mirrors ideal for high-power systems like industrial machining lasers, as well as other applications that are sensitive to thermally induced beam drift. These Zerodur mirrors are available with one of four broadband coatings which offer excellent reflectance over the 350 - 400 nm, 400 - 750 nm, 750 - 1100 nm or 1280 - 1600 nm wavelength ranges (see the plot below for a comparison at near-normal incidence). Due to run-to-run coating variations, please note that the specified range listed for each coating is smaller than the actual spectral region over which the mirror is highly reflective. The plots shown under the Reflectance Plots tab show the performance characteristics of a typical mirror near the edges of its effective spectral range.
As seen in the photo to the right, the back of each mirror is engraved with its item number.
For applications which require broader reflective ranges and limited thermal expansion, Thorlabs also offers a line of metallic Zerodur mirrors. Customers can also purchase Zerodur® mirror blanks that do not have a mirror coating. For applications in which thermal expansion is not a concern, we also offer a line of standard broadband dielectric mirrors, metallic mirrors and other mirrors suitable for a wide variety of applications. Please note that these mirrors are not suitable for ultrafast applications; see our low GDD ultrafast mirrors for picosecond and femtosecond pulsed lasers.
*Zerodur® is a registered trademark of Schott.


Click to Enlarge
Raw Data
Comparison of Thorlabs' Broadband Dielectric HR Coatings
Mirror Specifications
Substratea
Zerodur®
Surface Flatness
λ/10 @ 632.8 nm (Peak to Valley)
Surface Quality
10-5 Scratch-Dig
Back Surface
Fine Ground
Clear Aperture
>85% of Diameter
Parallelism
≤3 arcmin
Thickness
Ø1/2" Optics
6.0 mm (0.24")
Ø1" Optics
6.0 mm (0.24")
Ø2" Optics
12.0 mm (0.47")
Thickness Tolerance
±0.2 mm
Diameter Tolerance
+0.0 mm / -0.1 mm
Click Link for Detailed Specifications on the Substrate


Click each link for a plot of the average unpolarized reflectance across the specified wavelength at a given AOI. See the Graphs tab for additional plots.
These plots show the reflectance of each of our dielectric coatings offered with Zerodur for a typical coating run. The shaded region in each graph denotes the spectral range over which the coating is highly reflective. Due to variations in each run, this recommended spectral range is narrower than the actual range over which the optic will be highly reflective. If you have any concerns about the interpretation of this data, please contact Tech Support. For temperature-sensitive applications that require a mirror that bridges the spectral range between two dielectric coatings, please consider a Zerodur metallic mirror.
-E01 Coating (350 - 400 nm)
-E02 Coating (400 - 750 nm)
-E03 Coating (750 - 1100 nm)
-E04 Coating (1280 - 1600 nm)