PDA8000 Photocurrent Measurement Modules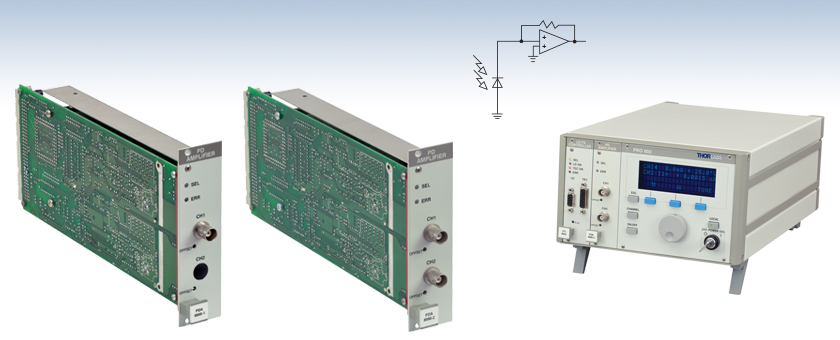 Single or Dual Channel Modules
High Precision Measurements
Up to Seven Measurement Ranges
PDA8000-1
(One Channel)
PDA8000-2
(Two Channels)
PRO800 with PDA8000-2
and ITC8022 Modules

Please Wait
Our PRO8 Series Chassis can accommodate multiple PRO8 Series Modules, allowing for a customized telecom solution.
Please contact Tech Support for availability of desired wavelength.
Features
7 Current Measurement Ranges from 10 nA to 10 mA DC, with 16-Bit Resolution
Resolution: 0.1 pA on the 10 nA Scale
Accuracy: ±0.025% of Full-Scale Reading (For Current Ranges > 1 µA)
Single & Dual Channel Versions
Introduction
The PDA8000 Photocurrent Measurement Module for the PRO8 Platform is an ideal companion for our other PRO8 Series plug-in modules. It uses a DC transimpedance amplifier to provide precise photocurrent measurements from a few pA to 10 mA with input frequencies up to 20 Hz at the lowest amplification setting. A 16-bit A/D converter is used to ensure a measurement resolution of ±0.025% of the full scale reading (ranges >1 µA). These features, combined with the built-in low noise photo diode bias, make this instrument an ideal photo diode current amplifier.

Optical Power Read-out
With calibrated photo diodes, the PDA8000 modules facilitate direct read-out of optical power. Through the input screen of the PRO8 Platform a "photodiode responsivity" value can be entered. This allows the direct entry of standard calibration data provided by photo diode manufacturers when a calibrated diode is purchased.

Computer Control IEEE-488.2
All of the PDA8000 module functions can be accessed via the IEEE-488 interface of the PRO8 chassis. This includes access to the calibration factor, the photodiode bias voltage, all of the measurement control parameters, and the measurement results.

Precision Optical Measurements
The variable photodiode bias allows operating in either a photovoltaic or photoconductive mode. The bias also reduces the junction capacitance of the diode thus improving the linearity of the detector when making measurements over many decades. Additionally there is a front panel trim-pot that is used to null out the photo diode dark current typical for semiconductor optical sensors.
User-Friendly Controls
The PRO8 display menu allows configuration of any module in the chassis. The operational parameters are easily accessed using mnemonic symbols and simple prompts provide user-friendly operation. All settings are retained in memory and automatically recalled upon powering on the mainframe, as long as modules are not being moved to a different slot.
Item #
PDA8000-1
PDA8000-2
Photo Diode Current Measurement Range
10 nA - 10 mA (Others on Request)
Photo Diode Polarity
User Selectable
Bias Voltage Setting Range (can be switched off)
0.1 V to 10 V
Photo Diode Coefficient Setting Range
0.001 - 5.000 A/W
Input Resistance
Virtual Ground
Temperature Coefficient
≤50 ppm/°C
Bandwidth
DC to 20 Hz (Lowest Amplification)
General Data
Module Width
1 PRO8 Slot
Photo Diode Connectors
1xBNC
2xBNC
Channels
Single
Double
PDA8000 Measurement Range
Measurement Range
Resolution
Accuracy
10 mA
0.1 µA
±0.025% Full Scale
1 mA
10 nA
±0.025% Full Scale
100 µA
1 nA
±0.025% Full Scale
10 µA
0.1 nA
±0.025% Full Scale
1 µA
10 pA
±0.025% Full Scale
100 nA
1 pA
±0.25% Full Scale
10 nA
0.1 pA
±0.8% Full Scale
Photodiode Connector
BNC Female
Photodiodes can be connected to the BNC jacks of an input with both polarities.
The outer conductor of the BNC jack is always grounded.
Input Current Range: 10 nA - 10 mA