FiberBench to Cage System Adapter
Combine FiberBench, 16 mm Cage Systems, and 30 mm Cage Systems
16 mm and 30 mm Cage Rods can be Installed Simultaneously
SM05-Threaded Port for Lens Tube Compatibility
HCA3-CP
Two Shoulder Screws
and Two Retaining Rings Included
Back
Front
Application Idea
The HCA3-CP integrates a 16 mm cage system with a polarization controller built on a FB-51 FiberBench. The cage plate is supported with a Mini-Series Post and Post Holder.

Please Wait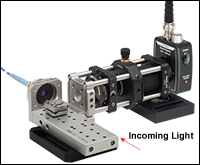 Click to Enlarge
Fiber Patch Cable
using a
FiberPort
. A polarizer between the beamsplitter and the detector allows the polarization state of light entering the fiber to be monitored.

Click for Details
FiberBench Adapter Plate
Features
Mounts to Thorlabs' FiberBenches
Two Screws Tighten Flexure Mechanisms to Secure Cage Rods for 30 mm Cage Systems
Four Locking Setscrews Secure Cage Rods for 16 mm Cage Systems
8.9 mm Deep SM05-Threaded (0.535"-40) Bore for Mounting SM05-Threaded Components
Accepts Optics up to 0.21" (5.3 mm) Thick, Such as Thorlabs' Premium Hard-Coated Bandpass Filters
Includes Two SM05RR Retaining Rings, Two 8-32 Shoulder Screws for Securing Wall Plate to Fiber Bench, and a 3/32" Hex Key
The HCA3-CP Adapter Plate allows small optical setups built using Thorlabs' FiberBenches to be easily integrated with 16 mm or 30 mm Cage Systems. Three #8 counterbores on the bottom of the plate allow it to be mounted to one of Thorlabs' FiberBenches. The plate accepts Ø4 mm or Ø6 mm cage rods for 16 mm or 30 mm cage systems, respectively. The Ø4 mm cage rods are held in place for by locking screws that accept a 0.05" (1.3 mm) hex key. The Ø6 mm cage rods are secured using a flexure mechanism that can be tightened by a single locking screw on each side of the mount that accepts 5/64" (2.0 mm) hex keys. The port through the center is SM05-threaded, allowing it to accept lens tubes or other threaded optical components. Two SM05RR retaining rings are included.
When combining a FiberBench with a cage system, make sure that the FiberBench is properly supported to avoid applying excess torque to the cage rods. If the cage system is low enough, the FiberBench can rest directly on the optical table. For segments of the cage system that are elevated off of the optical table, the FiberBench can be supported using a Ø1" optical post threaded into the 8-32 or M4 tap in the base.
Posted Comments:
No Comments Posted